Weddings – time for celebration, party, lots of guests and family reunion. Weddings require lots of preparations, including the perfect clothing, interesting decorations and inviting family and friends. Many couples do not mind having a lot of guests, including children. However, some couples want only adult guests, which means no children invited.
Lucy B, a mother of a five-month old baby, experienced this kind of wedding and she got quite frustrated by it. This British lady booked tickets and spent some $5,000 to travel to her cousin's wedding in Australia, only to find out that her baby was not welcomed to the party.
Lucy's frustration is even greater since she planned this trip and booked the flights for the family a year in advance. Now, all her costs are for nothing.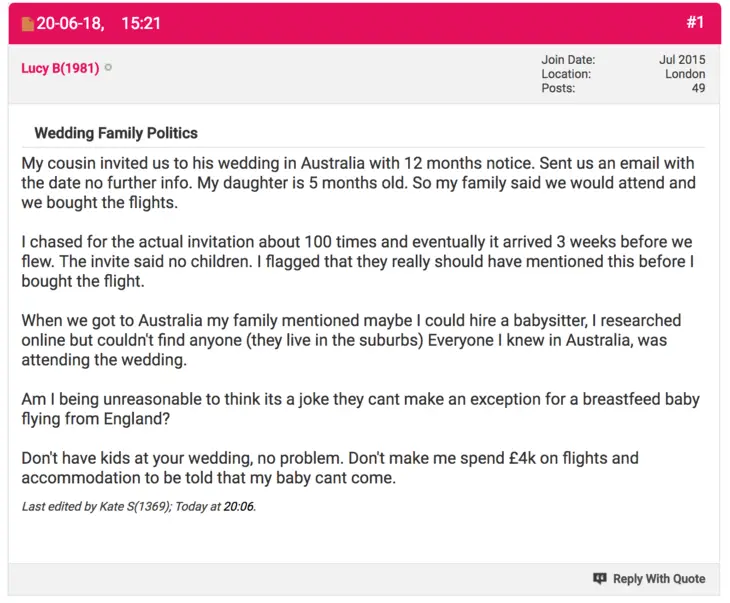 Lucy B is the lady's nickname on Netmums. Lucy used this website to post her story and tell the other members what kind of situation she found herself in. She explained that she was informed by the cousin a year in advance that the wedding will be in Australia. As soon as she found out the date of the wedding, she booked the tickets and paid $5,312.
However, three weeks before the wedding itself her cousin told her that only Lucy and her husband are invited. There was no invitation for the kids. What was even more frustrating for her, there was no one to babysit her baby. 
She says:
"I researched online but couldn't find anyone (they live in the suburbs). Everyone I knew in Australia, was attending the wedding. Am I being unreasonable to think it's a joke they can't make an exception for a breastfeed baby flying from England?"

Many who learnt about her experience justified her frustration and stress.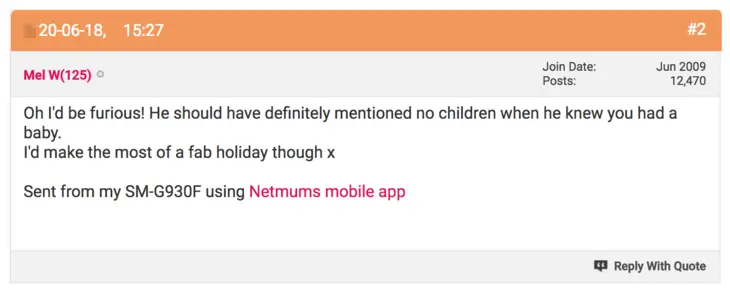 There are people who think that 'that' rule should not be emphasised at the last moment and they had to accept the baby at the wedding.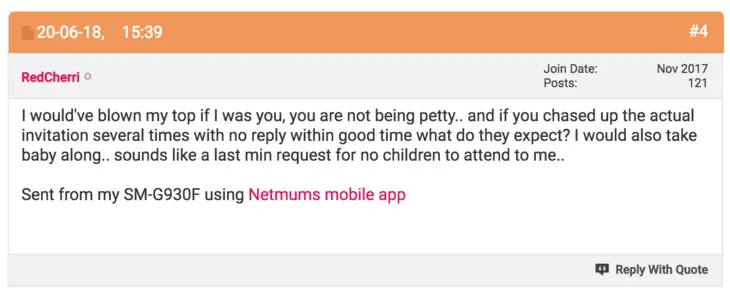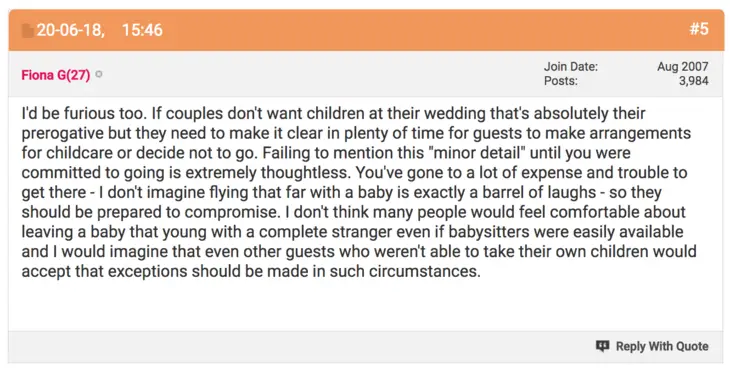 Exceptions exist and they had to make some exceptions for this wedding as well, especially having in mind the long distance this family had to travel.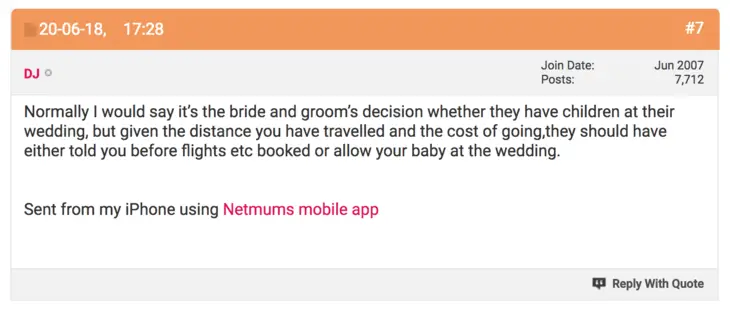 This story shows how some people are making decisions without proper thinking. The couple that was getting married should have thought in advance all the details in order to avoid situation like this. Since it's their fault, they had to make an exception about Lucy, particularly since this family travelled thousands of miles just to attend this wedding.
This is a good lesson for all future wives and husbands. The big day should be the day of happiness and joy, not just for the main people, but for all who attend such an event. Having situations like this may transform the day into something very non-desirable.