All children have heroes they look up to and admire, fictional or depicted by an actor, in sports, possibly a prominent political figure, film actors and many others, in essence, somebody to look up to, even perhaps a cool relative of a friend of the family.
Role models like these are so essential for reinforcing good values in the young minds of children and young people, who of course copy their every move. Children want to be just like their heroes as they grow up and copy what their heroes do, of course, they can do no wrong!
One of the greatest of these role models, at least in boys is his older brother, who holds, in most cases admiration and a sense they the younger of the two want to do as they do, especially when the older brother in a little more advanced in years.
An 11 year old from Carnegie Elementary School, in Tulsa, called Damon Chiodo had not seen his bigger brother Devin Tomei, 25 years old, for more than a few days since March 2015. His brother was an Army Specialist in Basic Training and Damon holds his brother in such high regard.
Devin completed his basic training then after this was deployed in Germany, he worked on the CH-47 Chinook helicopters there. The brothers kept in touch with Skype and of course Xbox! They really didn't get to see each other though…
At school, Damon was asked to write an essay about his hero, so of course, he decided to write, without a second thought, about his brother!
Damon didn't have a clue that the assignment was not a real one… It was planned by his teacher and the school principal very cunningly…
Devin realized that he was coming home, the Army was sending him stateside to Fort Campbell, Kentucky, his mom set a plan in place and Devin was in on it!
Daemon stood on stage, he began reading his essay, if only he knew what was coming, his older brother was hiding just the other side of the curtain…
Devin stood there listening to his little brother read his essay for at least 15 minutes, who read:
"Hundreds of Army missions depend on these helicopters, and my brother must make sure that all of them are safe and ready to fly."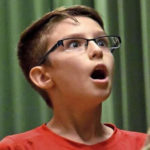 Then when he finished his speech Daemon turned round to find his brother there, in the flesh, the hero he had just told his class about. He was completely stunned at first for a second, but then leapt into Devin's arms.
Devin was trying his best not to cry in from of the room full of sixth graders, he said:
"He was begging me to come home most of the time, telling me about all the stuff he's doing"
When Daemon finished reading the essay he was allowed to leave school for the day so he could spend time with his brother. Devin will be stationed over in Kentucky, which is still a fair distance away, however, he can now get home more often.
Daemon sent a recent post to a television show, Ellen, DeGeneres, he said:
"Hey, Ellen I was wondering if you knew me. I'm Damon Chiodo from the national news and I was wondering if I could show them what happened and have a conversation."
"I have always wanted to meet you and I think I can show you some things me and my brother like to do and show everyone the resemblance cause everyone always said that if I was born with Devin we would be twins but I think it would be a surprise for Devin to be able to see you because of him surprising me I want to surprise him."
What an awesome display of brotherly love, I think they will have definitely made their parents proud!