Prince Harry shared a heartfelt tribute to the woman who always had his back and was there for him whenever he needed someone to turn to, his loving grandmother, Queen Elizabeth II.
Her passing brought grief and left millions mourning the loss of a great monarch who led the country through social changes and overcame troubled times.
When the news of Her Majesty's deteriorated health was shared with the public, Harry happened to be in Britan as he and Meghan were supposed to attend an event. He was reported to have travelled to Scotland right away, but sadly, he didn't make it on time. He arrived at Balmoral Castle shortly after her passing.
Harry's relationship with his grandmother was a special one, and he always spoke of her with admiration. Following her passing, he said he appreciated her service, her excellent advice, and her infectious smile.
"In remembering the life of my grandmother, Her Majesty The Queen, as well as lamenting the loss of her, we are all brought back to the role she played as a moral compass for a great number of people via her dedication to duty and service," Prince Harry shared on the Archewell Foundation website.
"She was globally admired and respected. Her unwavering grace and dignity remained true throughout her life and now her everlasting legacy. Let us echo the words she spoke after the passing of her husband, Prince Philip, words which can bring comfort to all of us now: 'Life, of course, consists of final partings as well as first meetings.'"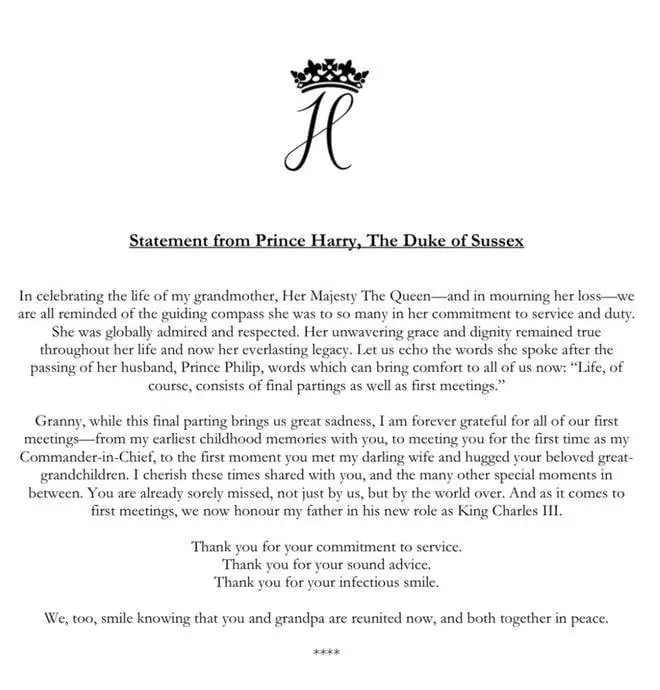 He then added that his memories of the Queen range from the time he was just a child to when she first met his wife Meghan Markle and embraced her great-grandchildren.
"Granny, while this final parting brings us great sadness, I am forever grateful for all of our first meetings — from my earliest childhood memories with you, to meeting you for the first time as my Commander-in-Chief, to the first moment you met my darling wife and hugged your beloved great-grandchildren," he continued. "I cherish these times shared with you, and the many other special moments in between. You are already sorely missed, not just by us, but by the world over. And as it comes to first meetings, we now honour my father in his new role as King Charles III.
"Thank you for your commitment to service."
We are all heartbroken for Queen Elizabeth's passing. We hope this tragedy would reunite William and Harry and they will be able to rebuild their relationship.
Please SHARE this story with your family and friends on Facebook.
Bored Daddy
Love and Peace