George Clooney has always been considered a Hollywood heartthrob. Ever since we saw him play handsome Dr. Doug Ross in the NBC medical drama ER, we got hooked to his acting talent and awesome looks. This series helped him gain the attention of the Hollywood greatest directors and producers and offers for future films came pouring in. Some of the films he starred in are From Dusk Till Dawn, Ocean's Eleven, Tomorrowland, Michael Calyton, among the many more. The list is as long as Clooney's career.
Over the years, Clooney gained recognition for his acting, directing, and producing. He is the recipient of numerous accolades, including a British Academy Film Award, four Golden Globe Awards, and two Academy Awards, one for his acting and the other as a producer. In 2018, he was the recipient of the Lifetime Achievement Award.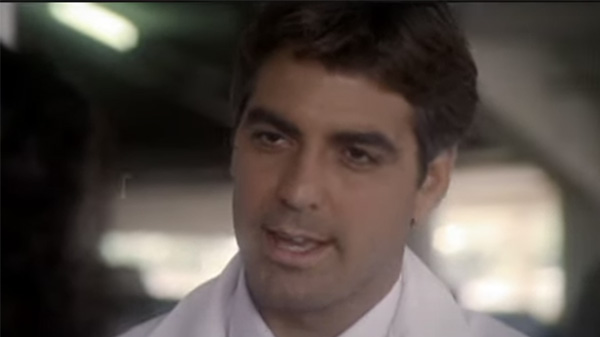 Clooney was married to actress Talia Balsam from 1989 to 1993, but he met the love of his life years later when a friend introduced him to beautiful human rights lawyer and activist Amal Alamuddin, who is British-Lebanese.
It was 2013 when the serendipitous encounter took place. Clooney and his family were spending some time in his 18th century Villa Oleandra in Laglio on the western shore of Lake Como, Italy, which he purchased back in 2002. A friend of his, who was traveling to Cannes, France, made a stop at Clooney's place. But he wasn't alone. He was traveling together with another friend, Amal. It was then that Clooney and Amal first laid eyes on each other.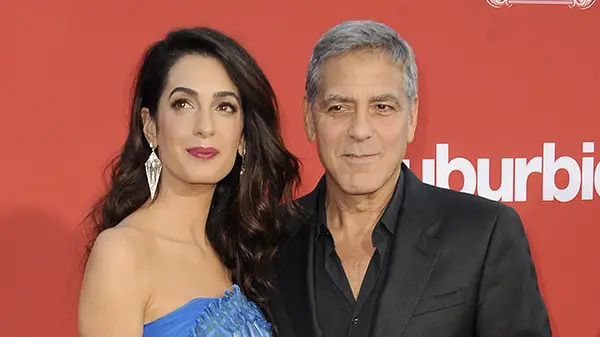 After that chance meeting, the two stayed in touch and communicated through emails. In 2014, Clooney was in London, filming at his studio, when he invited her over. Amal visited him and that was their first date, which according to Clooney went very well.
"She'd had a conversation with her parents who were like 'What are George's intentions?', he says. "And she was saying, 'Take it easy. We've been going out for six months.'"
Six months into dating, Clooney, who knew Amal was the one, popped the questions. He hid a 7-carat engagement ring inside of a lighter box which Amal often used to light candles on the table.
"I did all the stuff, got down on my knee and did all the things you're supposed to do," the actor revealed in an interview with The Hollywood Reporter. "I was waiting for this song, Why Shouldn't I?' 'Why shouldn't I take a chance when romance passes by? / Why shouldn't I know of love?' It's a really good song about why can't I be in love? And it played, and she's like, 'Holy shit!' And she just kept staring at the ring, going, 'Oh, my God.' It was 20 minutes of me on my knee, waiting for her to say yes, because she was so shocked."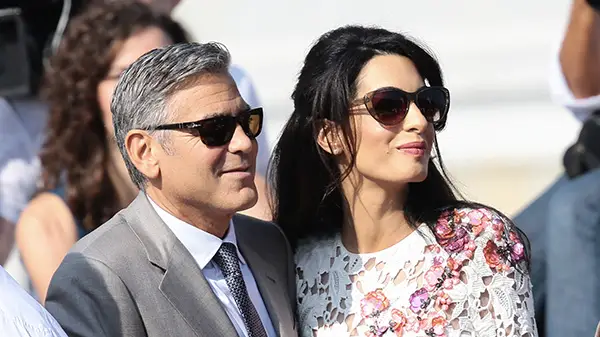 In 2017, they welcomed twins Ella and Alexander and both became parents for the first time, although parenthood wasn't something they planned.
"It had never been part of my DNA," George Clooney said. "We didn't plan on it. We never talked about it until after we were married, which is funny. There was an assumption that we didn't want them. And then, after the wedding, we just felt we'd gotten very lucky, both of us, and we should share whatever good luck we've got. It would seem self-centered to just have that belong to us."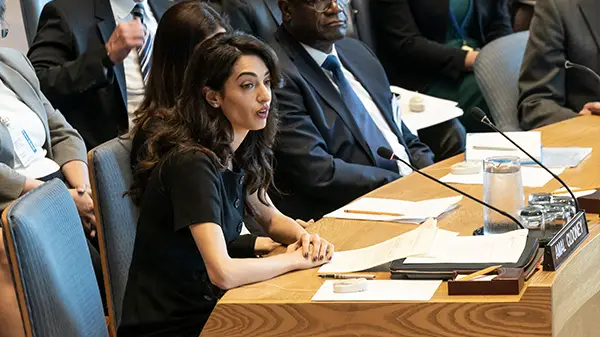 Following her marriage with Clooney, all eyes were on Amal. All of a sudden, everyone got very interested in her and her life.
She has built a notable career in International Law over the years and is now one of the most famous and most successful lawyers there are.
She was born in Beirut, Lebanon in 1978. Her family moved quite often because of her father's job who held the position of vice president of the Universal Federation of Travel Agents' Association. Amal's name stands for "hope" in Arabic.
Amal studied at Oxford University from where she earned her Bachelor's Degree. She then had her Master's Degree from NYU and started working at the top-ranked law firm Sullivan & Cromwell after passing her bar exam.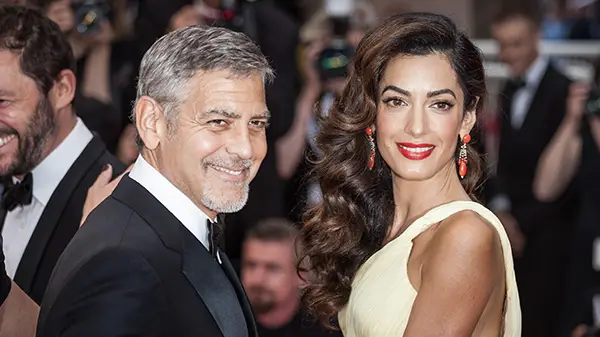 Few years later, she developed passion for international law and was part of the team who worked on the case to prosecute the people responsible for the assassination of former Lebanese prime minister Rafic Hariri. Later, she started working for the firm Doughty Street Chambers.
"She's been a leading intellectual thinker on the concept of fairness—in a trial where you don't have a jury and where, sometimes, you don't have a defendant," Geoffrey Robertson, a co-founder of Doughty Street Chambers told Vogue. "That set her apart even before she met George."
In 2020, Amal was presented with Gwen Ifill Press Freedom Award for her "extraordinary and sustained achievement in the cause of press freedom."
Amal seems to have it all; a successful career, an amazing family, and incredible beauty. Recently, a photo of her without make-up was shared online and we can all agree that she looks stunning, don't you agree?