When we lose a member of the family, we are left grief-stricken and desperately try to find ways to cope with the sorrow and the sadness. Many of us feel a bit relieved when we visit the graves and leave mementos. We believe that's one way of paying tribute to those who left this world.
Unfortunately, there are people out there who don't respect even the dead. Two women from Ohio were seen stealing mementos from the New London's Grove Street Cemetery. The grisly act was caught on the surveillance camera and the community is left in complete shock.
One of the many things these thieves stole is a flower pot a woman gave to her father back in 1977. She says it may not cost much, but to her it's the most priceless thing as it reminds her of her late parent.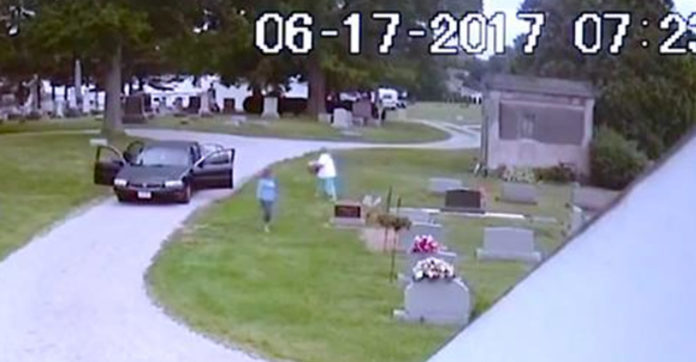 The women could be seen casually walking back and forth the cemetery, taking everything they wanted without feeling guilty for their actions. Luckily, they were very soon identified and charged with theft.
One of them was said to be elected fiscal officer in the nearby Sullivan Township, and honestly, that fact is pretty concerning. Why? Because someone holding a position of trust should have known better than stealing from dead people.
What a despicable act!
Please SHARE this article with your family and friends on Facebook.
Bored Daddy
Love and Peace