On your wedding, the day should be full of love and laughter, and plenty of tears of joy too. The expectation of weddings we have now are ever increasing, but sadly the marriage between David and Heather Mosher was nothing but ordinary.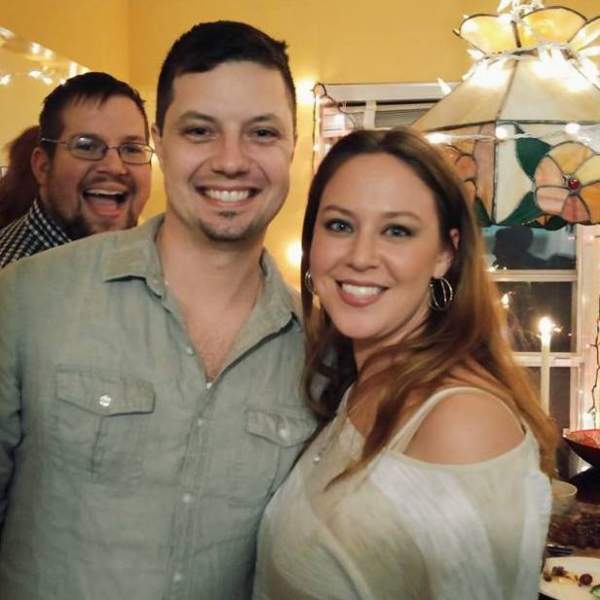 David and Heather had love at first sight back in 2015 when they first met, they completed a dance course together and knew straight away that they were right for each other there and then.
Dave got on one knee, it was 23rd December 2016 to ask for Heather's hand in marriage, under the cool ambiance of the lights in the street, while they just happened to be in a horse-drawn carriage.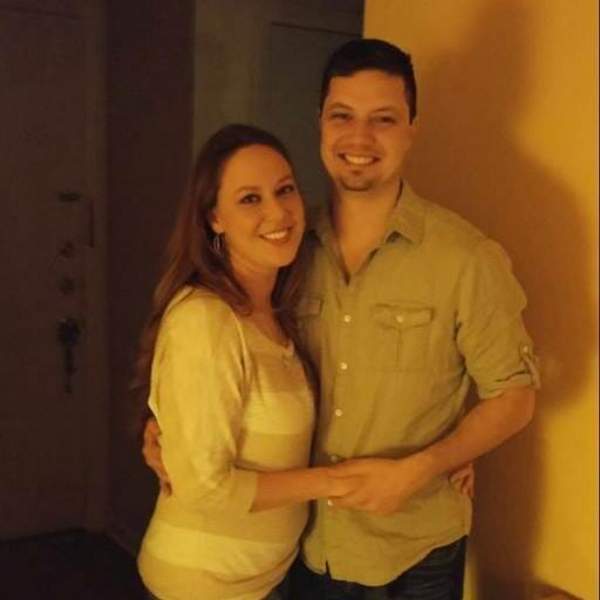 Heather gladly said yes to him, the couples' great news would soon be sadly overshadowed!
The very same day the two of them became engaged, Heather told David that doctors had found a suspicious lump in her breast and that it could be cancerous.
Five days after that, she was given the heartbreaking diagnosis: regrettably, she had a strange and rare form of aggressive breast cancer, the prognosis at this stage was really bad.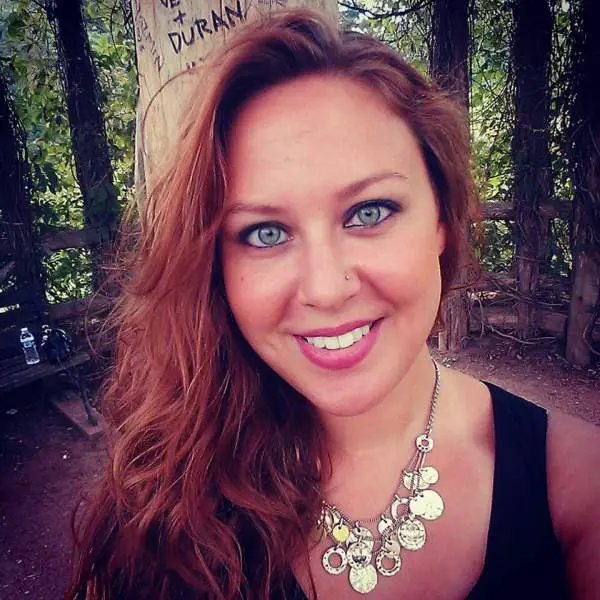 The two of them had planned to get married on December 30, 2017, however, because of this cancer's unusually fast growth, they soon came to realize that they would have to bring the date way forward.
It is more often than not the presence of metastases, or daughter tumors, that decide the severity of a patient's cancer. In Heather's instance, it was a fast road to the worse kind of outcome.
Happily though in December 22, nearly a full year after Dave proposed, it was time to do it and tie the knot. The amazing wedding went ahead, Heather was laying in her hospital bed surrounded by all her family and friends.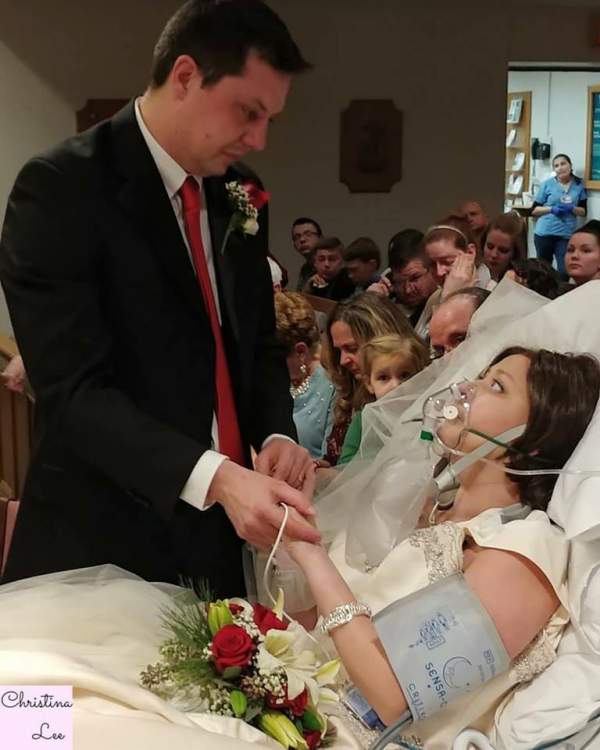 One of Heather's best friends said:
"She was determined to marry her soul mate"
Her body was so slight and delicate at that stage that her family just draped the dress over her body like a sheet…
She did though, eventually, manage to get the dress on, in the hospital's chapel, and so the ceremony was ready to get going.
Still, every breath, every action, and every moment was hard for Heather. She fought for the strength to speak her vows proudly…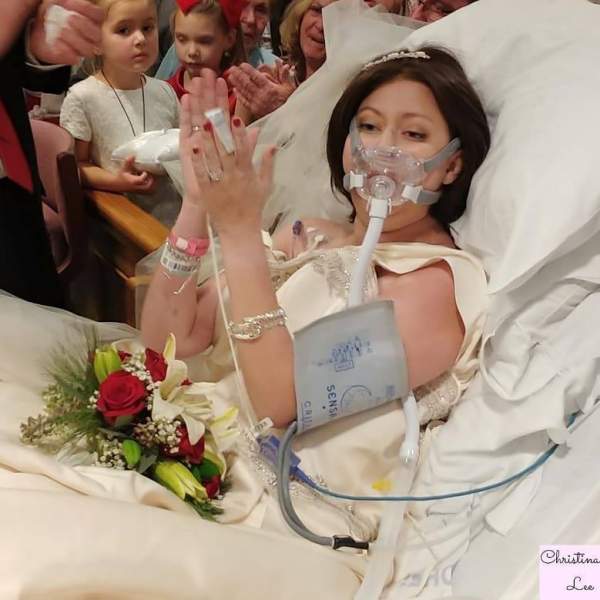 These words would be her last, and maybe that's not such a bad way in the end…
Christina said:
"It was a miracle …Even when she raised her arms and realized she would die, she was happy. She just wanted it to be a party."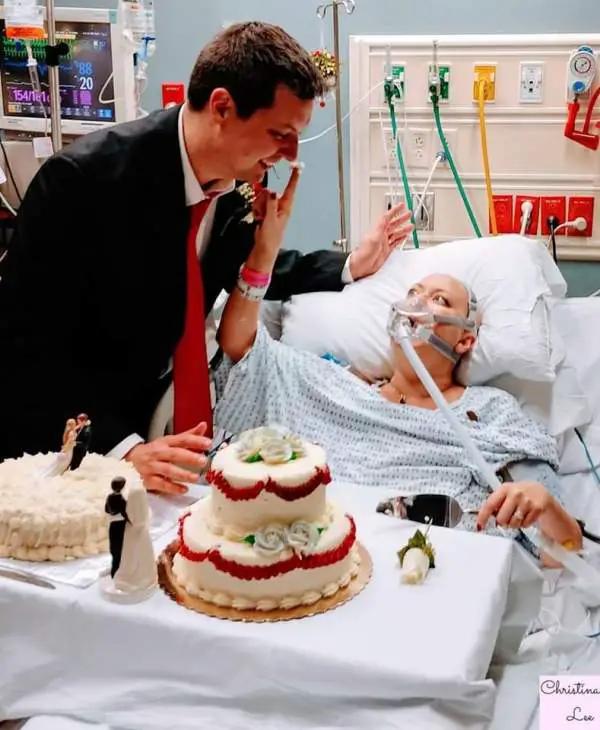 "Everyone cried …We all knew that this was the last moment with her and we would treasure every second."
David's day was sad and deeply hard, with pain and true heartache, but not just that, it was also filled with love admiration.
David said:
"She was beautiful and she felt safe …I saw her illness. I saw her pain but she did not give up until she married me. It's unbelievable how much you can love a person."
Heather took her last breath only 18 hours after she said "Yes" …She was just 31-years-old.
On December 30, the actual day Dave and Heather had originally planned to get married they held Heather's funeral, it was the same place the couple had chosen for their wedding.
Christina said:
"It was a really hard day …The world lost a wonderful person."
Christina has shared the photos she took of the lovely couple during their wedding since that day. They really have touched hearts right around the world.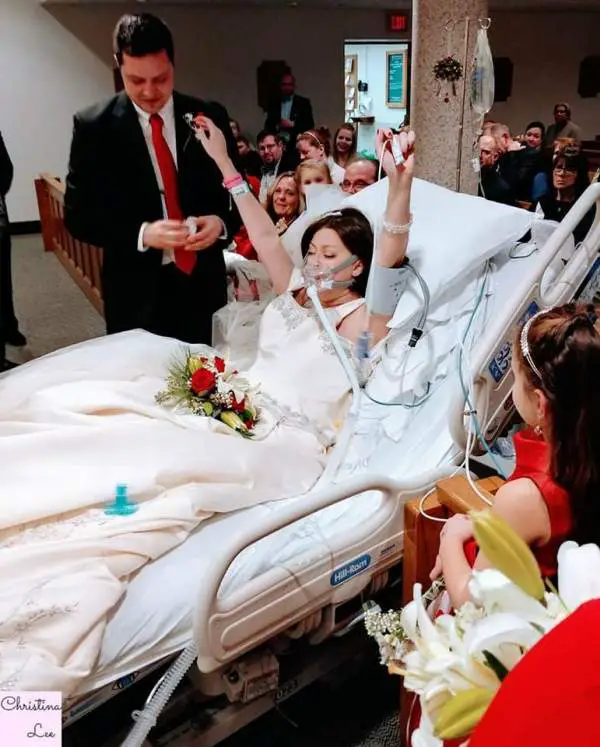 This has turned out to be a really heartbreaking time for everyone involved, however, we are pleased that this story can be used to give hope to many more people.
Hold on to your dreams Love will out and follow your heart!
If you felt touched too then SHARE this lovely story with your friends and family!