This is Violet, she's the most amazing pups around!  She is a pug and she loves to snuggle.  Luckily for her her human loves snuggling as much as she does…even if it means sleeping on the floor or in another room.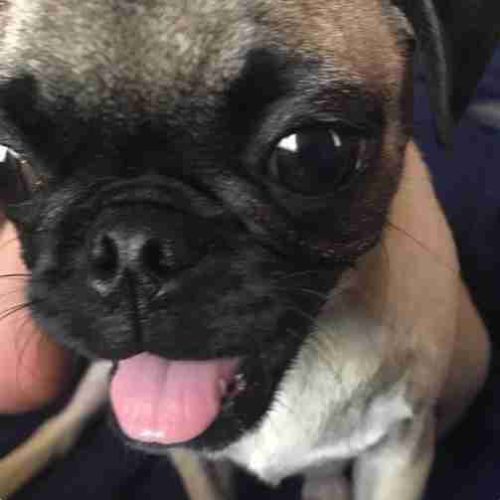 Who could possibly deny this adorable pug what she loves the most?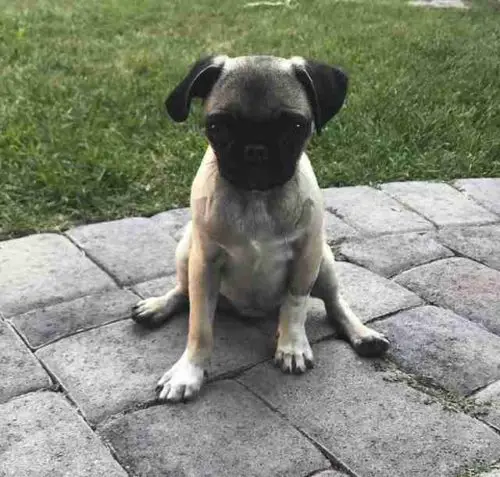 When McKenna was introduced to Violet however, as sweet as the little pug is, she only managed to win McKenna's mother heart.
Luckily, Violet quickly won over the entire family! I mean, come on now, how can you not absolutely love this face?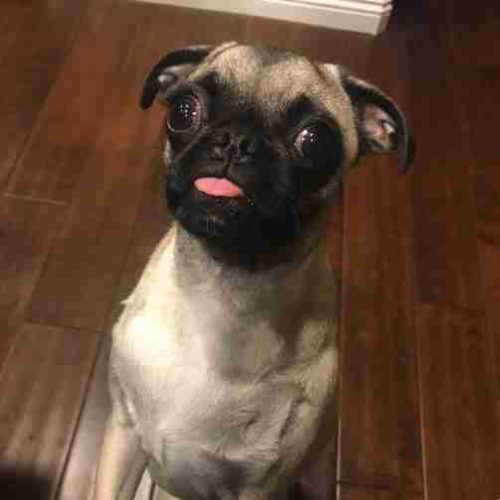 "At first my father wasn't fond of me bringing a dog home. However, once we'd had her in our house for about a week or so, good old dad warmed up to her as well," McKenna said to her friend Dodo. "The funny thing is, how Violet grew a fondness for him that was stronger than any other member of the family. Once he'd seen the way she loved him, they became the best of friends."
Violet ended up joining McKenna's parent's in bed every single night. The both actually enjoy having her in bed with them.
Until recently…
Violet had to get a surgical procedure last week and even though it went smoothly, her recovery was a little slow.  Unfortunately Violet had to be completely healed before being able to enjoy a nice warm bath again.
Since she wasn't clean McKenna's mom refused to allow her to sleep in the bed.
Instead of arguing McKenna's  dad decided to join Violet on the floor, sleeping all night with her right there.
"It looked so cute, the two of them sleeping together." So much so, that McKenna slipped into the room and snapped a picture. Explaining "I think it was a bit extreme on dad's part, however, they just looked so adorable.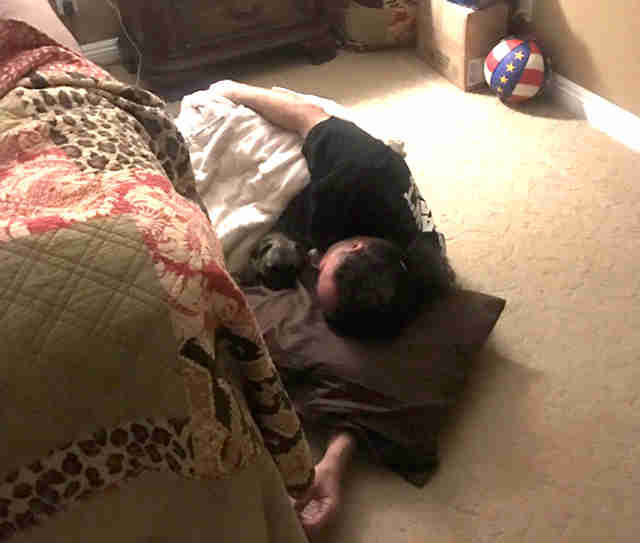 According to McKenna, "The way fell asleep at that very spot, I simply couldn't resist."
What did his wife think?
"She thought it was so hilarious." McKenna claimed.
"It warms my heart that dad finally loves Violet the way he does, I'd much prefer it compared to the relationship they used to share." Said McKenna. His life has changed for the better, since the two of them met.