Elephants are very special creatures. During years of extensive research and observation, scientists have discovered that elephants' mourning pattern is very similar to that of humans.
Speaking to National Geographic, George Wittemyer, a Colorado State University conservation biologist who has studied elephants for a long time, said, "Elephants have respect for their dead, but their interaction with their dead is not something we fully understand."
He added that these creatures act upon emotion when a member of their herd dies, which is truly fascinating and speaks of their emotional inteligence.
Twitter user Parveen Kaswan shared a video which proved yet again that elephants are able to mourn death. They not only bury the bodies but show respect to the bones later on.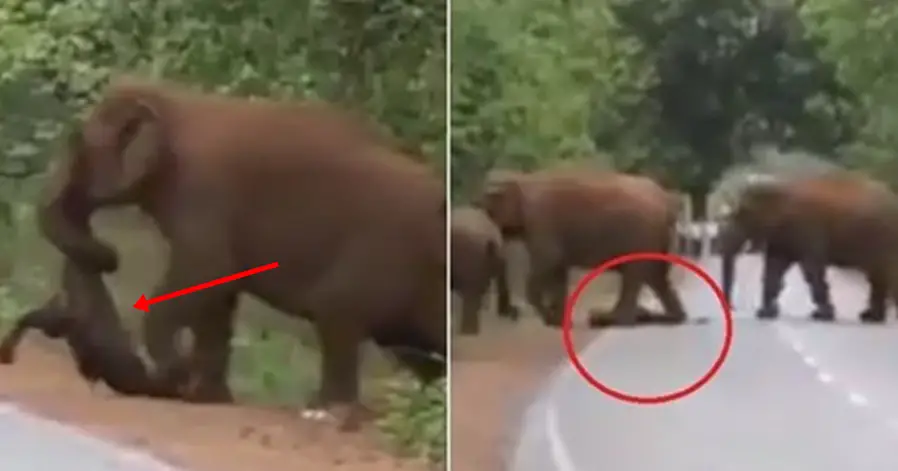 The video shows a number of people and vehicles parked in the middle of the road. The reason why is that a herd of elephants is crossing the street.
What caught the attention of the bystanders was that one of the elephants was carrying something with its trunk. When they took a closer look, they realized that the animal was carrying a dead baby elephant.
The herd then stopped and placed the body of the dead calf on the ground as the rest of the group gathered around it.
"The family just don't want to leave the baby," Kaswan wrote in the caption and added that the sight resembled "funeral procession."
As they continued their journey, another animal took the dead baby with its trunk.
To see the incredible moment go to the video below.
This will move you !! Funeral procession of the weeping elephants carrying dead body of the child elephant. The family just don't want to leave the baby. pic.twitter.com/KO4s4wCpl0

— Parveen Kaswan, IFS (@ParveenKaswan) June 7, 2019
Please SHARE this article with your family and friends on Facebook.
Bored Daddy
Love and Peace