There is nothing worse than seeing your child suffer and you are unable to do anything about it no matter how hard you try.
Delaney Krings of Pewaukee, Wisconsin, is just four years old, but she was diagnosed with cancer recently. The news broke her parents' hearts into a million pieces. "Your heart stops for a minute. The world stops. You can't breathe, you just try to process it. She's four, you know?" Delaney's mom, Heather Krings, said.
"She brought light and love to people. That's why she's our angel. And, apparently, she's being called elsewhere to finish her angel work," Heather added as her little girl is battling brain cancer.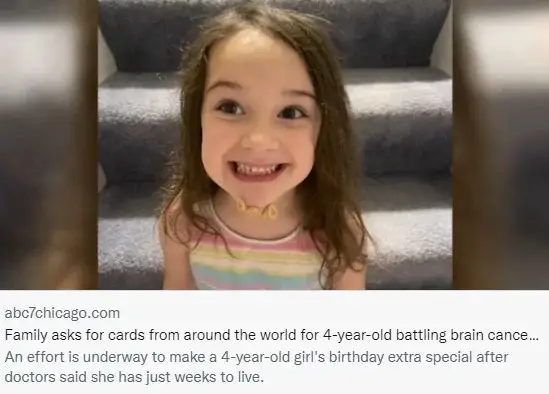 At the moment, sweet Delaney is at the Children's Hospital in Milwaukee and her mom and dad take turns to watch over her. Next week, however, she is set to be transferred home to hospice care.
"You can't really convey to a kid that they won't be around much longer. So she knows she's in the hospital because of the 'owies' in her head."
As Delaney's birthday is approaching on December 16, her parents asked from people from all over the country and everyone who has stumbled up her story to make her birthday by sending a birthday card.
"As long as she still knows what's going on, she can laugh, she can hear, she can see, she knows us, she remembers us. That clock, you have to ignore it because what's our purpose here? To make whatever time she has left as best as we can."
We are so very sorry for everything this family is forced to go through. Our thoughts and prayers are with them during these difficult times.
Please SHARE this story with your family and friends on Facebook.
Bored Daddy
Love and Peace