The customers at an El Patron restaurant in Jersey City, New Jersey, hoped to have some nice time and enjoy great food when all of a sudden, they spotted a young girl carrying a baby in her arms. She was in distress and blood could be seen running down her legs.
It was obvious that despite her young age of just 14, it was her who had given birth to the bundle in her arms.
Not knowing what to do and who to turn to, she entered the restaurant and surrendered the little one to two customers, Alease Scott and her boyfriend Walter Cocca, who got really concerned for both the mother and the child.
Recalling that day, Scott explained how she asked the girl if she could check the baby's vitals. "She readily handed the baby over to me so my focus went right onto the baby," she added.
"The baby had a color but I just saw that the breathing was a little bit labored."
At that moment, they called paramedics and Scott made sure she kept a close eye on the baby while they arrived. She ensured the one was breathing properly. "Once I applied the oxygen mask to the baby, all of a sudden we heard the most beautiful cry and the baby started moving, she slightly opened up her eyes and then she closed her eyes but the sweetest thing was when she got hungry and she was trying to suckle on the oxygen mask so we knew she was OK after that," Scott recalled.
"All I saw was a child who just didn't know what to do and made a very bad decision that worked out… for the good of that baby."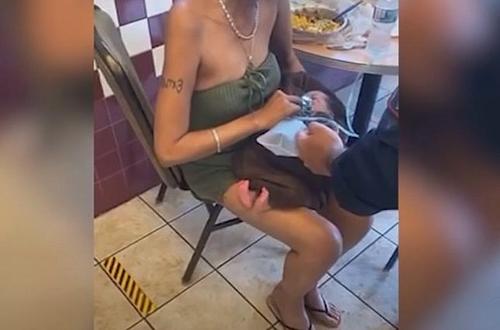 Scott was very happy she could help someone during their most difficult of times.
One of the employees at the restaurant, Frankie Aguilar, said that the staff alerted authorities of the girl who seemed to be acting strangely.
Luckily, the young mom was later tracked down and taken to the Jersey Medical Center. Despite her decision to leave the baby at a place of business instead of a Safe Haven, she was given safe passage to the hospital instead of jail, in accordance with the protections guaranteed them by her state government.
What is Safe Haven and how does it work? The idea of introducing these "mailboxes" to the United States was presented by a woman named Mónica Kelsey, who was abandoned right after birth herself. She is the founder of Safe Haven Baby Boxes. "Baby Boxes will be placed in Safe Haven locations and will allow a woman to surrender her unwanted newborn under the Safe Haven Law by placing her newborn in an electronically monitored Safe Haven Baby Box (…) These women are telling us that they want complete anonymity and Safe Haven Baby Boxes will ensure that this happens," the website of the organization says.
It was later reported that the young mom's parents weren't aware that their child of 14 was pregnant and that she had given birth. Upon learning this, they took both their daughter and her baby in.
"I didn't know she was 14 years old when she dropped the baby off to me … We don't know what she went through. We don't know how she ended up in that state," Scott said in a video in which she speaks of the situation.
"So glad she chose to give the baby away and not throw it away. She is adorable. I believe she felt stuck and did the right thing. But she clearly loved the baby. So sad," one person wrote under the video.
Please SHARE this story with your family and friends on Facebook!
Bored Daddy
Love and Peace