The charm late Robin Williams was able to enchant the audience with is immeasurable. His incredible acting and his vibrant personality helped him become one of the most loved actors and humans who have ever walked this Earth.
Unfortunately, behind his captivating spirit and smile, he was facing his struggles and was fighting his demons.
July 21 marked what would have been Williams' 70 birthday and his son Zak decided to open up about the life without his loving father by his side. "Dad, on what would be your 70th birthday, I would want you to know that your incredible spirit lives within us," 38-year-old Zak wrote on Instagram. "Our family will be celebrating you and your memory today. We miss you and love you always!"
Today would be 70. Missing you especially much today. Love you always evermore. pic.twitter.com/Evc7uW48eS

— Zak Williams (@zakwilliams) July 21, 2021
During the last years of his life, Williams' health started to fail. The man who could memorize thousands of lines without making a single mistake, started having troubles remembering on set. Unfortunately, that frustrated him a great deal and led to anxiety. "It was a period for him of intense searching and frustration," Zak said speaking to Max Lugavere for the podcast The Genius Life, as reported by Fox News. "It's just devastating.
Williams was diagnosed with Parkinson's Disease, but after his death, the autopsy revealed he had Lewy Body Dementia (LBD), a neurological disease in which protein deposits, called Lewy bodies, develop in nerve cells in the brain regions involved in thinking, memory and movement (motor control). According to an article by the Mayo Clinic, "people with Lewy body dementia might have visual hallucinations and changes in alertness and attention."
happy birthday robin williams! what a legend <3 pic.twitter.com/pdKhV45x1T

— sar (@neilscty) July 21, 2021
Speaking of his father's misdiagnosis, Zak said: "What he was going through didn't match one to one [with] many Parkinson's patients' experience."
Williams' wife, Susan Schneider Williams, also opened up about the actor's misdiagnosis. "All 4 of the doctors I met with afterwards and who had reviewed his records indicated his was one of the worst pathologies they had seen. He had about 40% loss of dopamine neurons and almost no neurons were free of Lewy bodies throughout the entire brain and brainstem," she wrote for Neurology.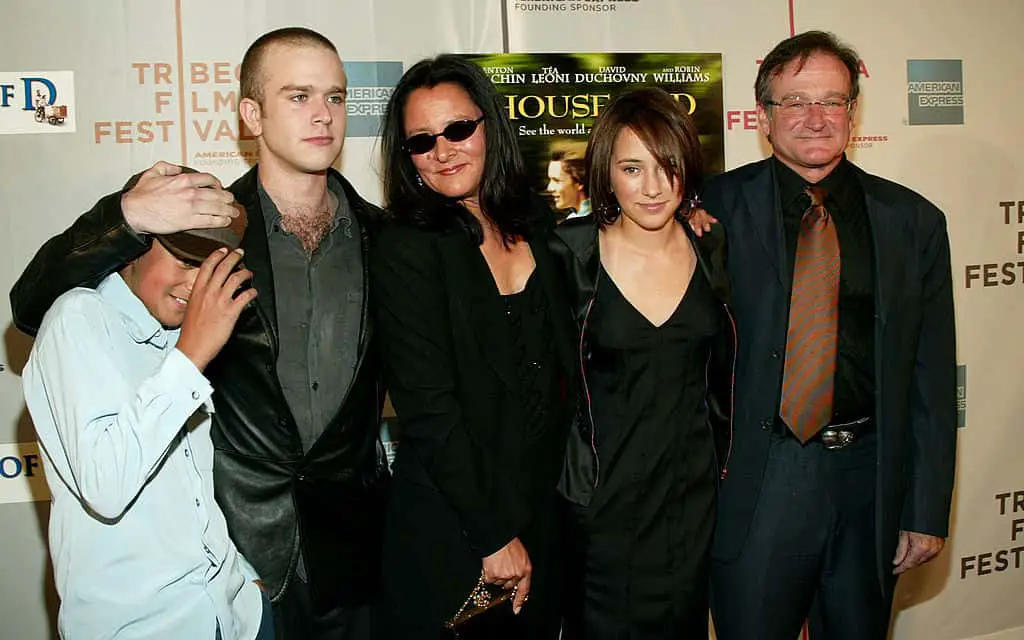 Once he became a father himself, Zak honored Robin Williams by naming his newborn son McLaurin "Mickey" Clement Williams. McLaurin was Robin Williams' middle name.
In an episode of The Me You Can't See, Zak revealed just how much his life resembled that of his late dad at times. "I started to realise elements of myself that were like him [Robin]. My anxiety, my bouts of depression, OCD, drugs, drinking like him."
"It's only in hindsight that you see 'wow there's a generational issue going on,'" Zak added. "I love being a parent, it's the best thing ever. Do I see it as an opportunity to break a generational cycle? Yeah, there's a major opportunity to show up for my son clear eyed and focused. To be there for him."
#RobinWilliams' son, @zakwilliams says his father was his best friend, and that his son loves his "Aladdin" character, Genie. Watch the exclusive interview here: https://t.co/elLV3d35pY pic.twitter.com/8Y6zfpdLAs

— PeopleTV (@peopletv) July 21, 2021
Robin Williams, the "bold" comedian with a "kind and gentle spirit," died of suicide in 2014. May God rest his soul. He was truly one of a kind both as an actor and as a human.