"We all die. The goal isn't to live forever, the goal is to create something that will," American journalist Chuck Plahniuk said, and late Prince Philip, The Duke of Edinburgh and Britain's longest-ever serving consort, had a lot to be proud of as his legacy will live forever.
Remembered as the man of his people, Prince Philip dedicated his entire life supporting the love of his life and wife of 73 years, Queen Elizabeth II.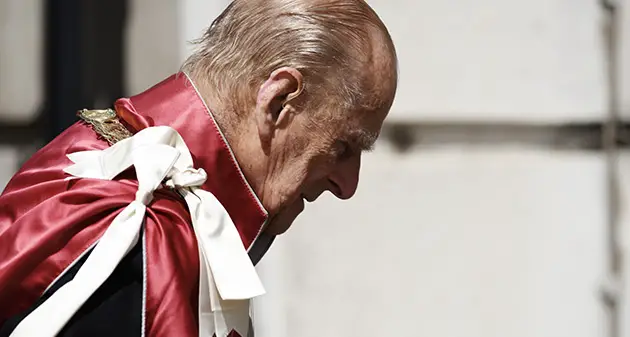 The love story between the two is one of the most beautiful ones. The dedication and affection he had for his queen was profound, and with his passing, she lost what she has described as her "strength and stay." The emotions the Royal family expressed publicly after losing Prince Philip is something we have seen quite rarely, and that spoke of the importance this man had in their lives and hearts.
After a month-long stay at the hospital, Prince Philip returned home, where he died peacefully. It was his last wish to die in the comfort of his home, and the Queen granted it.
Queen Elizabeth's husband died four days ago. Today she's back to work https://t.co/w0zEtTbhHG pic.twitter.com/rtMWxsudBf

— nzherald (@nzherald) April 14, 2021
The funeral was watched by over 13 million viewers in UK only and was attended by 30 of his closest family members and friends. Prince Philip's body was laid to rest at the St. George's Chapel.
According to the Daily Mail, Prince Philip once told Queen Elizabeth that he wanted his body to be "stuck" in the back of the Land Rover he helped design himself and "driven to Windsor."
On the day of the funeral, the mighty Queen could be seen sitting all by herself nearest the alter, wrapped in grief and pain. Dressed in black from head to toe, she said her final goodbye to her beloved husband. She placed a wreath on his coffin made of white lilies, small white roses, white freesias, white wax flowers, white sweet peas and jasmine, and a hand written note which simply read: "In loving memory."
While it is tradition for only men to walk in royal funeral processionals, today Princess Anne, Queen Elizabeth II & Prince Philip's only daughter, walked alongside her brother Prince Charles to honor their father. ❤️ https://t.co/VlIFn0hHG3 pic.twitter.com/6mvU8bHONR

— E! News (@enews) April 17, 2021
"The Duke of Edinburgh is irreplaceable and the Queen's dedication to duty is undiminished," a source told the Daily Mirror. "But senior officials and members of the family have long had an eye on ensuring she is more supported in the future and it seems sensible to start employing this now."
The flowers seen atop Prince Philip's casket were from Queen Elizabeth, with a note on her stationery which read, "I love you." 🥺❤️ https://t.co/Us3JBnbh98 pic.twitter.com/Rktv2U5psz

— E! News (@enews) April 17, 2021
Our hearts go out to the Royal family and Queen Elizabeth. Rest in peace, Prince Philip, you gave so much to your country and its people.