One thing about Kate Middleton is that she always looks stunning no matter the occasion. Her wardrobe includes designer clothes as well as cheaper pieces of clothing.
Recently, she came under the fire for wearing a dress very similar to one she already has, thus royal commentators criticized her for spending a much of money on clothes while her husband is trying to fight homelessness in the country.
As per royal expert Daniela Elser, Kate spent staggering $337,000 on her wardrobe last year.
This year, as any other in the past, the royals were part of the Royal Ascot, the legendary racecourse that hosts a special week of horse racing annually. These races take place for 300 years and are an important part of the royal tradition with royals making appearances while wearing fabulous outfits and extravagant hats. Late Queen Elizabeth, who was a huge lover of horses, just like the rest of her family, including King Charles and Queen Camilla, only missed the Royal Ascot once throughout the years. It was the last year of her life when she didn't feel well and was forced to watch the races from her home in Windsor.
The Royal Ascot festival had become synonymous with the late Queen. In total, she had 24 Royal Ascot winners, and always presented the trophy to the winner of the Gold Cup at the Royal Ascot. The only time she didn't present the award to the winner was in 2013, and the reason why was because she was the winner herself.
As expected, the Prince and Princess of Wales were in attendance.
What the guests wear during the races, or to be more precise during the four enclosures the races consist of, is determined beforehand. The dress code is different in each enclosure, and every year, Royal Ascot puts out an annual style guide to help explain the rules.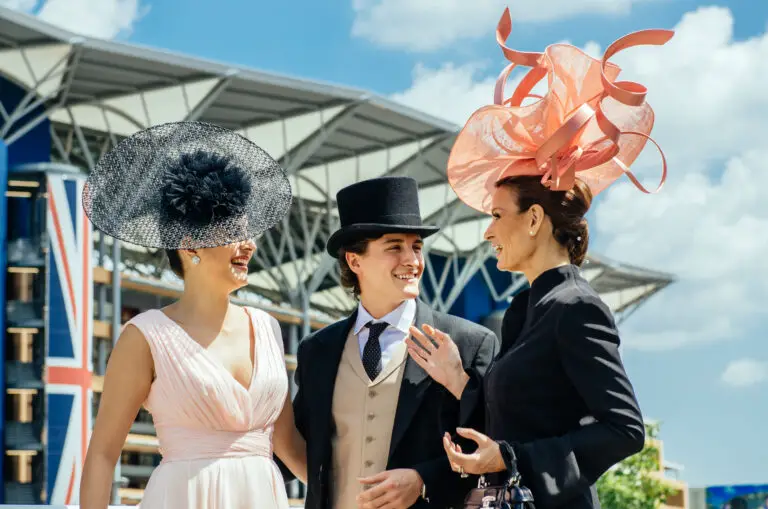 "Dressing to impress. The Royal Enclosure is the gold standard here; offering modern men that oh-so rare opportunity to wear a top hat and morning suit," Gentleman's Journal describes the male dress code. "Elsewhere, the Queen Anne Enclosure dictates men wear their sharpest suits, complete with a shirt and tie (no cravats or bow ties). In all other enclosures, including the Windsor Enclosure, there is no must-follow dress code — but you must still avoid wearing anything branded, any replica sports clothing, fancy dress or anything novelty."
When it comes to women, the dress code is more flexible. However, there are still expectations to be met. For example, in the Royal Enclosure, women must wear dresses or skirts which should fall just above the knee or longer, and lace and chiffon fabrics are permitted. Moreover, a hat must be worn, but a headpiece with a minimum of 4 inches is also acceptable.
For the Queen Anne Enclosure – named after the course founder – women must wear a dress or top and skirt with shoulder or halter neck straps (lace and chiffon fabrics are permitted, with no minimum length). Moreover, one must wear a hat, headpiece, or fascinator.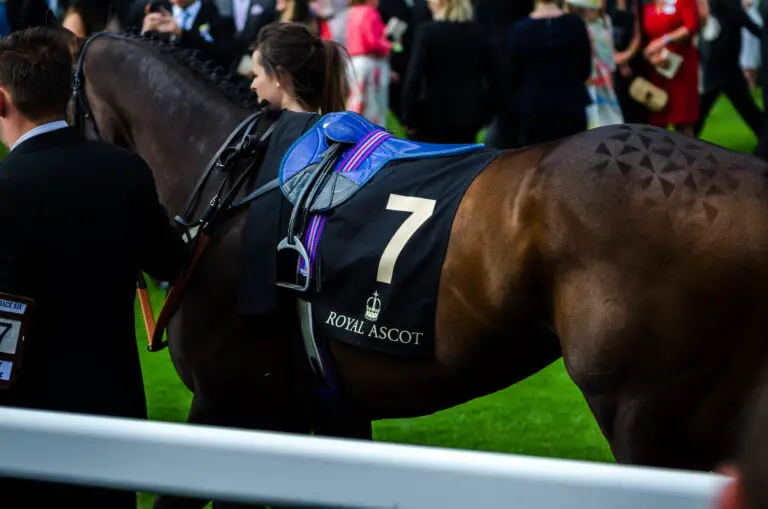 As each day of the Royal Ascot starts with the Royal Procession, the members of the Firm arrive in carriages.
For the occasion, Kate Middleton wore a stunning Alexander McQueen dress and a hat designed by one of the Royal Family's favorite milliners, Philip Treacy. Further, she wore a pair of Jennifer Chamandi Lorenzo 105 Red Suede Pumps, as well as a vintage Hermes Rio Red Leather Clutch.
Royal fashion expert Christine Ross spoke to Newsweek about Kate's choice of outfit and said that the princess employed one of Queen Elizabeth's tricks, and that's the bold choice of color which would help her be instantly recognizable among the attendees.
"The Princess of Wales seems to be employing one of the late Queen Elizabeth II's sartorial tricks, wearing head-to-toe bold colors in order to be seen more easily," Ross said. "By wearing bright colors, even the furthest seats can say they caught a glimpse of the Princess of Wales. This was a powerful tool used by Queen Elizabeth II, and this shows that both women know the power of their fashion choices."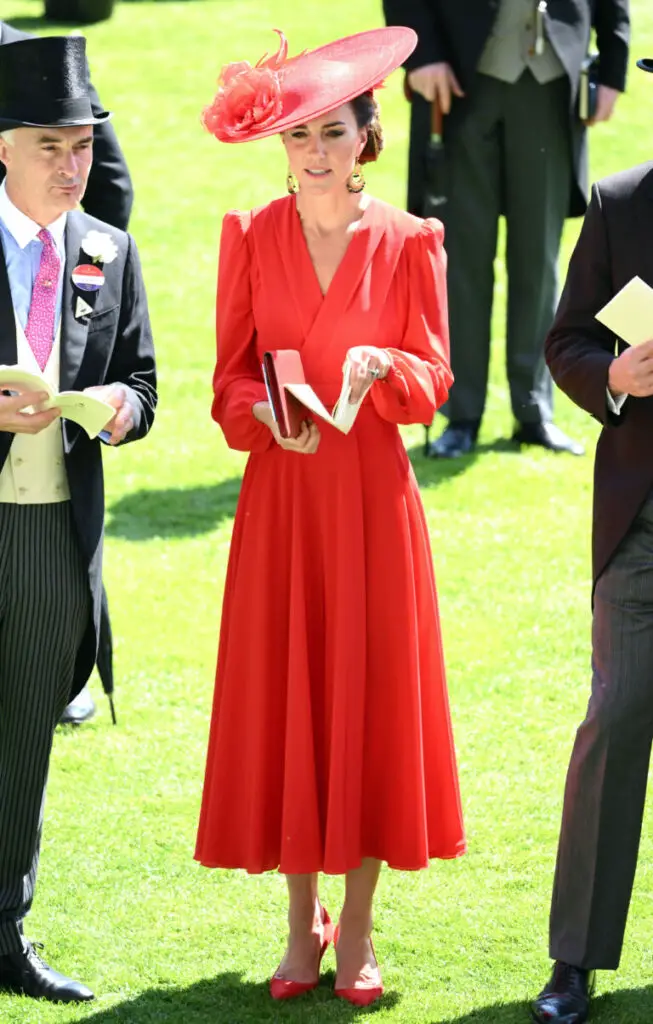 Kate paid tribute to her late mother-in-law by wearing her custom-designed earrings.
Of course, the opinions regarding Kate's overall look were divided. While some praised her for her choice of dress and hills, others criticised her choice of jewelry.
"Love the dress, hat and shoes. Kate looks stunning! I feel the earrings don't work with the style of everything else. They look like cheap fun casual lunch earrings," one person wrote.
"She is gorgeous in red! But…The clutch is pure Disappointment," another added.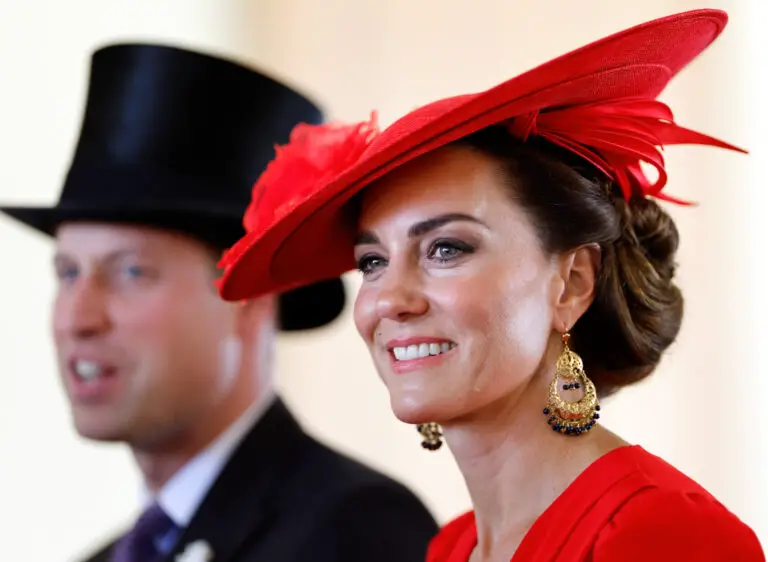 "The earrings are awful! She has a lovely modern ruby set she wore in Poland that would have been perfect for this look. Hat and hair are fabulous! POW always looks beautiful," a third commented.
What do you think of Kate's look?
Please SHARE this article with your family and friends on Facebook.
Bored Daddy
Love and Peace