Most couple's biggest dream is to become parents one day. For some, that comes naturally and with ease, but others spend years of trying before they welcome their bundle of joy into the world and into their lives. The latter often seek help from doctors, and they usually end up with miracle pregnancies.  
Andrea and Mark Rivas were over the moon when they learned they were expecting a baby. Sadly, they experienced a miscarriage, and no matter how deep that affected them, they never stopped trying. After two years of unsuccessful attempts they underwent an IVF procedure and became parents of twins Conor and Avery.  
Their fertility journey was filled with many sleepless nights, many mixed emotions, but at the end, it brought them children and friends for life. Sandi and Philip Palmisano were also trying to conceive for a longer period of time, but unlike Andrea and Mark, their treatments always failed. 
Having experienced the struggle themselves, the Rivas knew what their new friends were going through so they decided to step in. Andrea offered to be their surrogate and Sandi and Philip were beyond thankful.
During a check-up, the families learned Andrea was carrying twins again, and the Palmisanos couldn't hide their excitement. Andrea helped them fulfill their greatest wish of becoming a mom and a dad. 
In February 2014, the Palmisano family got bigger. The new additions, babies EmmaLee and Grayson made their world a better place all thanks to Andrea and her husband.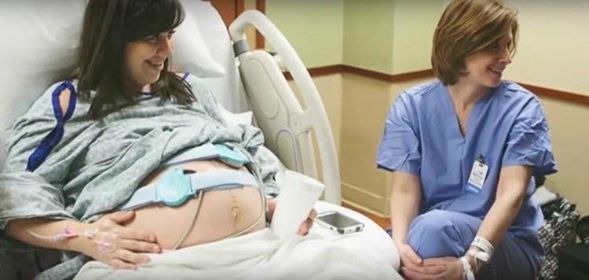 The life of both the families was a busy one. They had their hands full with work around the little ones who became best friends just like their parents.  
After the kids became toddlers, more great news came in. Andrea and Mark were expecting again and the ultrasound revealed something truly incredible. Are you guessing already? They were having twins again. 
This story is so uplifting that it makes us become better people ourselves and do good for others the way the Rivas did for the Palmisanos.