Choosing whether to breastfeed or formula feed is not an easy decision for a new mother to make because there is much debate about which is better for both the baby and the parent.
Many health experts state that the mother's milk is the ultimate nutritional choice for the infant and the recommendations are for the baby to be breastfed exclusively for the first six months of their life. And although the benefits are numerous, not every mother have the possibility to breastfeed, and ultimately, it's up to her to make the decision.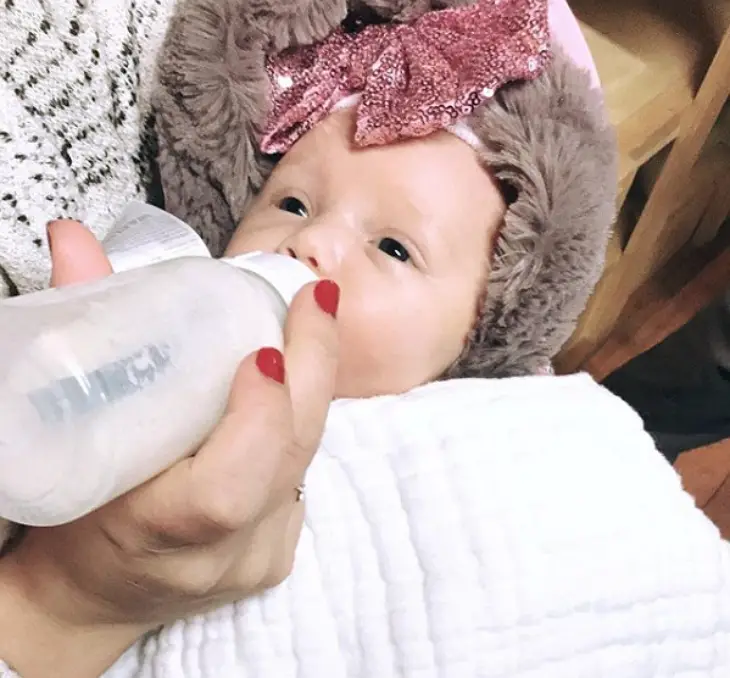 Every mother knows what's best for her baby, and most of them have their own reasons and beliefs why their choice is better than the other. But, I guess the issue here is that the mothers are divided regarding this subject, and they are not supportive when one mother does it differently than them. This counts for both stands.
Those moms who use formula are considered selfish, while the others might be criticized for breastfeeding their babies in public places.
Being aware that she might be told off by the nurses and the medical staff for choosing to formula feed her little one, one mother decided to place a sign above her bed in order to make people aware of her situation.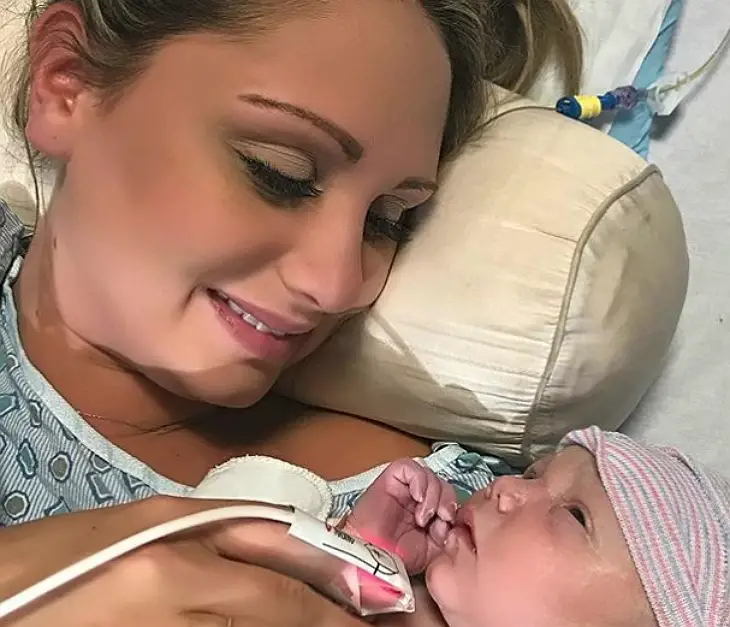 Meghan Koziel is a lovely young lady whose dream of becoming a mother came true after she though that day would never come. The reason she believed the motherhood was something she would never experience was her battle with breast cancer. She was diagnosed three years ago, and she underwent a double mastectomy along with a whole host of incredibly aggressive and invasive treatments designed to treat and beat the cancer.
She was only 26 years old at that time, and her world changed completely. And although she felt like all her dreams were crushed, things turned for the better and she was abot to welcome a baby to the world.
'"Three years ago when I was diagnosed with breast cancer, I thought my life would never ever be the same. I was forced to make so many HUGE life decisions including preserving my fertility through an egg retrieval was one of them. After two years on hormone blocking medications (because my cancer is so aggressive and highly affected my estrogen and progesterone), I made the decision to go off of my medications to fulfill my lifelong dream of being a mom!"
Kendra Jane Koziel, the miracle baby was delivered on September 15. The baby was in a perfect health condition.
'"Cancer has changed my life forever… but looking down at this sweet little girl makes all my fears of recurrence and having to go through active treatment again fade away! I am so so so blessed and will forever Sparkle On."
Megan felt like the happiest person on Earth and holding that baby in her arms was everything she ever dreamed of. However, because of her surgery, she wasn't capable of breastfeeding the baby and that's when she decided to design the pink sign.
She posted a photo of it on the social media because she believed there are other women like her out there and she wanted everyone to be aware of the battle these women fight, and being judged for not breastfeeding their newborns is the last thing they should be bothered with during those joyous moments of their life.
'"Attention please, attention please. We do indeed have a mommy-to-be who had breast cancer and a mastectomy which means, without boobs in the houseeeee! Got the banner raised just in case people are confused at why we are NOT going to be breastfeeding our little bundle of joy. Yes I have foobs, no I do not have boobs (or nipples) therefore… my body is incapable of breastfeeding."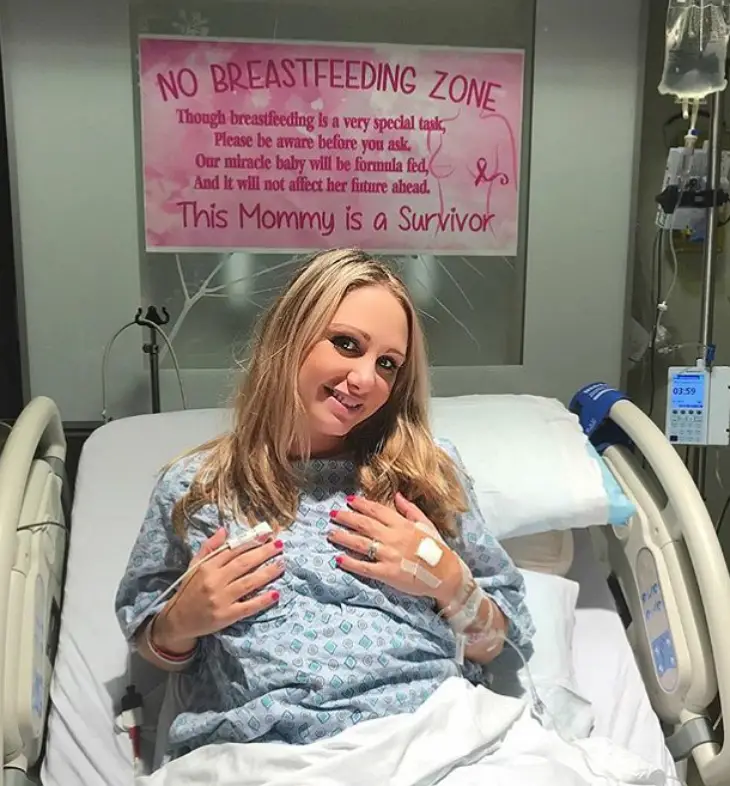 Megan says that posting that sign saved her time explaining her choices over and over again, to everyone who would enter her room.
The sign read:
'"No Breastfeeding Zone
Though breastfeeding is a very special task,
Please be aware before you ask.
Our miracle baby will be formula fed,
And it will not affect her future ahead.
This Mommy is a Survivor"
Sadly, Meghan still receives unsolicited advice from strangers, she shared with Parents. Her local breast milk bank only provides milk to preemies and multiples, there is no insurance coverage for mastectomy patients and tested donor milk sells for $3-5 for one ounce.
'"I was then referred to local Facebook milk donation groups but was turned off because the milk has no way of being tested. Yes, breast milk is fabulous and filled with utmost nutrition… however, it can also carry disease! I am not willing to risk my daughter's life simply to use breast milk when formula has been used for years and there is no known difference from a breastfed to formula fed baby."
Meghan's daughter is a proof that miracles do happen and she hopes the sign will give hope to others who are in the same situation in which she once was. She wants to tell these women that nothing is impossible.
'"All survivors who are wanting to be moms, never ever give up hope! Doctors cannot guarantee fertility, but if you think about it… fertility isn't guaranteed for anyone in life! Miracles happen, and whether you can conceive naturally, through IVF, or adoption… there is ALWAYS a way to become a mom! You just have to find the path and trust in it once it's found."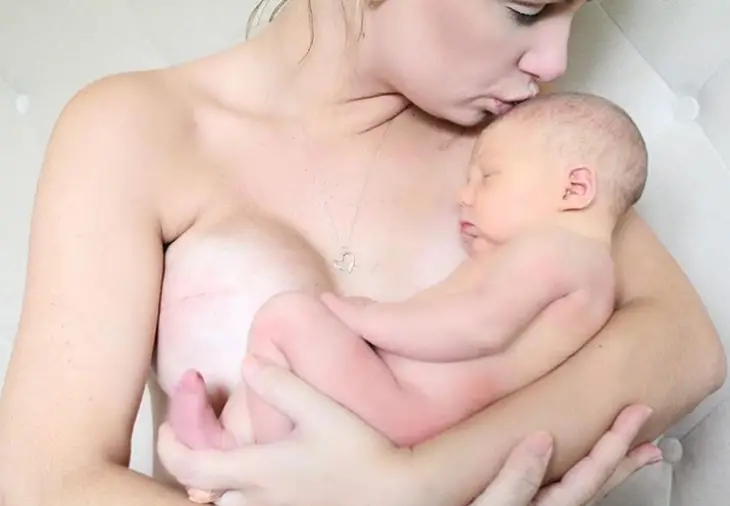 Meghan also encouraged all moms to make the decision of whether they will breastfeed or formula feed their babies based on what they believe is right. And how they should always take their own health condition into consideration as well.
'"To all the mommies like me facing complicated health histories of facing social media trolls for how you're raising your child, I would say… keep on being you! We all must make decisions that are best for our families, and it is truly no one else's business if it doesn't affect them! Raise your child surrounded by love and with happiness and that baby will be amazing."
We thank Meghan for her courage to speak up about the issue many others are facing and to support their choices. You are truly and exceptional woman and a mother.