Moms-to-be seem to be very creative when it comes to delivering the news of their pregnancies to their loved ones and their families. We do understand the urge to give this aspect of the pregnancy that much attention, because at the end of the day, it's a moment to cherish.
Nikki, a mom-to-be from Texas, decided to give her husband the surprise of his life, but in a way that will make you go 'aww."
Namely, she asked from a friend from the Police Department to take part in the prank she was about to pull on her hubby.
As the two were driving, the officer signed them to stop. Jarred, Nikki's husband got worried because he had no idea why he was pulled over. However, the fact that he was an acquaintance with the officer came as a relief, but that didn't mean he was going to be let off the hook if he did something wrong.
The officer approached the vehicle and greeted Jarred, saying, "How's it goin'? I haven't seen you in forever, man."
Jarred greeted him back and then asked if there's was something wrong, to what the officer said, "I gotta be honest. The reason why I stopped you is you have a child in the car with no child seat," he said, pointing to an empty back seat."
Jarred was now more confused than ever. "But I don't have a child," he said while looking at the officer with a puzzled look.
The officer than asked him if he was sure about it while Nikki was holding the pregnancy test in her hand. Jarred was so busy trying to convince the officer that it was all a mistake that he didn't notice what his wife was showing to him.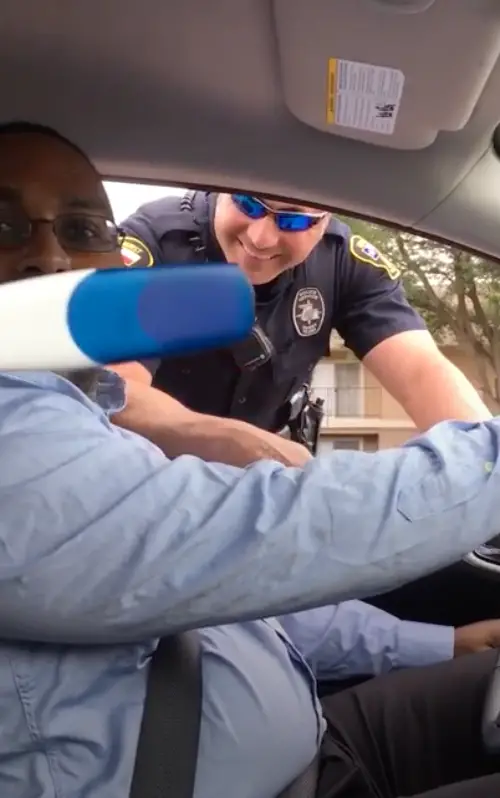 "We do have a child in the car with no car seat!" Nikky said while giggling. "I think that means you're a daddy, buddy," the officer added.
Finally, this father-to-be realized what was going on. This truly was the best surprise ever.
But, it wasn't over yet. The officer's partner then handed Jarred a gift. There was a teddy bear inside with the message "Dad, see you on your birthday." Yes, Nikki's due date was her hubby's birthday.
Nikki decided to involve their officer friend Todd because he was in fact an important part of their life. The thing is that Jarred had been admitted to hospital in the last six months for panic and anxiety attacks and Todd was there to help.
"I actually met the officers in the video during a very traumatic panic episode in November 2016 and ever since he's become a great advocate for my family and I," Jarred said.
This video is beyond adorable. We wish the future parents only the best. Take a look at the surprise below.