Since the dawn of time teens have been babysitters, for some girls it's a great way to earn some cash and easy money. These days though babysitting has become a different animal, there are so many regulations and rules to follow, it's very different!
Us parents leave our children in the care of someone and that takes quite a bit of trust from the very beginning. We wouldn't just leave them with anyone, mom's want sitters with experience!
One mom, Claudia Sorhaindo, really thought she had been sensible asking her teenage niece to babysit her 2-month-old daughter. Later she realized that when she received a text from her niece, that not everyone follows the rules of childcare all the time!
Finding a babysitter at the last minute is really hard, almost impossible, so sometimes family members are the only choice, but always the right person for the job at hand…
Claudia needed to do some errands, so on the last minute she enlisted the help of her niece, 15-years-old, she is one of 17 grand-kids so has plenty of experience!
On Facebook, Claudia said:
"So I had to run out the house for a quick min, so I asked my niece to babysit Baby Ava. A few mins later I received a text saying that J'Ann wanted to make a sandwich but didn't want to let baby Ava out of her sight."
Some kids for some sitters, even experienced sitter are quite a handful, but especially when you don't have a spare hand to hold baby, make sandwiches and talk on the phone! So what do you do?
Well as the expression goes 'mother of invention' is, you guessed it, 'necessity' which gave birth to the most amazing and funny solution you will ever see, J'ann's creativity strikes!
Mom, Claudia said:
"Lord sends help, this was her solution…like really…creativity at its finest."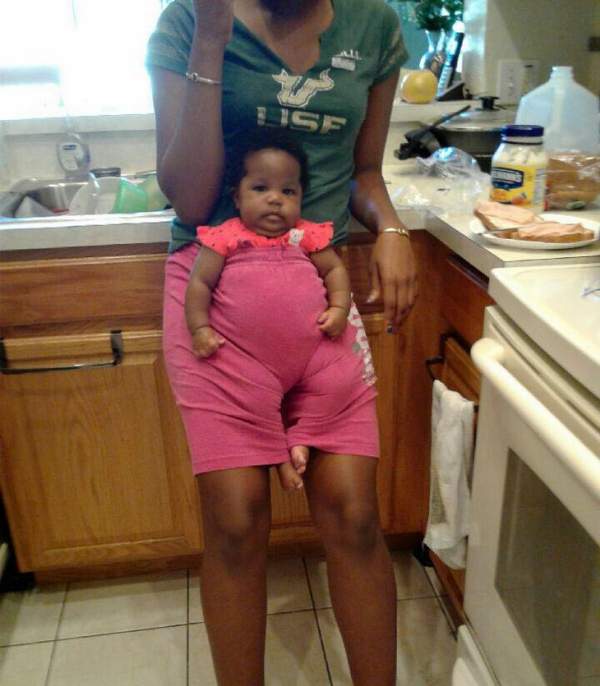 Just look at the two of them, so cute and adorable. The cute little one tucked up safe and sound in her aunties kangaroo pouch! Her tiny little feet are poking out, leg to leg, what a great fit they are!
But as funny and silly as it might seem, there is a deeper story, in 2011 Claudia's 3-month-old little girl, called Jenelle, sadly died. So mom is naturally quite protective of her little girl and it was really lovely to see her little girl so close and well looked after!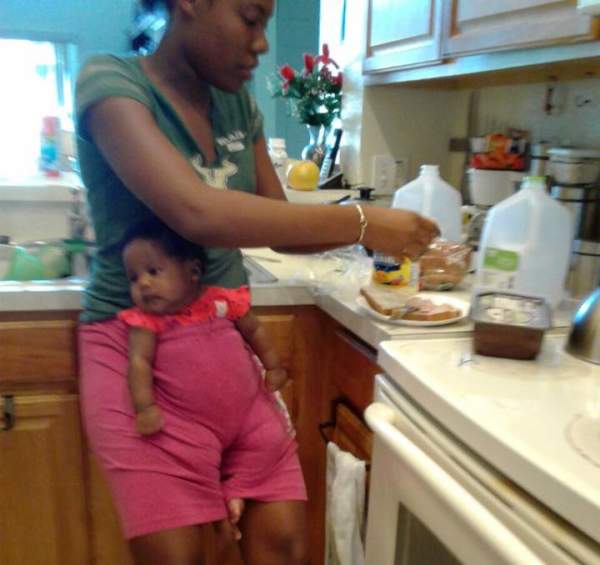 The very clever and smart teen really needs an award for ingenuity, or at least resourcefulness, after all, it does take real skill and natural talent to do it!
The Photos that Claudia posted on Facebook are shared over 6,800 times!
If you love this story like we do, please SHARE with friends and family!