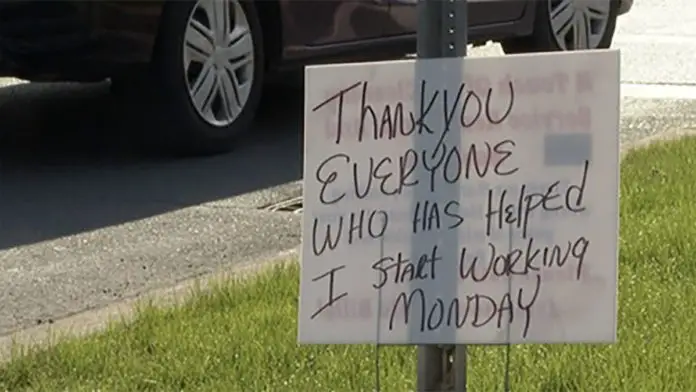 Those people who never forget what others did for them while they were going through tough times are the best people. One such special person is a man named Kevin who used to spend his days at a West Seneca, New York corner, asking strangers and passersby for some money.
His sign which said that he was a war veteran, drug-free, alcohol-free and looking for a job was recently replaced with another one and it warmed many people's hearts. The new sign placed where Kevin stayed during the past couple of months said: "Thank you everyone who has helped. I start working Monday."
One of the local residents, Jesse Dixon, who often stopped to help Kevin, spoke to WKBW-TV and described him as a very nice guy.
"It seemed like he, you know, hit a patch of, you know, patch of bad luck, so we were just trying to help him through it. If I didn't see him for two or three days at a time, it was unusual. Like I said, I usually… usually saw him at least a couple times a week," she said.
Those who were willing to offer Kevin a helping hand were grateful for the sign and the kind message.
Jesse added that she was extremely happy for Kevin, and Megan Bingham, co-chair of the annual local Project Homeless Connect event, described his act as heartwarming. "Here's a man who is so grateful to have found a job that he left a sign for anyone who's helped him over the last, you know, however many months," she told WKBW-TV. "I mean, that gives me goosebumps."
When the story was picked up by the local outlet 7 Eyewitness News and shared on their Facebook page, it went viral in the blink of an eye. A huge number of people took their time to comment.
POSITIVE NEWS to start your Sunday: A man who used to be a fixture at a West Seneca intersection left a sign behind this week, letting supporters know he found a job! Read more: https://t.co/wMn1ol93OB pic.twitter.com/sTf44KYH7L

— 7 Eyewitness News (@WKBW) April 25, 2021
One person wrote: "Our family has helped him out on many occasions. He was always so grateful for anything we gave him. Congratulations," while another added: "So very happy! I have stopped on a few occasions and given him food and gift cards. He is such a remarkable kind man. So glad to hear this news."
Apparently, Kevin got a job with a landscaping company. We are so glad his life turned for the better and we wish him success in the future.