Some people are so talented that they take our breath away. Meet Jacob Tolliver, a virtuoso who seems was born to play the piano. Some people learned of Jacob from the viral video of him playing Whole Lotta Shakin' at a hardware store on a partially functional instrument.
His incredible skills amazed millions of people who just couldn't believe how someone could sound so awesome.
Jacob started playing the piano when he was in third grade and never stopped ever since.
In 2013, Jacob, who was just 19 at the time, was selected to play the role of Jerry Lee Lewis, "The Killer," in the Las Vegas production of "Million Dollar Quartet." He was also part of Season XIV of American Idol.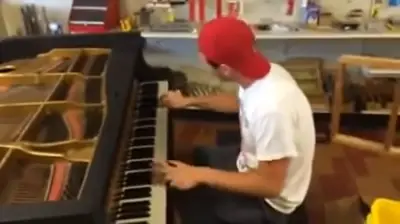 In fact, many agree he sounds exactly like the famous pianist, Jerry Lewis, who is said to be the "rock & roll's first great wild man and one of the most influential pianists of the twentieth century."
Jacob, however, says he never intended to copy anyone, he only wants for the genre to stay alive. Speaking to SO BOOKING COOL! the young pianist said: "The man [Lewis] truly is a genius. He's 83 and he's at the point in his life where I think he'd love to see somebody wanting to keep [rock 'n' roll] alive and keep it going 'cause it is really great music."
Listening to this talented young man playing is pure pleasure. Check him out below.