A video of a red pick up truck tossed around in a middle of a tornado on Highway 290 in Elgin, Texas, has left thousands of people speechless. The truck got flipped, spun, and then flipped over again. The video then shows the person behind the wheel, who was later identified as 16-year-old Riley Leon, continue driving.
Riley was returning home from a job interview at Whataburger when the devastating tornado appeared "out of nowhere."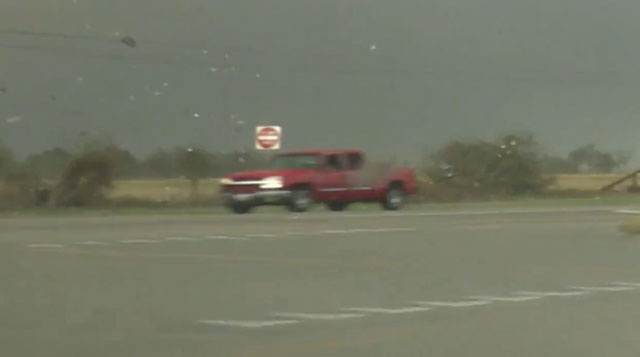 Shortly before his truck got tossed, he called his mother to tell her the interview went well and he got the job. Seconds later, he found himself in a life-threatening situation that could easily cost his life. Luckily, despite his age, Riley picked himself up and tried getting out of the road.
"I honestly didn't know what to do, to grab onto the steering wheel or to start praying," the teen said. "I landed in the center of the road and I was just driving to get off the road."
That's when Commander Aaron Crim with the Elgin Police Department spotted him and approached him as he wanted to make sure he was fine.
Omg… just going thru my video. This is a story about a red truck and a tornado…. I CANNOT believe they drove away like that. #txwx #tornado pic.twitter.com/8h0nD88xFv

— Brian Emfinger (@brianemfinger) March 22, 2022
Riley couldn't wait to share his incredible survival story with his mother. He called her and told her what had happened. She was in disbelief and said she didn't know whether to laugh or cry. The most important thing was that he was safe and sound. Riley was left unharmed, but his truck was damaged.
The vehicle used to belong to his father, but it was now Riley's. In fact, the teen said he paid it off which speaks of how well raised he is. Not only he is a quick-thinking young man who managed to stay cool-headed during a deadly situation, but he's also hard-working and punctual.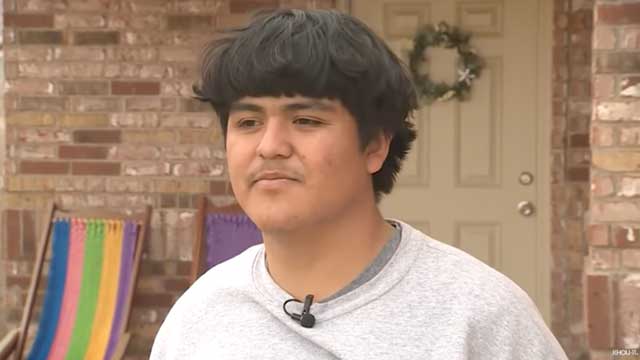 Seeing the devastation in his eyes during his interview in which he spoke of the incredible experience and how sad he was for his truck, a North Texas Chevrolet dealer decided to give Riley a brand new truck. He is expected to pick up his new vehicle at Bruce Lowrie Chevrolet in Fort Worth on Saturday.
For the actual footage of the tornado and how Riley survived the encounter with it go to the video below.