A recent episode of one of the most popular quiz shows there are, Jeopardy!, made many question Americans and their faith after three contestants failed to give an answer to what seemed a rather easy question related to Christianity.
Namely, one of the questions during the episode which was on on June 13 in the category "dadjectives" was "Matthew 6:9 says, 'Our Father Which Art In Heaven', This 'Be Thy Name.'" The contestants were supposed to answer "hallowed" or rather, "what is hallowed," per the quiz's regulations, but they didn't. Allegedly, this enraged a huge number of fans.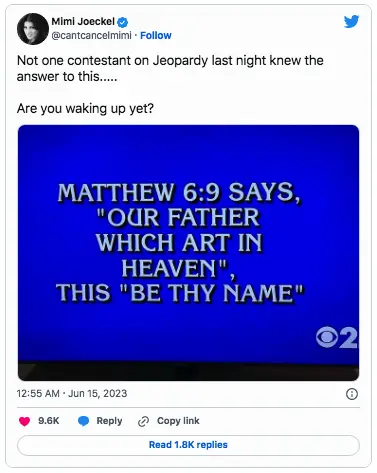 "Not one contestant on Jeopardy last night knew the answer to this…Are you waking up yet?" one Twitter user wrote.
"The Lord's Prayer growing up was like knowing The Pledge of Allegiance. You just did," another added.
"While it may not be a sign of the end times, if DEFINITELY speaks volumes about Americans and their faith…or lack of," a third wrote.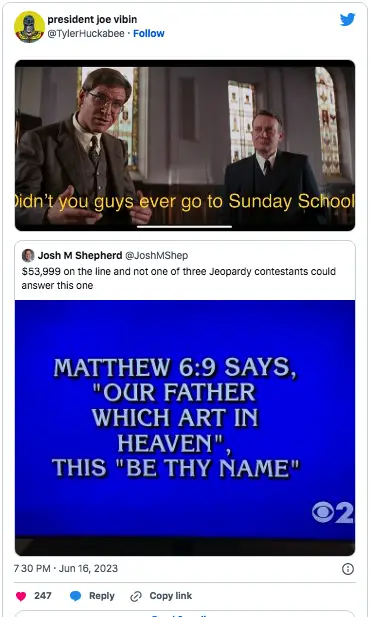 People couldn't help but wonder how could they all fail to recognize a fairly obvious indication.
"I'm an atheist and even I knew the answer to that lord's prayer question," one Twitter user said.
"My 4 year old niece got the answer on this Question on Jeopardy! Just wondering maybe the contestants never heard about The Lord's Prayer?" another added.
"How can those Jeopardy! nerds not know this answer. Have they never listened to Iron Maiden?" someone joked, referencing the Iron Maiden song "Hallowed Be Thy Name."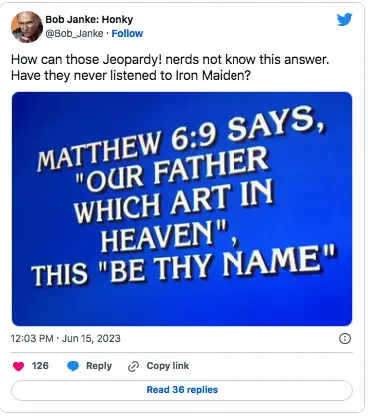 However, although the question was pretty simple, some viewers argued that the contestants likely refused to provide an answer due to their low scores at the time being. They may have chosen to play it safe rather than risk falling farther behind.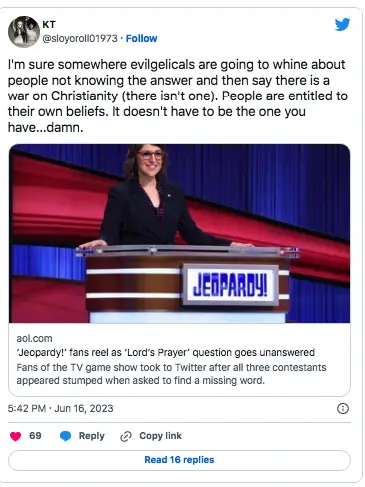 Other believe that the quiz includes too many questions related to Christianity having in mind that the contestants come from different religious backgrounds, which might be another reason they didn't provide an answer to what seemed like an easy question.
Despite the fact that none of the three competitors knew the Lord's Prayer, they did a bit better when it came to '70s movies. "He starred in the 2 films whose soundtracks were the top 2 bestselling albums of 1978," was the final question. As expected, they knew the right answer was Travolta, John while the soundtracks of Grease and Saturday Night Fever were on. The competitor who won, Suresh Krishnan, extended his winning streak to six games.
What are your thoughts on this?
Please SHARE this article with your family and friends on Facebook.
Bored Daddy
Love and Peace