This Jennifer Lopez's fairytale-like performance is definitely one to remember. Being one of America's sweethearts for so long, this multi-talented singer took our breath away once again when she took the stage of American Idol. Her amazing vocal along with her very special outfit enchanted the audience around the country. People who witnessed the unique performance of "Feel The Light" from the animated movie "Home" agree that Jenny from the block is an entertainer we don't get to see that often.
The gorgeous and pretty huge gown takes up most of the stage and perfectly fits her figure. It's a long white dress with a fitted corseted top and shoulder straps.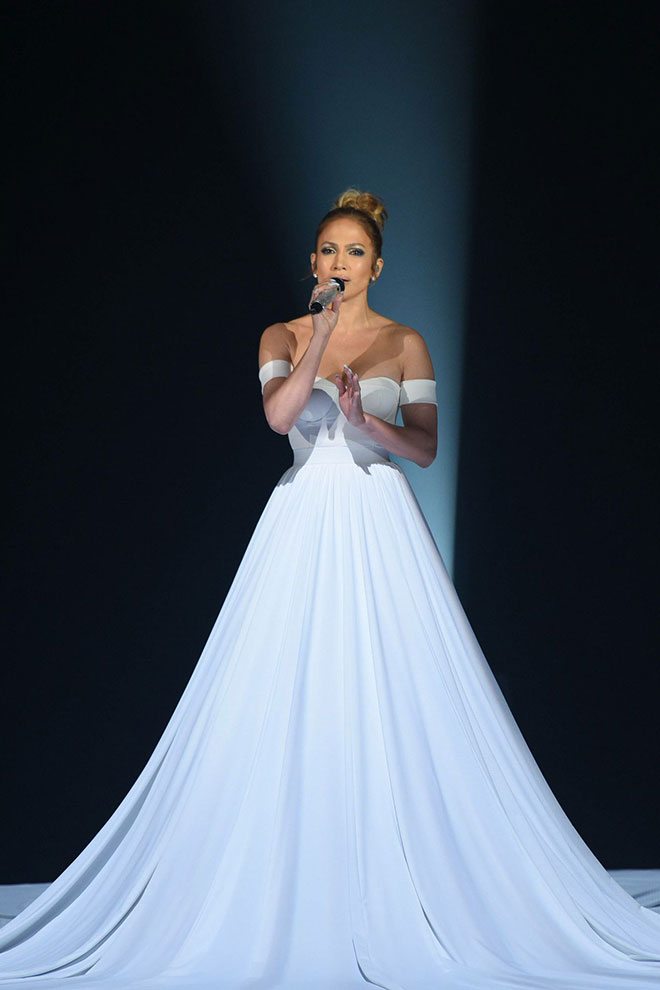 It resembles a dress one would opt for if invited to a royal ball or a very special occasion, but it's actually more than just an elegant dress. It's a part of a big sparkly show like you've never seen before.
As the song goes on, the dress starts changing colors and becomes even more spectacular with every passing tone. The whiteness is now turned into dark shade filled with stars, resembling a never ending galaxy.
Now comes the best part, when the dress is completely illuminated in vibrant colors that depict scenes from the movie. 
Behind this masterpiece lays God given talent and a creative mind. 
"The gown is actually a dress with a 20-foot radius skirt attached to it," explained stylist Rob Zangardi, according to Hollywood Reporter. "The look was inspired from an old vintage reference that we've been holding on to for a long time, waiting for the right moment."
The dress, which was made from fabric from International Silks & Woolens in L.A., actually came in two pieces.
"There was the dress by Misha that gave us the top silhouette and the giant skirt was then placed over that," explained Lopez's other stylist for this look Mariel Haenn.
Lopez simply fell in love with this stunning creation.
"It wasn't until she stepped in and we took her picture in it and showed her how she looked in it that we got the 'wow' reaction!" said Haenn. "We were hoping to be able to make a dress that was stunning on its own but also simple enough to allow the animation and projection to be as functional as possible."
The magical images that were projected on the bottom part of the gown were mapped days before the performance to make sure they perfectly attach the skirt. 
"We wanted this to be spectacular yet elegant," Zangardi added.
This is really something very unique and worth watching.