The body found in the Illinois River on September 5 has been identified as Jelani Day, the 25-year-old Illinois State University graduate student who went missing on August 24.
The cause of death and the circumstances surrounding Day's disappearance remain unclear and are regarded by the Bloomington Police as "suspicious."
After his disappearance, Day's car and his belongings were found in a wooded area near where the body was discovered, miles from where he was reported to be last seen. Surveillance footage showed him entering a store called Beyond/Hello in Bloomington wearing a blue Detroit Lions hat, a black t-shirt, white shorts, and black shoes. He went missing shortly after. After his family failed to get in touch with him, they filed a missing person report and were desperately asking from the police to find him.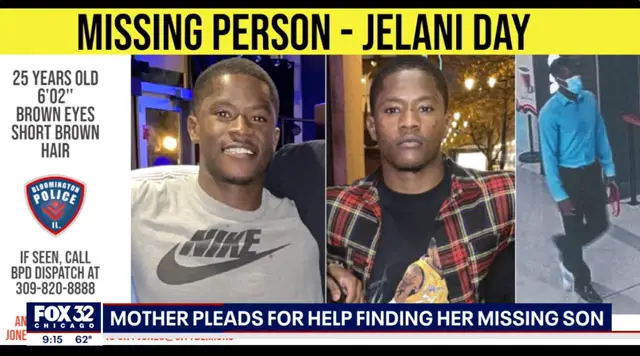 Day's mother, Carmen Bolden Day, called for authorities to show the same urgency and attention in locating her son as they had shown for 22-year-old Gabby Petito, the white woman who went missing and was later found dead.
"What I want them to do, is to realize that Jelani is everybody, so he could be your brother, he could be your cousin, he could be your nephew, he could be a grandson. And you want somebody to look for him or somebody to find him, and that's all I want. I want my son," Carmen's plea read. "It was just proven with the Gabby Petito case. She was missing, the FBI got involved, she was found within 3-4 days. Can I have the same help is all I'm asking," the desperate mother said, as reported by ABC 7 Chicago.
After the body was found, it took a few weeks for the coroner to confirm it was Day's. His relatives had previously submitted DNA samples to aid the search but were praying to God it wasn't Day. Unfortunately, their worst fears came true.
Following the tragic discovery, the family said in a statement: "Our hearts are broken. We ask that you continue to pray for our family during what will be very hard days ahead. Throughout these 30 days, our very first concern was finding Jelani, and now we need to find out #WhatHappenedToJelaniDay. At this moment there are more questions than answers surrounding Jelani's disappearance and death, and that is where we will focus our energy. As of this moment, we do not know what happened to Jelani and we will not stop until we do."
Rest in peace, Jelani Day.