Reports claiming Jerry Lewis had died in his Memphis home earlier today are false.
The news of Lewis' passing was first reported by TMZ. The outlet later claimed it was someone claiming to be Lewis' representative who had incorrectly informed them Lewis had passed.
"Jerry Lee Lewis is not dead … as we previously reported," TMZ began their statement. "We're told the rock 'n' roll legend is alive, living in Memphis.
"Earlier today we were told by someone claiming to be Lewis's rep that he had passed. That turned out not to be the case," adding they regret the error.
Jerry Lee Lewis is a singer, songwriter, and pianist. He was born on September 29, 1935.
Best known for his hit song Great Balls of Fire, associated with the Top Gun franchise, Lewis is considered the pioneer of rock'n'roll music. Nicknamed "The Killer," Lewis's career in music began in the 1950s and both Rolling Stone Mick Jagger and Beatle Paul McCartney have named him as their inspiration.
He was also someone Elvis Presley admired. It was reported that the "King of Rock and Roll" once said that if he could play the piano like Lewis, he would stop singing.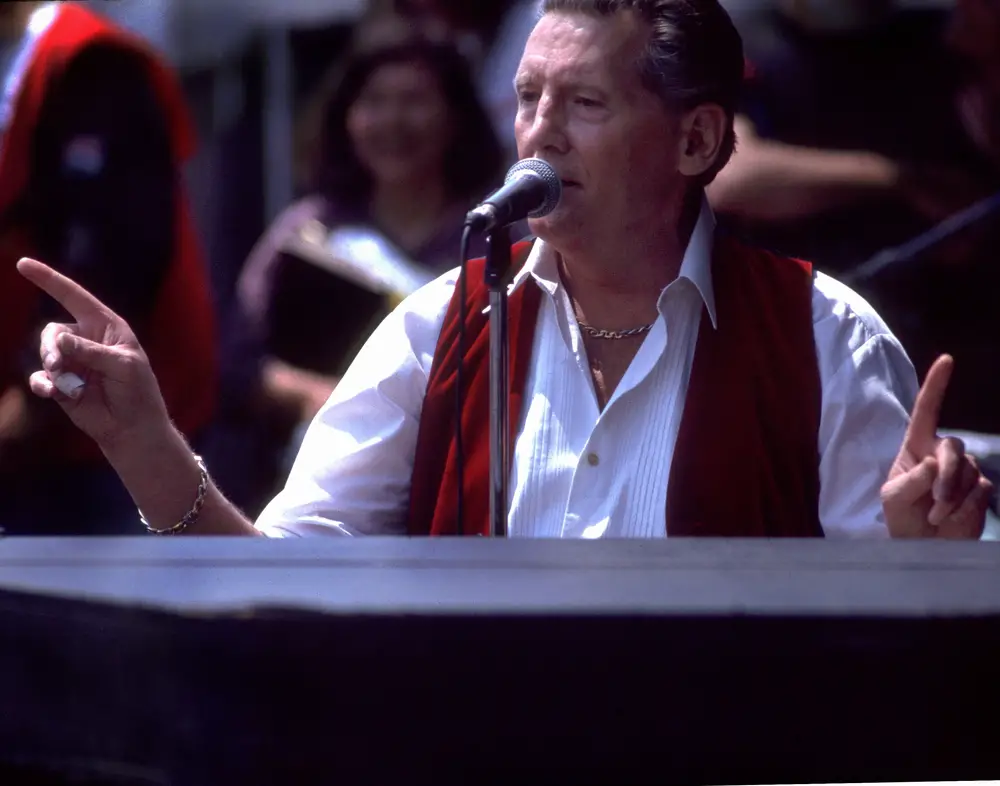 Despite his enormous fame, Lewis' career faltered in the wake of his marriage to Myra Gale Brown, his 13-year-old cousin. If Brown's young age wasn't reason enough for his fans to be shocked and disappointed, at the time he married her, he was still legally married to his previous wife.
In 1970, 12 years into the union, Brown filed for divorce, citing that she had been "subject to every type of physical and mental abuse imaginable."
Over the years, the singer has been married seven times, with him first tying the knot at the age of just 16. This marriage, to the local preacher's daughter, Dorothy Barton, lasted 20 months.
Today, Lewis is still married to his seventh wife, Judith Lewis.
After years of conquering music stages, last week, Lewis was finally inducted into the Country Music Hall of Fame. Sadly, he missed the ceremony due to health issues and Kris Kristofferson accepted the award on his behalf. It was reported that Lewis had the flu.
His health hasn't been best in recent years. Back in 2019, he suffered a stroke but was able to fully recover.
Lewis wrote a letter to his fans, explaining the situation, he wrote, "It is with heartfelt sadness and disappointment that I write to you today from my sick bed, rather than be able to share my thoughts in person. I tried everything I could to build up the strength to come today."
Despite his fragile health, we hope Lewis would be able to recover soon.
Please SHARE this article with your family and friends on Facebook.
Bored Daddy
Love and Peace