So when you see a buggy in the park you would usually expect to see a mother driving the buggy with her precious cargo wrapped up securely inside, on a normal day of course.
What would you do if you saw a buggy with no baby inside and a guy bending over it in this odd situation?
When, Doug Delony, a digital producer at KHOU.com, was jogging in the Discovery Green Park, Houston, his interest was sparked by the empty baby buggy and he couldn't resist going over to have a closer look.
Doug caught on straight away what was really happening and took a photo of the very odd behaviour of the man. That photo has gone viral, but why exactly may give you a surprise.
Doug really loves to go out for an invigorating afternoon run in his favorite place, the Discovery Green Park in Houston Texas, but one afternoon he saw a guy kneeling next to a baby buggy, an empty baby buggy, the guy kneeling over it caught Doug's attention, so he caught a quick photo to post at Facebook.
He never expected the photo would be shared hundreds of thousands of times, he didn't even know the guy in the picture, but now everyone on the internet knows what he did.
The television station KHOU saw the viral photo and wanted to investigate further, everyone wanted to know about the mysterious man and KHOU wanted the exclusive.
The man, who intrigued everyone lived in a 10th floor apartment across from the park, but, the man, who we find out is called Troy Griffin has such innocent and great intentions.
Doug Delony said:
"Most afternoons I take a run through Discovery Green, and most afternoons I see this guy with a stroller but no baby. He brings this beautiful… what appears to be… disabled pup to the park. He lets it sit in the grass and take in the smell and the sound. Here he is giving it water out of a small cup he brings with him. An adorable dog and a nice guy – God bless em."
Many dog owners take their dogs to that park, but sadly in this case, Troy's somewhat aging Max can't walk on his own because of arthritis. Troy doesn't want Max to miss all the fun and smells of being outside, so he uses a baby buggy to give Max some much needed mobility. Max just comes alive when he's outside!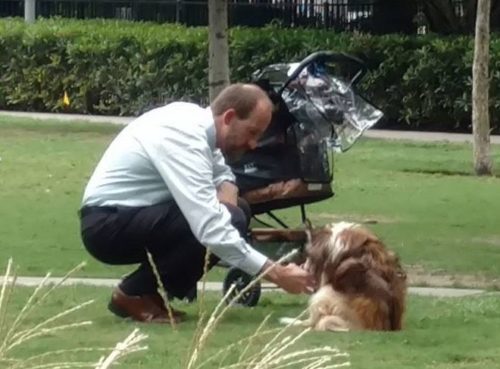 Troy's wife, Edie, says that the 16 year old Max is part of the family. Since he was 3 weeks old they have looked after him, and Edie wouldn't know what she would do without her amazing baby. This awesome pooch even warned them of a coming tornado at their old home; he's a real hero!
He told KHOU:
"He's part of our family. He's my best friend. He's taught me life lessons that I will never forget."
Sadly, the doggy is blind in one eye and has a cataract in the other. Max is the equivalent of 112-years-old in human years, so it's no surprise that he's racked up a lot of medial issues. Despite his problems, Max is living it up in a penthouse-like apartment, and he even has a large corner to himself that's filled with tons of toys!
Edie and Troy aren't going to give up on their pooch just because he's elderly. The baby stroller proves just how far they'll go to make sure he gets all the love and attention he needs."
Edie told KHOU:
"But I don't think you should just turn your back on someone just because they're elderly. I think they deserve our love and our care and our attention. And there is so much we can learn from them even as they get older."
The couple really do believe that even though Max is getting much older, he's not sad at all and he's very much a happy doggy. Max has taught the couple an important life lesson – we should treat all the elderly with respect, and make sure they feel happy and loved always!