Weddings are those memorable days of our lives that we get to cherish forever. On this day everything has to be perfect, starting from the venue, the flowers, the delicious cake, the wedding gown, and all the other details that may seem irrelevant but add to the whole experience.
However, for this bride, not everything turned out the way she had envisioned it in her head. Luckily, it was way better. A wedding reception a bit different than anything you've seen so far.
The groom had a surprise for his loving wife-to-be and put a personal spin on the ceremony by treating her and the guests with a well-practiced choreography that made them shake their hips in the rhythm. So, when everyone starts waving their dinner napkins in the air, it means something good is about to go down!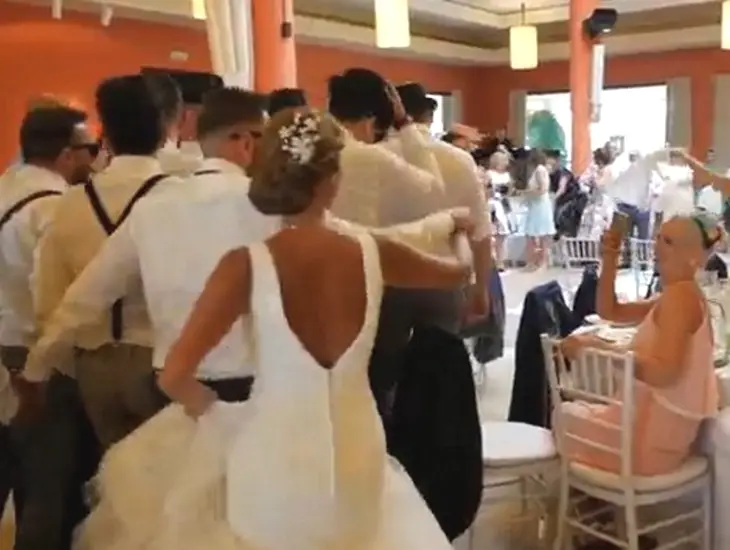 As soon as the groom heard the beautiful girl standing opposite him say "I do," he was ready to hit the dance floor. It took him a lot of sweat and practice to achieve the level of excellence he was about to show together with his best buddies who'll never leave their best pal "embarrass" himself all alone.
The dancing mash-up starts with Bruno Mars' "Uptown Funk" and the groom forming a train along with his friends guiding the bride to her chair from where she could best enjoy the performance prepared especially for her.
She is all smiles and probably knows this is going to be something pretty unique once she sees the group of handsome guys line in front of her as the guests make a circle around them and cheer.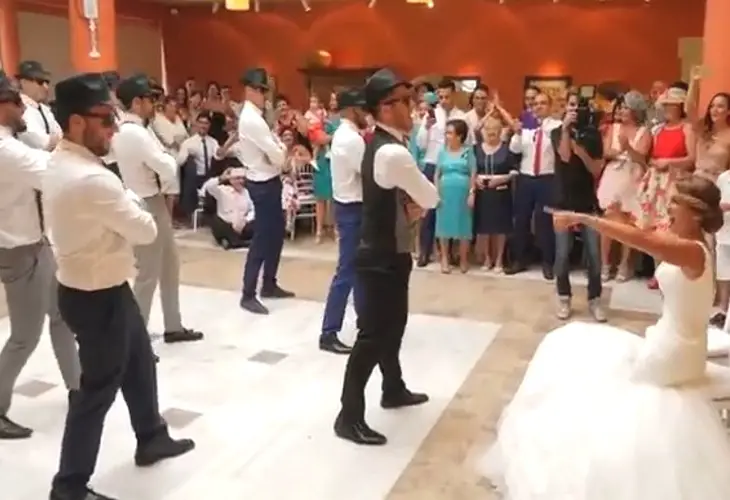 Looking forward to this once-in-a-lifetime experience, this lucky bride promptly plopped her tush down as her sweetheart and his crew started moving in perfect sync, resembling professional dancers.
They were dresses in a matching outfits, wearing suits, ties, and hats. The whole thing is even cuter because of the little boy who joins the dancers.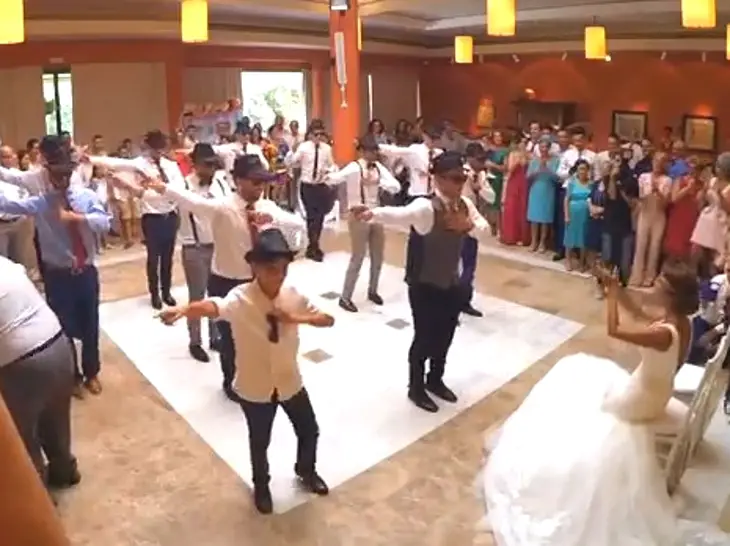 The best part is that this wasn't the only song they danced to. The party cheered when they went on and made the bride laugh even more as they wiggled their fingers into the air when Beyonce's "Single Ladies" and "put a ring on it" was on. This girl has to be really blessed to have such an amazing and devoted man by her side.
Switching to "Backstreet Boys" and ending the whole show with the famous moves of "Gangnam Style," they gave everyone a day to remember.
The video ends with the groom and his friends having a group hug while hopping in excitement and delight. They eventually get kisses from the beautiful bride for the job well done.
Check the video below and enjoy. This is truly amazing.