Grandparents are simply awesome. They take care of their grandchildren's well-being the same way the parents do, but unlike mommies and daddies, they let the kids do whatever they want, they buy them a bunch of presents, and spoil them rotten. That's why they are the favorite people in the life of the little ones.
Spending time with the grandkids is believed to be very beneficial for the elderly because it reduces the chances of suffering from dementia or the Alzheimer.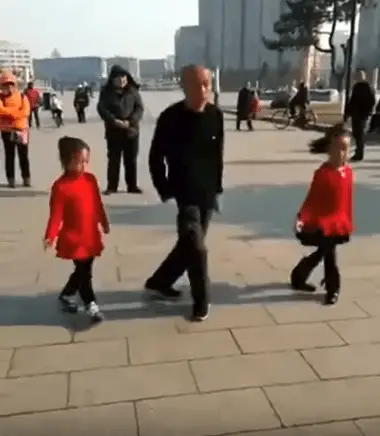 An unusual sight of what might be the coolest grandpa ever and his lovely granddaughters was posted on YouTube and it stole the hearts of everyone who got to see the amazing dancing skills they possess.
The three are outside in the park, walking and enjoying the day, when they suddenly break out in dance and gather the attention of the passersby who can't hide their excitement.
The whole thing is very fun and cute at the same time, because the grandpa is an excellent dancer. No matter his age, he shows some frisky dance moves that leave everyone is awe.
The young girls, all dressed up in cute red dresses, follow along and are in perfect sync with grandpa.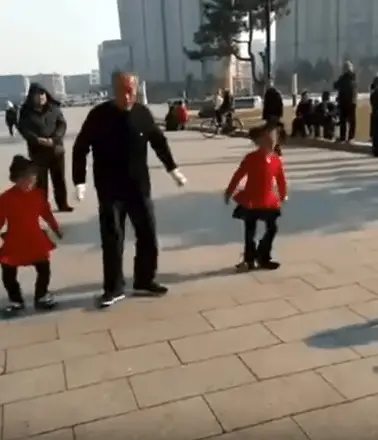 Dancing might be the best way of having fun and be healthy, and this man knows that best. He looks pretty young and is in top shape.
According to the European Journal of Physical and Rehabilitation Medicine:
"Dancing may help people with Parkinson's disease, which is characterized by rigid muscles, slowed movement, and impaired balance. Dancing may also be good for your mood. It has been shown to reduce depression, anxiety, and stress and boost self-esteem, body image, coping ability, and overall sense of well-being, with the benefits lasting over time. In one study, it even helped control 'emotional eating' in obese women who eat as a response to stress."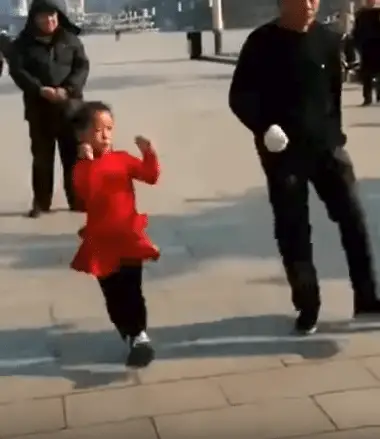 This is perfect for bonding with your grandchildren. It's really some quality time these three spend together. It took quite some time practicing this breathtaking dance routine, that's for sure, because they do it flawlessly, without any mistake.
Watching them from aside makes it look as though dancing is a piece of cake, they do it with such an ease.
The grandpa can stay active and make sure his granddaughters are having the time of their life.
Another study published in Arts in Psychotherapy concluded:
"Dancing should be encouraged as part of treatment for people with depression and anxiety. Though other forms of exercise can have many of the same benefits, dancing is more appealing to some people, so they are more likely to stick with it."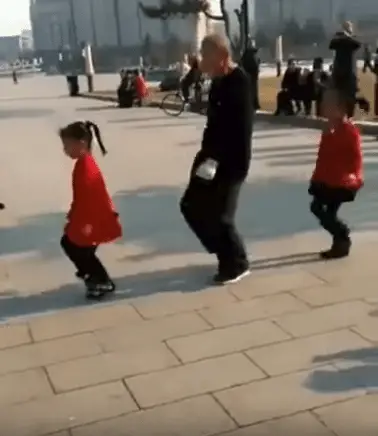 If Grandpa continues to dance with his girls like this, he will likely have a healthy life ahead of him.
Those who watched the video say this is the best shuffle they've seen recently, and one person even asks if the grandpa would like to adopt him. That's how strong of impression he makes.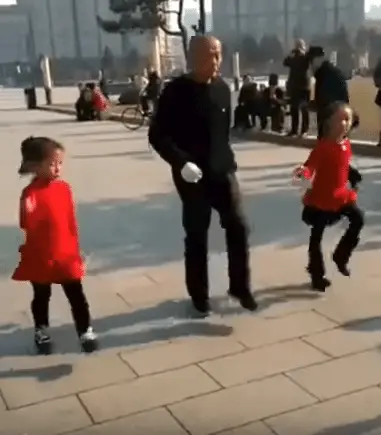 We hope this won't be the last time we see from this adorable family. They definitely know how to enjoy. The girls must be so lucky to have a grandpa like this, who won't let them be bored at any time.
We can't wait for another stunning performance.
Please SHARE this with your friends and family.