Whether one loves her or not, no one misses Ellen DeGeneres' show. She is a comedian and a host who is really hard to beat, simply the best of the best. Welcoming some of the most famous celebrities who open their hearts while sitting opposite the goddess of the talk shows, as well covering numerous human interest stories, she makes people fond of her and the whole concept of the daytime show she made the most popular ever.
This time, however, Ellen let someone else take her role of a host, and to be honest, we did like her choice. Being part of the show before, these mother and daughter were up to the task, and we won't be surprised if they start their own show in the future. Kate Hudson and her mother Goldie Hawn were the captains that day and they did a remarkable job. Lovely Kate, who was wearing a bohemian kaftan with high heeled boots and sporting short hair with tight waves, and her mom who is always late were greeted by the cheering crowd with a loud applause.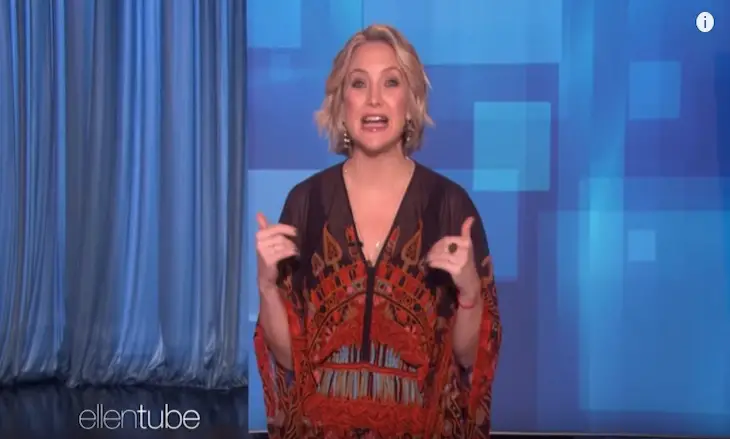 Ever since The Ellen Show first aired on TV, September 8, 2003 it became peoples' favorite. After The Oprah Winfrey Show went off the air on May 2011, Ellen's show filled the void. Her show surpassed every other show of this type in terms of awards, winning 59 Daytime Emmy Awards, and 17 People's Choice Awards.
Ellen's great sense of humor fills the show with lots of laughter and fun time, so it's no surprise each episode is waited by millions in anticipation. What makes her show special is that at the end of each series, the host gets to dance with her audience, which I believe is their most favorite part and an amazing experience.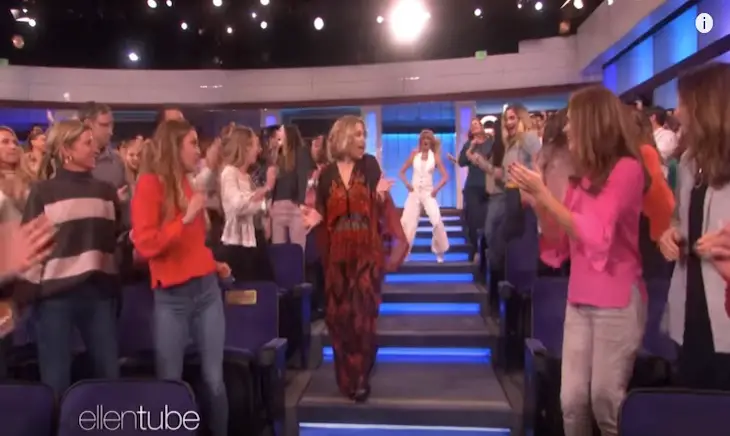 Katie and Goldie did exactly that. They danced with the crowd and they loved it. Dj Twitch who is in charge of the music never fails to choose the right music and rhythm. Goldie has started her career as a dancer and that's why she's so good at it. She got her first job as a dancer for a theater show across Disneyland. After this, her career went upwards, with her getting a job in the CBS sitcom Good Morning, World in 1967. She then started playing in movies and became one of the most famous Hollywood actresses of all time.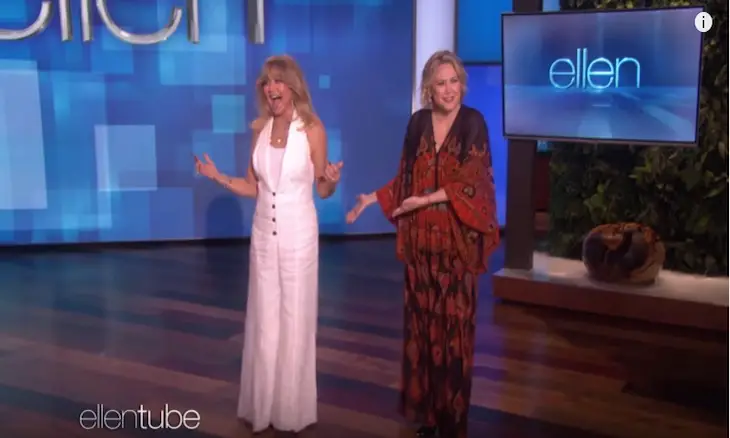 Besides their dancing skills, they filled the show with fun stories such as those of Kate's older brother who spoke of the times when they were kids and their mother embarrassed them, which the audience enjoyed listening to.
These mother and daughter we love so much later took a Warner Bros studio tour, and they had so much fun that the crowd couldn't help but burst out laughing.
Tell us what you think of Kate and Goldie as show hosts.