Brian Laundrie, who remains the sole person of interest in the murder of his fiancé Gabby Petito, is still on the run.
The case of Gabby attracted the attention of the entire country and everyone is following the case with eyes wide open hoping for her murdered to be caught and brought to justice as soon as possible.
Besides the police, John Walsh, of America's Most Wanted, and Dog the Bounty Hunter are also helping in tracking Laundrie down.
Gabby I will love you to the moon and back always and forever ❤️❤️❤️ #gabbypetito #justiceforgabby pic.twitter.com/M8JDXGyJhu

— Tara Petito (@TaraPetito) October 2, 2021
Recently, one engineer named Dennis Davis claimed that he came across Laundrie while hiking and said he only realized he was talking to the suspect when he was already gone. He was asking for directions to California via backroads only, claiming he was trying to reach his girlfriend. The man looked skittish and lost. Davis also claimed that none of his calls was returned by the FBI.
Gabby's body was found in Grand Teton National Park in Wyoming on September 19. The coroner ruled the cause of death as homicide.
The manhunt for Brian Laundrie continued Monday as Dog the Bounty Hunter, who recently joined the weeks-long search in Florida, handed evidence to the FBI https://t.co/7H1bmcI9YH

— KMOX St. Louis News (@kmoxnews) October 4, 2021
Prior to her missing, a footage of Gabby was taken by the police when the van she and Laundrie were traveling with was stopped. The footage was later released to the public but it painted Gabby as the aggressor of the two.
Another footage, taken by another police officer, which was an hour long, shows Gabby admitting she had been grabbed and hit by her boyfriend. Former attorney Happy Morgan has accused the department of a "cover-up" for failing to release this second footage. It was only shown to the public after he lodged a complaint.
Gabby's parents filed a missing person report after their daughter failed to return home with her boyfriend. Laundrie returned by himself and refused to say where Gabby was. Instead, he hired a lawyer and later disappeared.
Black men get killed by police weekly for driving while black. #BrianLaundrie, a white man, drives his fiance's van across the country while she's missing, is allowed to chill with his parents, & mysteriously vanishes. How would Brian be treated if he was black?#gabbypetitio pic.twitter.com/j7YS7i6n8M

— Thomas T. Thai (@thomastthai) September 18, 2021
Speaking of that upsetting footage, Gabby's mother, Nicole Schmidt, said, "I"m glad we got to see that reality because people aren't what you see on social media.
"Even though that police video is hard to watch, I think it was a blessing to see that she's a real human being and she was in pain.
"And I'm glad that she lived a really good life and she died doing what she loved to do. She was out there in nature camping. She lived her dream and I'm glad she got to do that."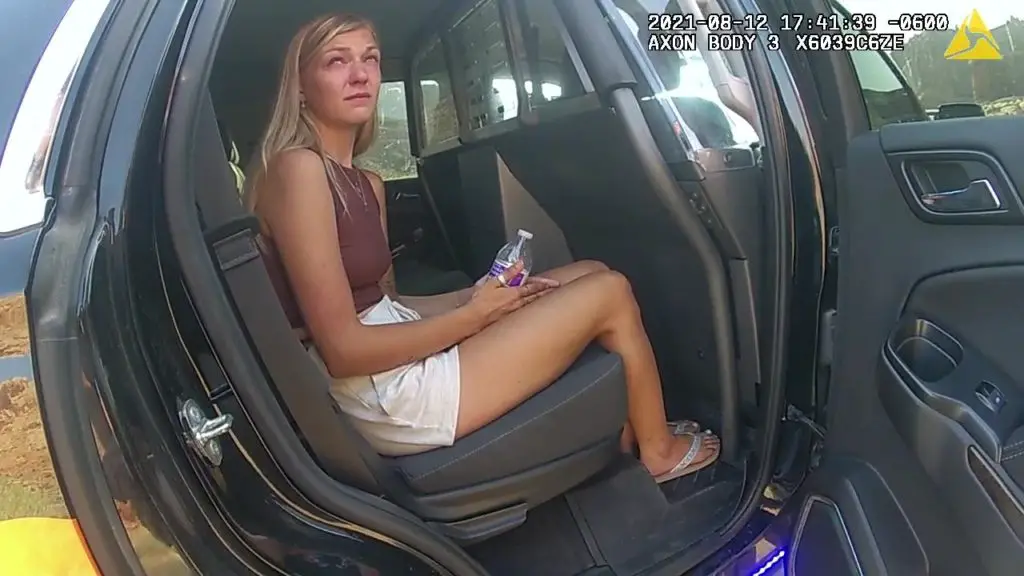 During their appearance on Dr. Phil, the family pleaded for Laundrie to turn himself in. Nichole said, "I want to look him in the eyes."
Gabby's father, Joe Petito, added, "I want to see him in a jail cell the rest of his life where — he's an outdoorsman — being in that concrete cell that he can't go see those trees and smell the fresh air like that."
He then said that he knows their daughter would have been happy seeing the family working together and being under one roof again.
"She'd be excited that we're working together," Joe said. "We're doing this together. This is what she wants… She always wanted us to live in a big house together, you know what I mean? She loved all of us."
Gabby Petito's parents spoke together for the first time since the 22-year-old's memorial service on "Dr. Phil."

They share the hope that her fiancé, Brian Laundrie, is found alive. "I want to look him in the eyes," said her mother. pic.twitter.com/P2bK1cX673

— CBS Mornings (@CBSMornings) October 6, 2021
The family have launched the Gabby Petitio Foundation hoping to help other missing persons and assist victims of domestic violence.
"If you gotta hashtag Gabby Petito to bring that story to the top, do it. Do it," Joe said. "Do it now. There's no reason not to. We're not getting her back but maybe you can get someone back, and that would be awesome.
"And then let me know, because that would make me feel better that there's not a meaningless death for Gabby."
Rest in peace Gabby. We truly hope Laundrie would be brought to justice as soon as possible so that the family can get the closure they need.