Being born in a rich family definitely has its perks, and for Eric Trump, it came with not only a luxurious life, but also a chance for a position of a Vice President in his father's organization, which led for him to be on the Forbes' top "30 under 30" in real estate in 2012. Of course, one would say that he was given everything on a silver plate, but that's far from reality. The truth is that besides having former president Donald Trump as his father, Eric worked really hard to get where he is today.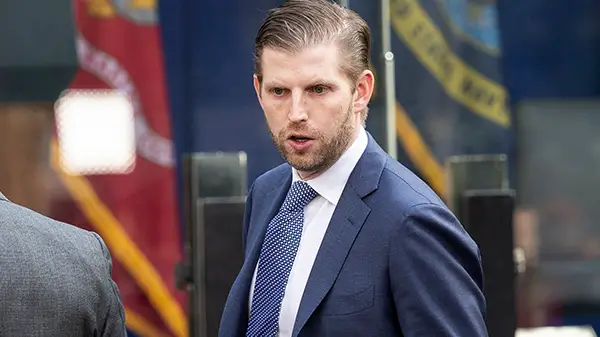 Eric Trump was born on January 6, 1984, as the third child of Donald Trump and Ivana Trump. When he was just eight years old, his parents undergone through a messy divorce which was closely monitored by the wide public. The legal battle over the children's custody and the financial settlement lasted 13 months. Finally, Ivana was granted divorce on the grounds of "cruel and inhumane treatment." She ended up with $25 million, $10 million of which was in cash, and custody of her three children, with their father remaining part of their lives.
"I maybe never really put two and two together, but that's probably when we first started getting a little bit of the limelight, some of the attention, and I had to learn to not care," Eric Trump told Fox.
Over the years, Ivana claimed that she was the one to be thanked for her children's manners and success, claiming she worked hard to raise them right.
"No matter how busy I was, I had breakfast with my children every day. I sat with them at dinner every night and helped them with their homework (I loved algebra) before going out in a Versace gown to a rubber-chicken charity event," Ivana wrote in her book Raising Trump.
"The kids and I celebrated, traveled, and grieved together. Our bond was, and is, our most valuable possession."
The truth is that Donald was also involved in his children's lives. During his presidency and the campaign that preceded the elections, they were all by his side and helped him with everything. They supported Donald Trump immensely, and the entire country saw how close the family is.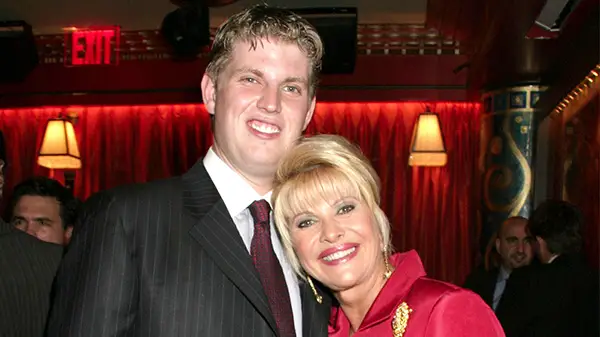 Eric has a degree in finance and management, with honors, from the Georgetown University in Washington DC. Following his graduation, he started climbing the Trump ladder and is now the Executive Vise President of the Trump organization. At the same time, he's heavily involved with a number of charities. His non-profit organization, "The Eric Trump Foundation," which he founded in 2007, helped raise around $16 million for child cancer research at the St. Jude Children's Hospital.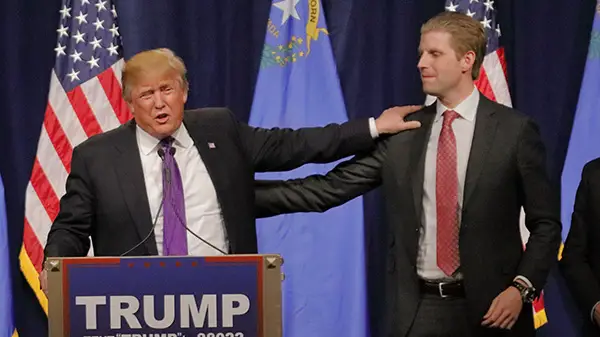 Speaking of his father, Eric described him as "unconventional," but "incredible."
"He was less the 'Let's go out in the yard and play ball' parent, but he was much more the 'Let's go walk construction sites of these 70 story towers flying up," Eric Trump recalled in an interview with Fox.
"But he was also strict," he added. "You had to do well in school. Every day I left, I was six years old, he would say 'no drinking, no drugs, no smoking.' That's who he was. He was always so disciplined, but at the same time he gave us enough latitude when we were young professionals to spread our wings a little bit and learn."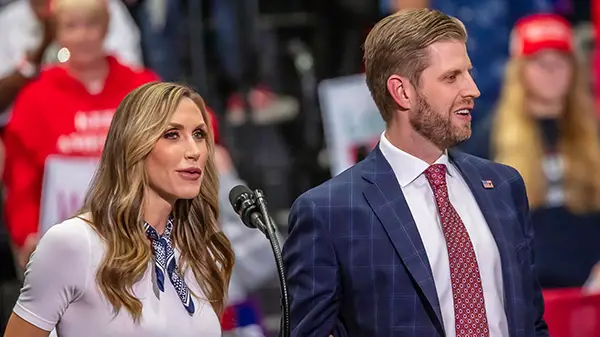 During their childhood, Eric and his siblings, Ivanka Trump and Donald Trump Jr. were "forced" to be competitive.
"We were sort of bred to be competitive," Ivanka told New York Magazine. "Dad encourages it. I remember skiing with him and we were racing. I was ahead, and he reached his ski pole out and pulled me back."
Eric added: "He would try to push me over, just so he could beat his 10-year-old son down the mountain."
Eric is married to wife Lara with whom he has two children. She describes him as a humble and kind person.
The couple lives in Westchester but split their time between their home and their apartment in the Trump Parc East building located on Central Park South, New York City.
One thing is certain, Eric Trump is a very successful person.
Please SHARE this article with your family and friends on Facebook!