Turning 100 years old is a milestone that deserves a proper celebration. And that's what nurse and war veteran Anna Bauer was given by her family, her community, and many veteran organizations from all over the country.
Bauer, who was an Army lieutenant and served in Germany, was given a huge parade with vehicles passing by her hospice in Florida and people waiving and carrying balloons in her honor. This incredible lady joined the war when she was only 23 years old. Her husband was also part of the war and served as an Army private who drove ambulances there. After the war was over, he became a firefighter and the two were married for 70 years. What a life, one would say.
Anna was very happy for the parade organized for her. However, she told 11 Alive: "I don't think they owe me anything. It's just another day. Just another day out of 100."
HAPPY 100TH BIRTHDAY! 🎂 Anna Bauer joined the Army as a nurse during WWII. Dozens of friends and strangers honored her with a birthday parade. https://t.co/2Ub0iq0ZIv

— WFMY News 2 (@WFMY) August 5, 2021
Among those who attended the celebration were members of the local American Legion and Veterans of Foreign Wars, as well as the Honor Flight of West Central Florida and the Military Vehicle Preservation Association.
"They showed the bravery of what this country is made of and they gave everything to protect this county and the people here at home, so you can never stop respecting that and you have to honor it," Frank Vanore of Post 2550 said.
Anna's daughter, Brenda, was thankful to the Suncoast Hospice for organizing such a memorable event for her mother. "It's amazing. It really says a lot about the people. It really does. We support our veterans," she said.
Trudy Beeler, the Veterans Community Partnership Specialist with Empath Health, added: "It's the greatest generation. This is something that's going to be a special memory for everybody."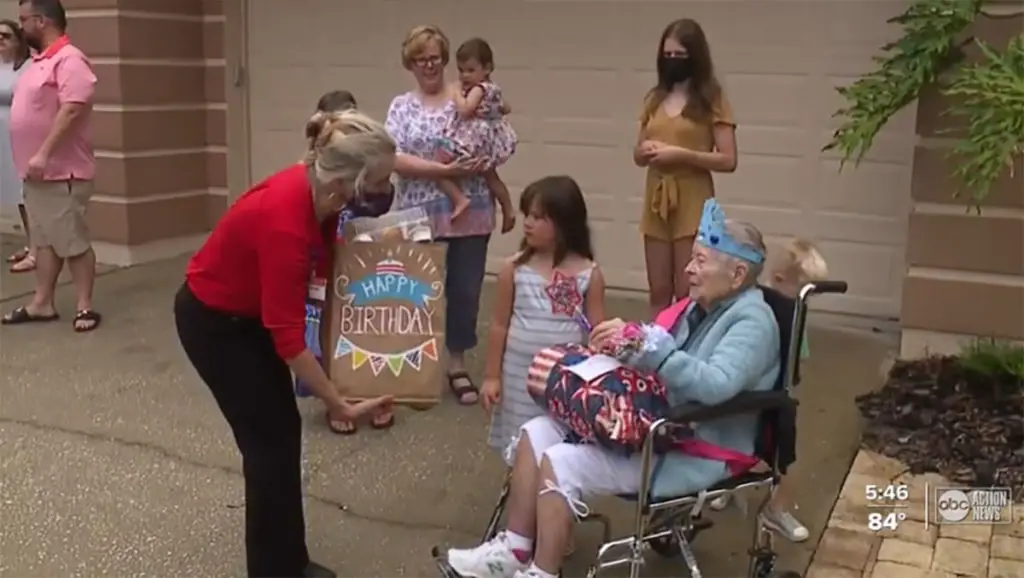 Anna, who is very modest despite her enormous achievements and her bravery, said of her service in the war: "I just graduated as a registered nurse, so I volunteered to service. I really was glad I did it. I was glad I volunteered."
We certainly believe this lady deserved all the fuss. Happy birthday, Anna.
To see the parade honoring Anna's service and life, see the video below.