If you have a curious soul, then you have certainly came across these father and son's YouTube channel called "What's Inside?" What they do is cut random things open and film what's inside. Why? So that you don't have to do it yourself. 
They started the channel one day when young Lincoln came home from school telling his dad Dan how he was assigned a science project where he had to write what's inside a sport ball. They obviously had fun cutting the ball open so they decided to do it with other objects too. 
This time, they take things to a whole new level and cut a wasp nest. If you wonder where did they find one, the answer is eBay. Are you as surprised as we are? 
Now everything is ready for the huge revelation. Will there be any live wasps inside? Millions of followers are eagerly waiting to get the answer to this question.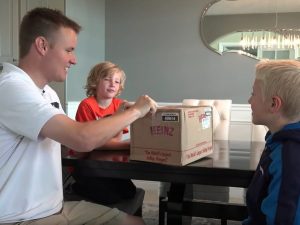 Some people commented  how this isn't a wasp nest but a hornet's one. However, that doesn't make the whole experience any less exciting. One person is saying how a wasp nest has been built in front of his house and it's amazing how it gets a bit bigger every day.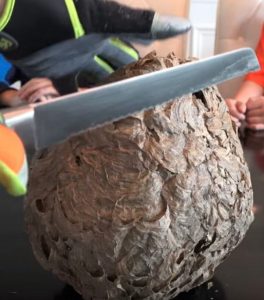 Insects like wasps and bees are likely to be one of the best nature's builders. 
If you wanna see what's inside for yourself just proceed to the video below.