The justice for 4-year-old Samiah Christine Cornell Downing who was severely abused by her father Ronald Dean Greer and his girlfriend Bianca Annie Mae Stanch and died as a result of the cruel treatment has finally been served.
After almost 10 years, the monsters have been sentenced to 32 years in prison but many believe the punishment doesn't fit the crime.
The couple was charged back in 2012 for first-degree murder but the trial was delayed over and over again until Oct. 6, 2020 when they were found guilty and then sentenced in March of this year.
SENTENCED: Ronald Greer and Bianca Stanch sentenced to 32 years-to-life for the torture and killing of 4-year-old Samiah Downing. This case touched our team as well as the community. Read More: https://t.co/shqQPO2NcT #JusticeForVictims #SanBernardinoCounty pic.twitter.com/70IeYtFouV

— San Bernardino County District Attorney's Office (@sbcountyda) March 16, 2021
According to the San Bernardino County District Attorney Justin Crocker, Stanch hated her boyfriend's daughter and did all in her power to make the little girl's life a living hell. The father didn't intervene and even took part in the abuse.
"Witnesses also testified that Stanch and Greer duct-taped Samiah's wrists and ankles together on multiple occasions and left her overnight so that she could not get out to get water," Crocker shared in a Facebook post.
In one occasion, little Samiah managed to get to the kitchen and drank the only liquid she could reach, which unfortunately was a cleaning solution. A day before she died, Samiah was beaten and forced to stay in the corner for eight hours. The abuse continued the following day when "Stanch poured a pot of boiling water on Samiah's back and chest. Samiah was also denied water to drink during these final days of her life."

On the night of her death, Samiah was left in the apartment with Stanch's cousin Rayshawn Stanch while Stanch and Greer went to a restaurant.
When they got back home, the girl was already dead. It was determined she died of dehydration. She was also starved.
The three took the girl's body, put it in the car, and buried it in a shallow grave in the desert.
"Friends, family members, and teachers testified about the sweet and happy little girl they knew and loved."
The father claimed he wasn't aware of the abuse his daughter suffered from the hands of his girlfriend, but evidence said otherwise.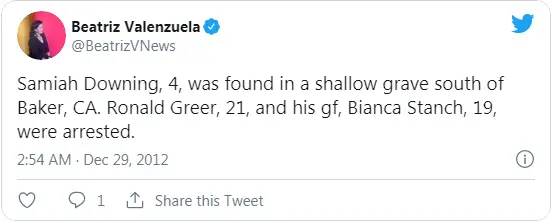 "Unfortunately, because of the actions of her father and his girlfriend, Samiah wasn't here to tell her own story to the jurors. Thankfully, the evidence at trial told the tragic story for her. Samiah was betrayed by the people closest to her and they have now been held accountable for that betrayal," the deputy said.
"Torturing a child in San Bernardino County will be met with the most vigorous of prosecutions, and those responsible will be held accountable for their actions. When Samiah was murdered, our community was also greatly affected by the actions of her killers. From Samiah's extended family, friends, and teachers, to the law enforcement officers investigating this crime, to everyone in the district attorney's office that had a part in this case, we will always hold Samiah in our memory and our hearts," the deputy added.
Rest in peace, Samiah.