Most times, all a person needs in order to thrive is a little TLC. Without that, we may feel vulnerable and never gather the courage to shine, just like one little girl named Michaela DePrince, born Mabinty Bangura on January 6, 1995, who grew up in an orphanage and was dubbed a "devil's child" because of her vitiligo.
This girl's father was killed during the Sierra Leone's civil war and her mother died of starvation. Not knowing what to do with her, Michaela's uncle placed her at an orphanage when she was just three years old. There, children were ranked from 1 to 27, with number 1 being the favorite child. Michaela was ranked 27. Everyone believed that she was possessed by an evil entry because of the white spots on her skin. Speaking of those times, Michaela recalled: "They thought of me as a devil's child. They told me every day how I wasn't going to get adopted because nobody would want a devil's child."
Life in Sierra Leone was tough. The civil war began on 23 March 1991 when the Revolutionary United Front (RUF), with support from the special forces of Charles Taylor's National Patriotic Front of Liberia (NPFL), intervened in Sierra Leone in an attempt to overthrow the Joseph Momoh government. It lasted 11 years, leaving over 50,000 dead.
One night, as Michaela was walking back from school with her teacher, they came across three drunk soldiers. When the three men noticed the teacher was pregnant they cut her stomach open to see whether she was carrying a boy or a girl. When they saw the fetus was a girl, they cut off the teacher's arms and legs and one of them stabbed a machete into Michaela's stomach. She then blacked out, but doctors managed to save her life.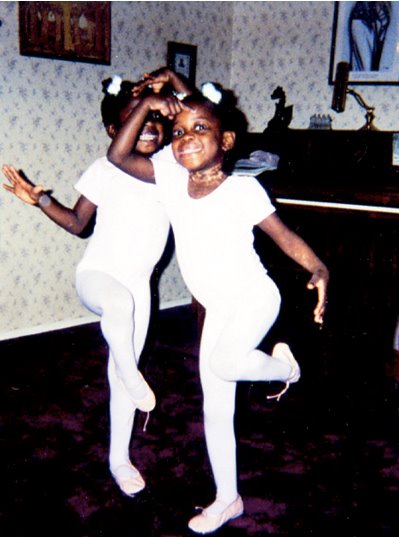 During those tough times, Michaela stumbled upon a discarded issue of Dance Magazine. "There was a lady on it, she was on her tippy-toes, in this pink, beautiful tutu. I had never seen anything like this, a costume that stuck out with glitter on it, with just so much beauty. I could just see the beauty in that person and the hope and the love and just everything that I didn't have. And I just thought: 'Wow! This is what I want to be,'" she recalled.
Luckily, her dream came true after she was adopted by an American couple who lost their three children. Once in the States, Michaela, who was five at the time, was enrolled into the Rock School of Dance in Philadelphia. Her new mom and dad, Charles and Elaine DePrince, were perfectly aware of the girl's love and passion for dancing and did their best to support her.
Once, she asked her ballet teacher whether the white spots on her skin would stand on her way to success to what the teacher replied that she didn't even notice them as she was way too busy admiring her dancing.
As she grew older, some of her other teachers told Michaela's mom that she could not pursue a career as a ballerina because of her skin color, saying that they didn't want to put "a lot of effort and money into the Black dancers because they just get fat and get big boobs and big thighs."
These words only made Michaela work even harder. "I'm still trying to change the way people see black dancers, that we can become delicate dancers, that we can be a ballerina."
Today, the little girl that was once dubbed "the devil's child" is an ambassador for War Child Holland, which helps kids affected by conflict all over the world. She is a famous ballerina, a soloist at the Boston Ballet, featured in Beyoncé and Madonna music videos, and starred in the film adaptation of the ballet Coppelia.
Even though you might have had a terrible past and even though you might have been through a lot and might be still going through a lot, if you have something that you love and that makes you happy and that gives you that feeling inside to continue growing up and that makes you want to have a good future then you should focus on that and not focus on the negative."
Take a look at the video about Michaela's life journey and SHARE this inspiring story with your family and friends on Facebook.
Bored Daddy
Love and Peace