Parents, as well as teachers, should educate children to be compassionate and to always pay respect to everyone around them even from very little age. They should especially be thought how to appreciate the sacrifice of those who fought for the freedom we enjoy today. One way of paying tribute to the courageous men and women, and to our country, is standing during the National Anthem. Unfortunately, not many youngsters do that nowadays.
Basketball coach Buzz Williams of Virginia Tech noticed how many of his players, as well as people from the crowd, don't really care when the Anthem is on. Instead of standing in full respect, many are looking around, or they just sway along the music, giving an impression of being bored.
This all made coach Williams frustrated and angry, so he decided to teach the players a lesson, and now everyone is praising him for doing so.
This coach knew he couldn't make everyone in the community appreciate the Anthem, but he was determined to do it with his players, and hoped other would follow his example. As even the longest journey starts with a single step, coach Williams wanted to make a difference on his own. It was during the Veteran's Day that he set an example for the rest of the country about how things should be done. He had a talk with his players and reminded them of the importance of being respectful, and then had them line up in the middle of the court, facing the US veterans.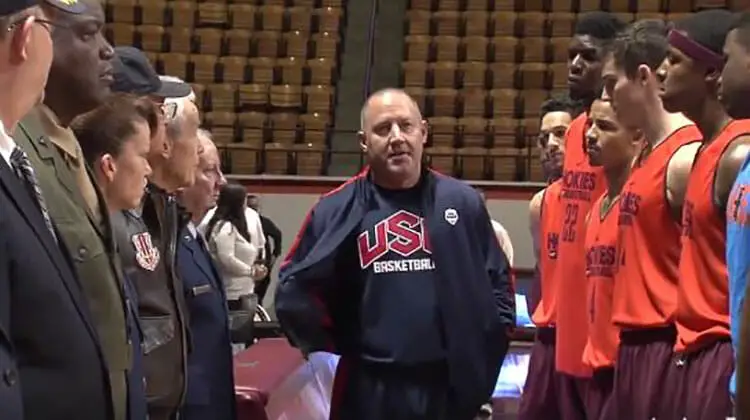 "These guys, when they were you age, interrupted their life, they paused their education, they changed their career, and they gave their life for those chairs," Williams says.
"So when the anthem is played, we're going to stand like grown men and we're going to honor men like this, that gave their life, so we can have a chair to sit in."
Looking at the young men and the veterans standing side-by-side, reciting the Anthem as one, has to be the most touching thing you'll see all day. And that's all thanks to the coach who simply wanted his boys to appreciate other people's sacrifice. Coach Williams is an excellent example of what every educator should be like. He's not only teaching his students how to be better basketball players, but how to be better people, too.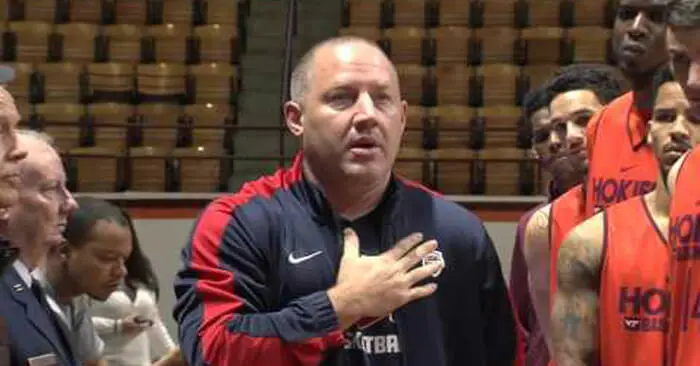 We need more people like coach Williams in our educational institutions. He's an inspiration for many. Take a look at the emotional National Anthem recital done by those who gave us our freedom and those who get to enjoy it today. Simply amazing.
Please SHARE this story with your family and friends on Facebook.
Bored Daddy
Love and Peace