Life in captivity is the worst form of living because every living creature, whether an animal or a human, is meant to be free. Unfortunately, stories of animals who end up spending their lives chained and never get to experience freedom are something we stumble upon way too often.
A mountain lion named Mufasa who ended up at a circus in Peru went through hell after he was forced to spend his days chained up in the back of a pick up truck for 20 years.
Circus animals are often neglected and abused, and Mufasa wasn't an exception.
Luckily, his suffering came to an end thanks to the animal rights organization Animal Defenders International who did all in their power to put an end to Mufasa's struggles and give him new lease of life. Their goal was to shut the circus down and that's when they discovered Mufasa in the first place.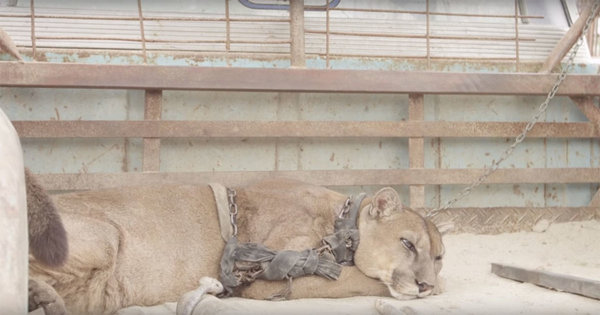 Taking him out of the circus wasn't easy, but they succeeded.
Mufasa got to live the way he was always meant to. He experienced freedom and enjoyed the nature, but sadly, his happiness was short-lived. This beautiful lion died of kidney failure just months after he was rescued, but at least he spent his final days as a free animal and got to experience what it meant to be loved and cared for.
No animal deserved to be treated the way Mufasa was. May he rest in peace.
For more on this story go to the video below.
Please SHARE this article with your family and friends on Facebook.
Bored Daddy
Love and Peace