A shocking video from May 2019, recently featured in the documentary Critical Incident, shows then 28-year-old man named Justin Jackson dousing police officers in petrol after they try to arrest him. The incident, which was caught on tape from a police helicopter took place in Basildon, Essex.
The chase after Jackson started after he was spotted driving dangerously. Eight miles later, he was about to be arrested when he reached for a can filled with liquid. The officers were unaware of what was inside and were attacked with petrol moments later, according to Daily Mail.
Terrifying moment baying crowd doused police officers in petrol before shouting 'light them up'
via https://t.co/crMvpHm0pM https://t.co/S0lgqzZuDr

— Allison Neale-Brennan (@BrennanNeale) September 29, 2020
Andrew Bird, one of the eight officers present at the scene, recalled the attack and said, "As I was trying to control a gentleman who had run out of the middle of nowhere this other chap has appeared with a watering can."
PC Matthew Cutts realized what was going on and tried fighting the attacker. "I could smell petrol so I sort of fumbled around to get my baton out but once I've got it out I've put it behind my head and just struck him in line with my training," he said. "It's not a random act of violence, it's a controlled measure that we are taught to use to get people away from us."
Terrifying moment baying crowd doused police officers in petrol before shouting 'light them up'
This is how police are treated regularly in the #UK and #USA and the #Liberal media seem to think it's#Why because the police are majority White males.. #London #NewYork

— Cristian Nord (@CristianNord) September 29, 2020
As the officers were covered in petrol and panicking, they could hear the crowd gathered around them shouting, "who's got matches, who's got a lighter, let's set them on fire, let's light them up."
As reported by Daily Mail, Chief Inspector Jonathan Baldwin said, "I don't know how we didn't just cut and run but then that's not the way we're wired – we all stuck together. There's something running in the core of us that says you don't run away from the danger, you run towards it. One match, one lighter, one spark could result in us going up in flames and being disfigured for life or possibly even dead."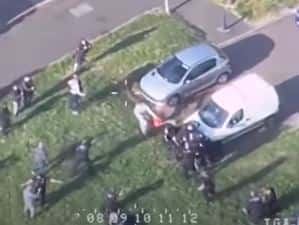 Luckily, a team of 90 officers were on their way to rescue their fellow colleagues and arrest the attacker. Jackson pleaded guilty after he appeared at the Basildon Crown Court and was sentenced to three years and nine months in prison.
The cops affected believed he deserved what he got and remembered thinking they wouldn't get alive.
"At the time of the incident while being covered with petrol I remember thinking 'we could all go up in flames here like Roman candles,'" CI Baldwin recalled. "It was one of those days I realized I might not have got home at all. This was in my view a calculated attack carried out without regard for the lives of police officers, their loved ones, and others who were nearby at the time."
We are glad the cops didn't get injured. You can take a look at the chilling incident in the video below.