Celine Dion has ensured for herself a firm place on the list of the all-time favorite vocals in the music industry. Charles Alexander of Time once described her as "the power behind songs" who can easily manipulate her voice shifting from ballads into pop music. Her performances are effortless and elegant, and she never ceases to surprise us with her talent, such as when she appeared on The Tonight Show Starring Jimmy Fallon.
She showed the world once again that she isn't only a singer, but a performer who knows how to charm those listening to her perfect singing and her sweet dancing. This time she nailed it impersonating other artists.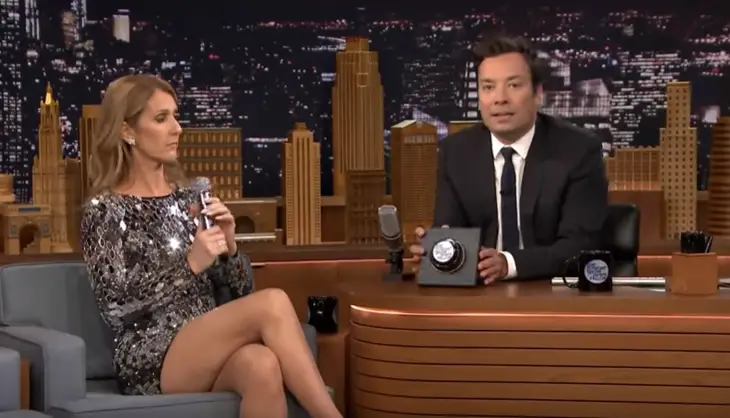 Once our favorite host mentions the Wheel of Musical Impressions, where artists have to push a button to see which artist and song they need to copy, Celine says how she's seen other guests done it before and she goes for it.
Celine's first pick is her fellow colleague and friend Cher and the song "Frere Jacques." This fun and entertaining performance brought laughter at the audience.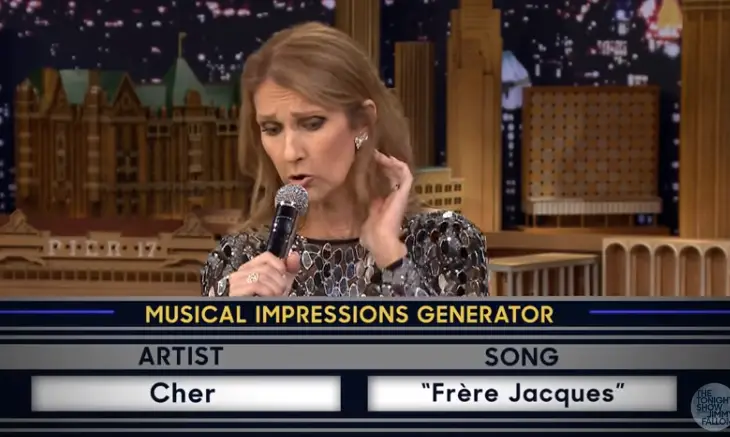 The second pick was Michael Jackson's "One Dance" that's done mostly by Jimmy who is really good at it. He showed some killing singing skills himself.
Next is Rihana and the nursery "Row, Row, Row Your Boat." One would think it's hard to perform a kid's lullaby sounding like Rihana, but when it comes to Celine nothing is impossible. She first pretends for it to be a challenging task, but then quickly starts singing the song to the tune of Rihana's "Work." But the real surprise here was seeing Celine dancing. She really rocked that stage.
Now this has to be the best part of all. Celine's final pick is Sia for the song "Hush, Little Baby." However, for the whole experience to be complete, Celine needed to look like Sia as well so she asked Jimmy for a wig, but the only thing she got was a stuffed toy.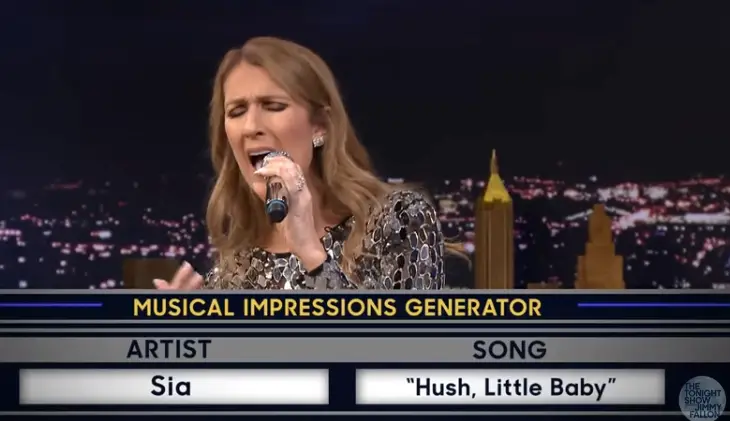 Doing this last challenge, Celine showed everyone once again she's a top-notch artist with a wide vocal range who easily hit the high notes of Sia's "Chandelier".
This doesn't really come as a surprise because she always had certain dose of sharpness in her voice. Some of her all time favorite hits are "Because You Loved Me", "All by Myself", "It's All Coming Back to Me Now", and "The Power of Love".
Check the video below and enjoy this fun side of Celine we don't get to witness that often.
Think your friends would be interested? Share this story!