Celebrities share their outrage over the devastating ruling of the Russian court to sentence America's brightest WNBA star Brittney Griner to nine years in prison.
Earlier in February, Griner was detained after custom officials found vape canisters containing cannabis oil inside her luggage. Griner pleaded guilty but said she did an 'honest mistake,' as she had no idea the vape was inside her bag. She claimed that she left it there by mistake as she headed to Russia where she was supposed to play during the WNBA off-season.
"I still don't understand how they ended up in my bag," she was reported to have said.
Griner was prescribed the medical marijuana in the United States to help relieve her pain from chronic injuries. It is not uncommon for America's elite athletes to be using this treatment as it has fewer side effects than conventional medicine.
During the closing arguments on Thursday, Griner's attorneys asked for leniency. "In sprinting there is Usain Bolt, in Formula 1 Michael Schumacher, and in women's basketball there is Brittney Griner," her lawyer Maria Blagovolina said.
Griner said she doesn't want to become a political pawn.
"Russia became my second home. I remember vividly coming out of the gym and all the little girls coming out and waiting on me. That's what kept making me come back here.
"I want to apologize to my teammates, my club and the city for my mistake that I made and the embarrassment that I brought," she said among the rest.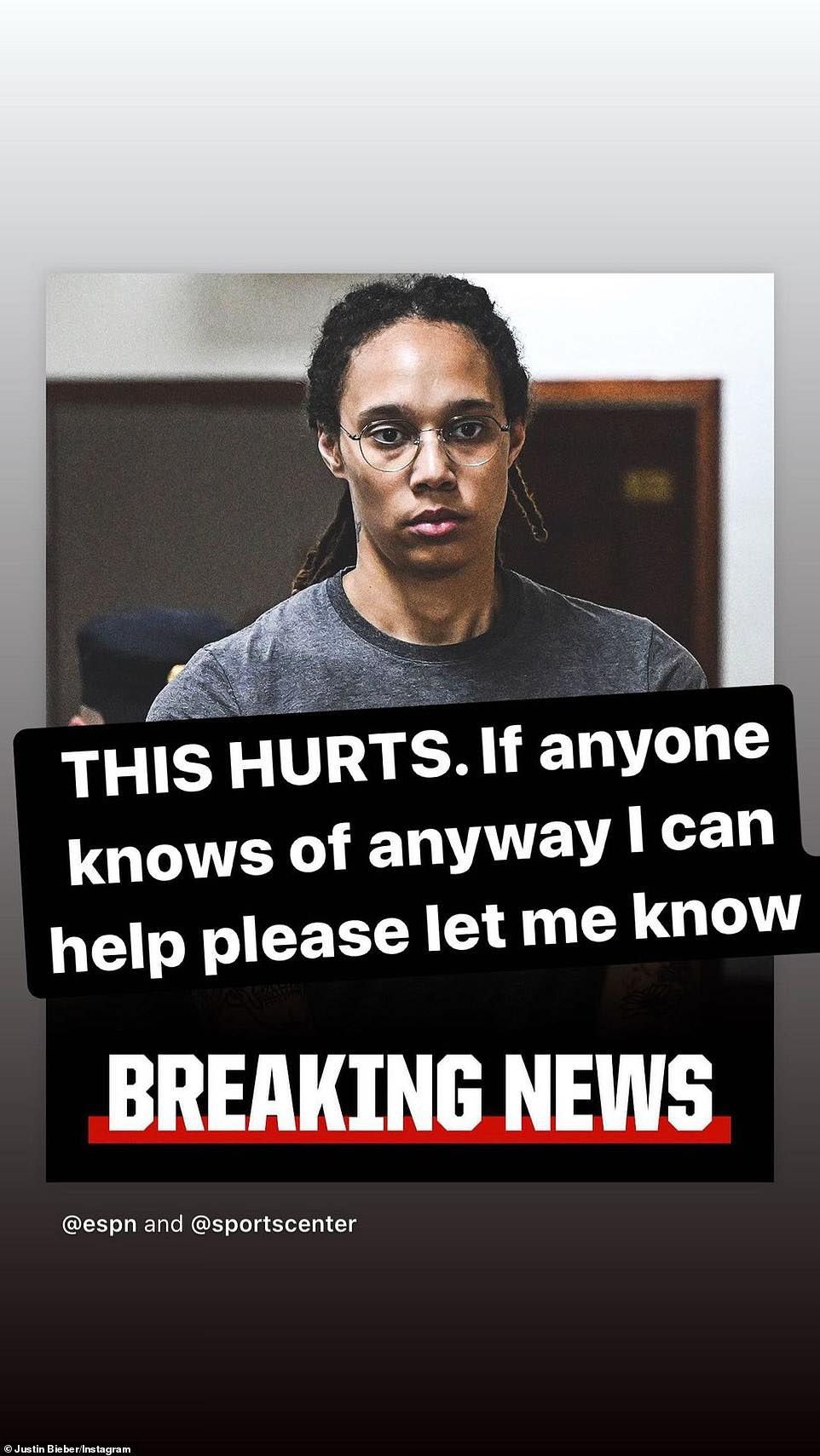 President Biden denounced the sentence and claimed Griner has been "wrongfully detained," as Washington is doing all in their power to bring the star home. The deal for an exchange of Griner and another American for a Russian who is serving a sentence in the States has been on the table for two weeks, but there has been no progress made.
Justin Bieber, Mia Farrow, and Andy Cohen were among the celebrities who took to social media to show their support and ask justice for Griner.
On his Instagram story, Bieber posted, "THIS HURTS! If anyone knows of anyway I can help please let me know."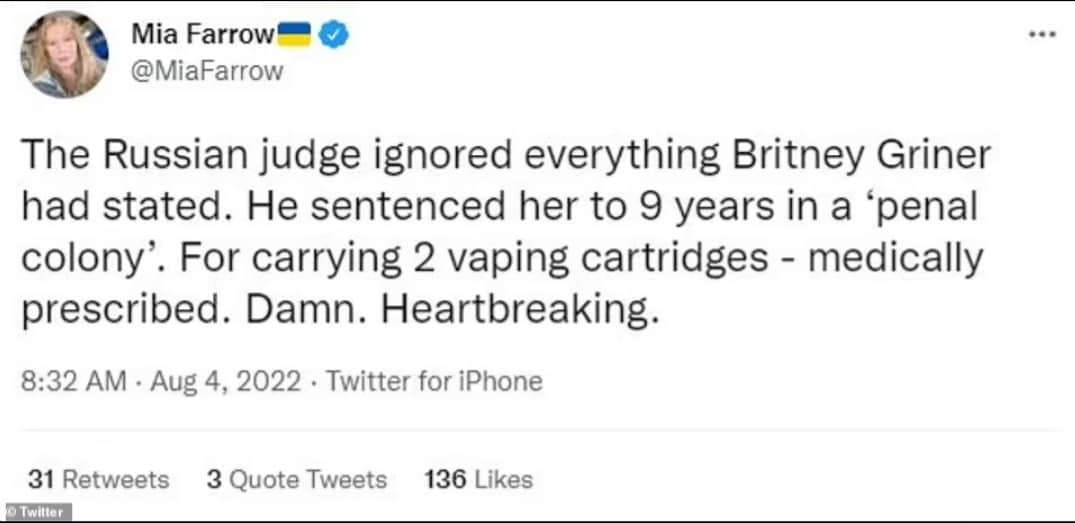 Farrow dubbed the verdict 'heartbreaking' as she tweeted: "The Russian judge ignored everything Britney Griner had stated. He sentenced her to 9 years in a 'penal colony.' For carrying 2 vaping cartridges – medically prescribed. Damn. Heartbreaking."
Others, like Cohen, tweeted: "BRING BRITTNEY HOME," adding an American flag and a praying emoji.
Actor Eric Idle joined those who supported our star and said: "Brittney Griner: Basketball star jailed for nine years on drug charges. So for invading a neighbor country that would be about 90,000 years for Putin on the same scale."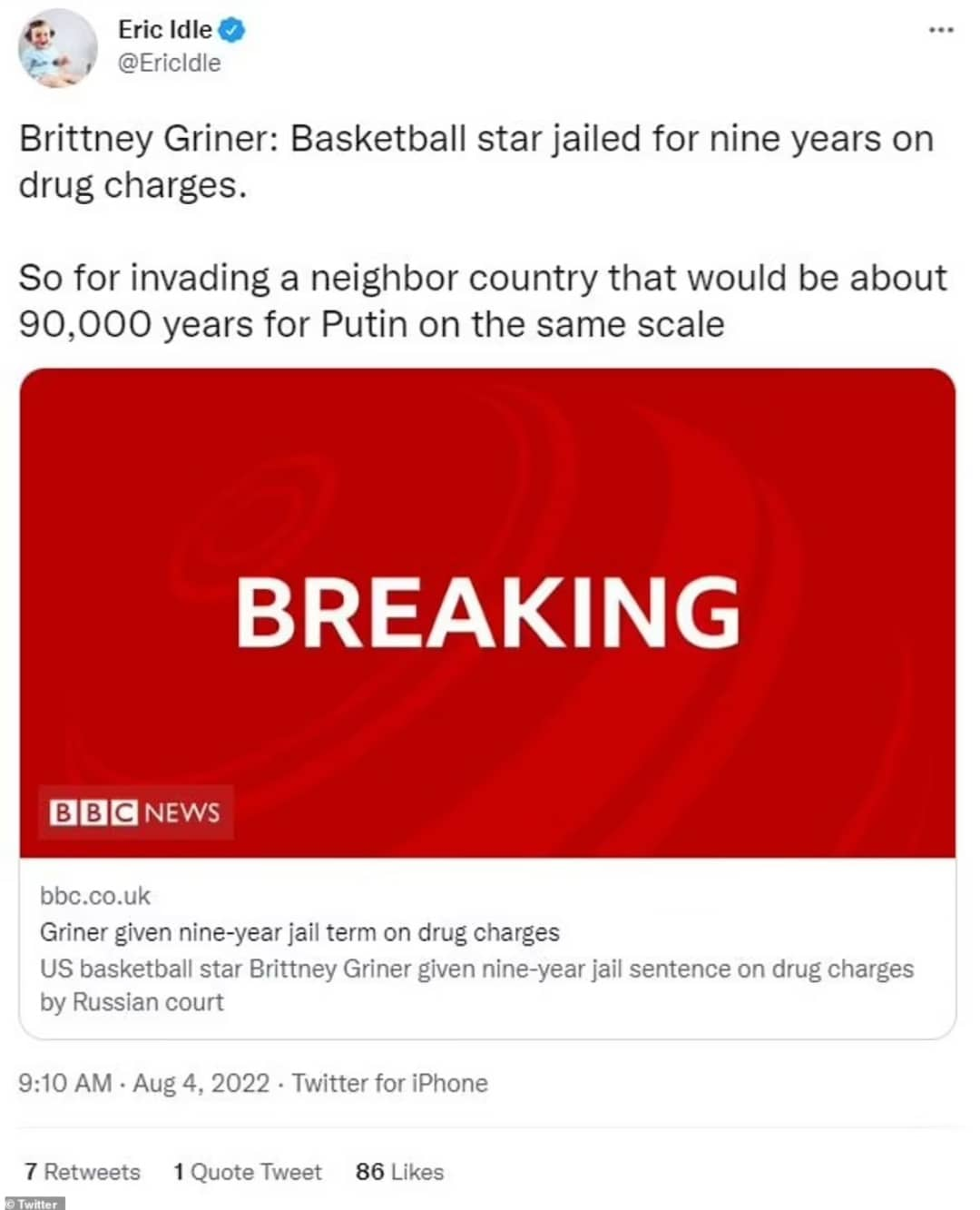 Jada Pinkett Smith shared a photo of Griner and referenced the latest developments in the Breonna Taylor case as she wrote: "On the same day where we finally got some Justice for Breonna… I find out that Brittney Griner just got 9 years in Russia." She added Free Brittney hashtag and broken heart emojis.

There were also those who believed the WNBA star should knew better than carrying drug in Russia, especially during these times when the country is in war with Ukraine and the States slam Puttin for the conflict. Comedian Tim Young wrote: "Brittney Griner is not a political prisoner… she carried drugs that were illegal with her in Russia and was arrested – there's nothing 'political' about that."
We honestly hope that the Russian government would come to terms with America's plea to release Brittney Griner.
Please SHARE this article with your family and friends on Facebook!
Bored Daddy
Love and Peace