The new generations of children seem to be brought up quite differently than we were by our parents. I have this feeling that nowadays, kids are less and less empathetic towards others. Bullying takes place almost everywhere, especially at schools, the places where a child should feel safe and protected.
Many times, their blunt observations and vocal nature can be used to make others feel less worthy. This, of course, isn't true for every kid out there as the child's behavior and the way they treat others has a lot to do with the style of parenting they receive at home.
One New Jersey school bus driver, Cindy Clausen, has seen it all when it comes to the way children treat each other. So, one day, as she was on the job driving kids to school, she noticed a boy and a girl approaching a boy with special needs. This smelled trouble. Cindy was certain there would be a problem as she believed the two children would bully the other one. However, she was shocked when she realized they did something out of the norm.
Instead of making fun of the boy with disability, the children, who were a brother and sister, befriended the boy and made him feel included! They even asked him to sit with them. What's most, they offered help and chatted about their day at school.
It was clear to Cindy that the siblings' parents were showing them the right way to treat people!
The same happened in the days that followed, so Cindy felt the urge to praise the parenting of the siblings, Annaliese and Jorge, by writing a letter for them.
Before the letter reached the family, Cindy shared it with the Love What Matters Facebook page:
"I am compelled to write to tell you how beautiful your children are, inside and out! This can only come from the home, your patience and guidance, the examples that you set and teach.
I have a child on my bus named Jackson. Both of your children have showed him so much compassion and support. Every day your children ask if they can sit with Jackson.
Some days Jackson is a little sad getting on the bus but as soon as he sees Annaliese and Jorge he smiles. Jackson has difficulties walking and it takes a bit for him to get to his seat.
Today Annaliese looked out from around her seat and said, 'come on Jackson, you can do it" and when we arrived at school, Jackson took it upon himself to carry out his backpack!
I know you know how wonderful your children are, but I wanted you to know that it shows!"
Needless to say, the parents were happy their children acted the right way and made the boy feel loved and accepted. Thy couldn't be more proud!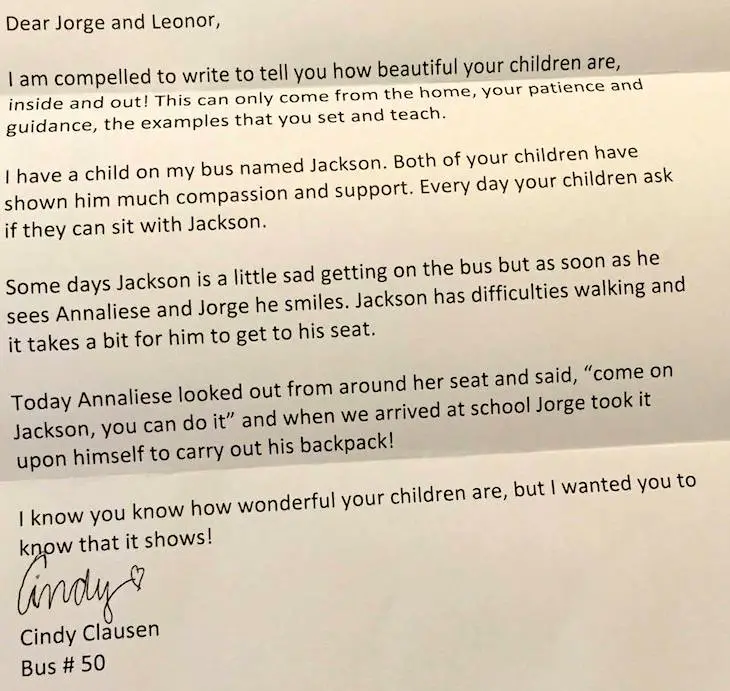 It's children like Annaliese and Jorge that give us hope in the future generations!
Please SHARE this story with your family and friends on Facebook to help raise awareness against bullying.
Bored Daddy