The Brooklyn shooting which took place earlier this week left 23 people injured. The shooter, later identified as 62-year-old Frank James, a man who was obsessed with a number of conspiracy theories, put on a gas mask, detonated a smoke grenade, and opened fire on a crowded subway train in Brooklyn during the morning rush.
After an extensive manhunt, James was arrested following a tip officials received on their Crime Stoppers hotline. Police found an abandoned van they believe belongs to the suspect. A key to the van was found among other belongings on train, including a Glock 9-millimeter handgun, three ammunition magazines, a hatchet, fireworks and a liquid believed to be gasoline. According to WABC, James will be charged under a federal statute, and he will also face charges from the federal government. His motives for the shooting remain unknown.
BREAKING: The man suspected of shooting 10 people on a Brooklyn subway train Tuesday has been arrested, law enforcement officials tell @AP.

The rush-hour shooting injured 23; 10 were hit by gunfire. pic.twitter.com/nkaL1iXasi

— AJ+ (@ajplus) April 13, 2022
Among those who were injured in the shooting is a man named Hourari Benkada, 27. When James threw the smoke grenades, commuters were desperately trying to leave the smoke-filled car.
Speaking to CNN, Benkada said that he was sitting next to the suspect, who was dressed in an MTA vest and carried a duffle bag with wheels.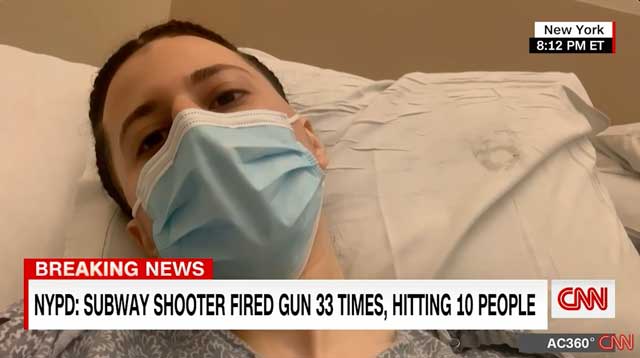 When the car filled with smoke and James started shooting, Benkada, as everyone else, tried saving his life. But as he turned around, he noticed a pregnant woman.
"This pregnant woman was in front of me. I was trying to help her. I didn't know if there were shots at first. I just thought it was a black smoke bomb," he told CNN.
"She said 'I'm pregnant with a baby.' I hugged her and then the bum-rush continued," he added. "I got pushed and that's when I got shot in the back of my knee."
Despite being in much pain, Benkada focused all his energy in protecting the pregnant lady. Luckily, she was left unharmed and he was later rushed to the hospital.
Once the train stopped, people left the car, and those who were injured were tended to by fellow New Yorkers.
Thank you, Benkada, for being the hero in this pregnant woman's story.