Most parents would do anything for the safety and the happiness of their little ones. Sadly, there are also those who don't show much interest in raising their children the right way. Some even beat and abuse them.
Such was the case with a mother from Rivine, Ukraine who beat her baby so severely that he's now left fighting for his life. At the moment the one-month-old Mykyta was found by the neighbors, laying in his own urine with bruises and blood all over his tiny and fragile body, his lunatic mother was out on a date.
This horrific incident shook the whole world and left many people praying for the baby's life.
According to the Daily Mirror, the neglectful and crazy mother was charged with child neglect and child abuse. Honestly, we hope she rots in hell.
Local outlets reported that one of the neighbors who went to check on the baby fainted from the horrific scene.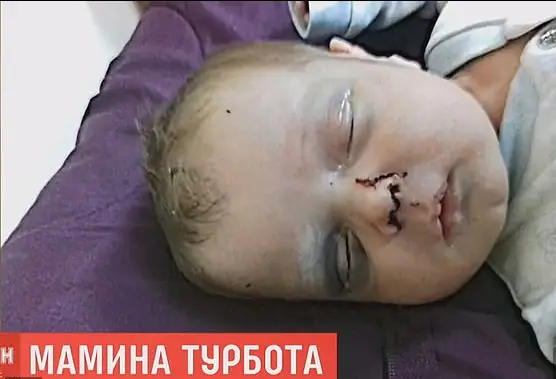 Speaking to the media, neighbor Tetiana Prymak said, "When we entered the room we saw Mykyta in his crib."
"His right eye was black. His nose was blocked with baked blood and he was barely breathing."
"We started changing his clothes and saw black bruises all over his body. One woman who was in the room fainted after seeing all this."
Mykyta was rushed to hospital and is currently treated at the intensive care unit. Doctors are doing all in their power to save his life but things don't seem bright for the sweet soul. They assume he has experienced skull fractures, but his condition is very severe and his head can't be examined at the moment.
Mykhailo Kulik, head of the intensive care unit at Rivine Regional Children's Hospital said, "The boy is in a serious life-threatening condition. We suspect that his skull is fractured but we cannot examine it now."
"I have never seen a baby in such a terribly neglected state. I think his mother has never changed his clothes nor used diapers. His skin is in awful condition."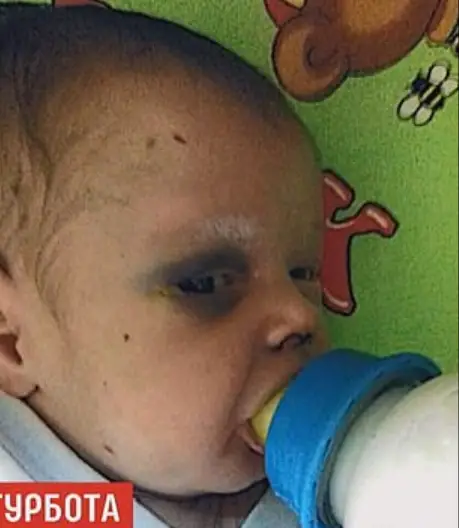 Spokesperson with the police, Anton Kruk, said that the mother was arrested and taken for interrogation. When asked of what she did she said how she couldn't stand the child's crying, so she beat him and went on a date leaving him there to die.
The police contacted the boy's father, but he said he didn't care for the baby and wasn't interested to learn of the severity of his condition.
Mykyta, you are a little fighter. Our thoughts and prayers are with you.