Every journey starts with a single step, and the road to a healthier lifestyle for the "star" of the third season of My 600–lb Life, Amber Rachdi, was challenging and burdensome. It took this young lady five years for her to get her life back. This is her story.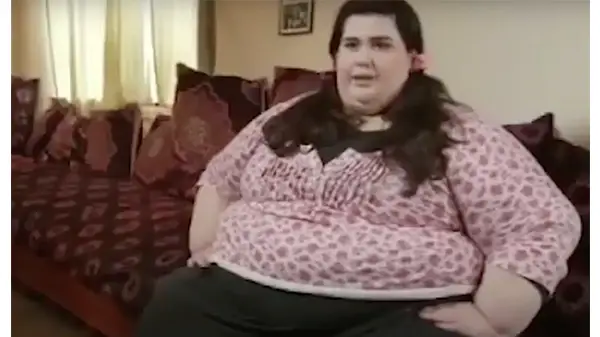 Amber struggled with her weight basically her whole life. When this Oregon girl was just five, she weighted 160 pounds. She struggled with eating disorder that later led to anxiety disorder and anxiety attacks. Sadly, in order to calm down, Amber would always turn to food. She admitted she found comfort in eating and her parents cooked her meals whenever she was anxious or nervous.
When Amber was 23, her life didn't resemble that of those her age in any way. While her friends were out partying, she was "imprisoned" in her home and had a hard time performing even the simplest of tasks such as getting down the stairs.
The only time she went out was when she and boyfriend Rowdy, who lived with her and her parents, went shopping together. Even then, she was moving around using a mobility scooter.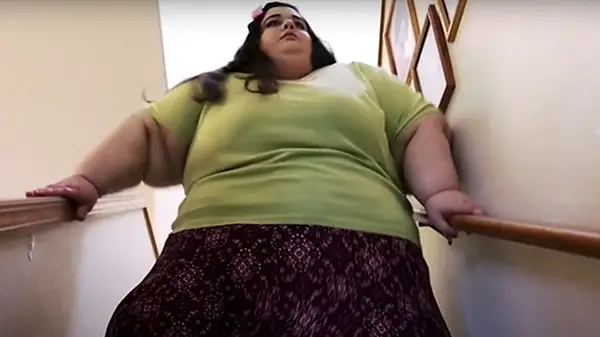 The worst of all was that although Amber hated the condition she put herself in, she believed there was nothing that could be done and instead of turning to a healthier way of living, she would just eat more and more with each passing day.
"I've tried so hard, so many times, to change the way I eat. But I can't. I'm already such a failure. Why not just keep failing? I hate being in public. I feel like a sideshow," she said.
However, her wake-up call was when she was told that in case she doesn't change her life, she wouldn't likely reach her 30th birthday.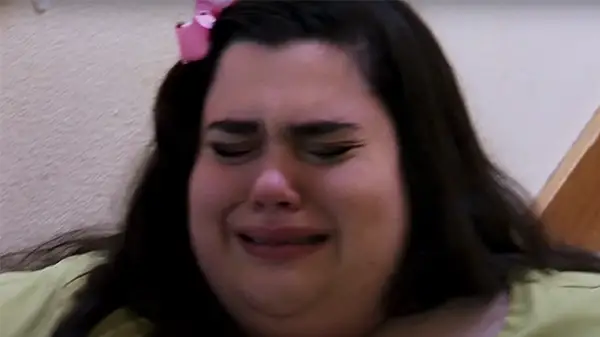 At the age of 23, Amber met the doctor who would change her life, famous Dr. Nowzaradan, also known as "Dr Now" who's part of the TLC's show My 600-lb Life.
However, on her way to Houston, Texas, where the show is filmed, she experienced an unpleasant situation. Her wheelchair couldn't hold her and broke down, so her father had to wheel her through the airport in an over-sized luggage cart. On the plane, Amber was sitting on two sits and could hardly squeeze into the row.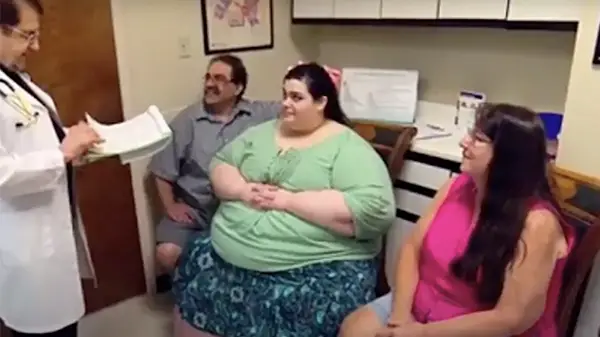 Amber was hoping to get the so much anticipated gastric bypass to reduce her enlarged stomach, but that wasn't as easy as she thought. Dr. Now said her condition was worrying and asked her to lose at least 20 pounds before he considered operating on her.
She was determined to continue her journey and her diet now consisted of mainly vegetables and chicken. Her family moved to Houston to help her stay on the right path, although her boyfriend continued eating junk food in Amber's presence but she didn't fall into temptation. Instead, she started going to the gym. "Starting to walk again has been difficult," she explained. "It hurts and it's hard."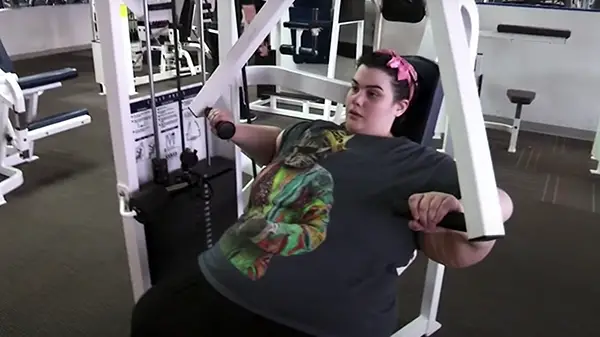 Amber lost 17 pounds, and Dr. Now decided it was enough for the surgery to take place. Her stomach was reduced from the size of a football to the size of a baseball. It was the new start she was longing for for so long, and she knew there was no going back if she wanted to be happy and healthy again.
Over the course of a year, brave and determined Amber lost 267lb, going from size 6X to 2X.
She said her journey was hard and described it as a "crummy experience," according to the In Touch Weekly. "They exert a certain kind of pressure and lack a human touch sometimes," she wrote. "They assumed we would be difficult and were rather forceful with their demands? It didn't feel good, respectful, or mutually beneficial working with the production. There are lovely individuals on their payroll, and I met some incredible people, but it definitely wasn't an experience I want to repeat."
After Amber's family got back to Oregon, she and her boyfriend stayed in Houston and could finally go on their second date outside her house.
"I surprised myself." Amber said. "I'm shopping for myself, I'm eating healthy and I'm working out. I've taken control of my life."
Amber inspired millions of people and was dubbed a role model by many.
Today, five years after her journey started, Amber is getting married to her new boyfriend, as she and Rowdy split but remained good friends.
She wants everyone to know that taking back control over your life is not always easy but it's well worth it.
Speaking about her life-changing journey, Amber wrote on Instagram, "I was REAL fat. Now, I'm just normal fat. Life ain't bad."
We wish her only the best in life.