Grayson Wynne is a smart and quick-thinking 9-year-old boy who managed to survive in the wilderness of the million-acre Ashley National Forest in Utah all thanks to the tips he has learned from Bear Grylls.
Little Grayson went missing after he wandered on his own and was unable to find the way to his parents and the rest of the people who were planning on walking four miles to Daggett Lake where they were supposed to camp for a long weekend.
Once he realized he was lost, Grayson decided not to panic. He knew he needed to keep a cool head and use some of the useful survival tips in order to navigate through the remote location. The first thing he recalled was to leave clues for the search crews he knew would go after him.
Grayson tore his jacket into pieces and left one piece on the trees. He also knew he needed to find shelter under a fallen tree, which is exactly what he did.
"I just used my hands," the boy told Daily Mail. "I don't know how many times I tore the thing but quite a lot."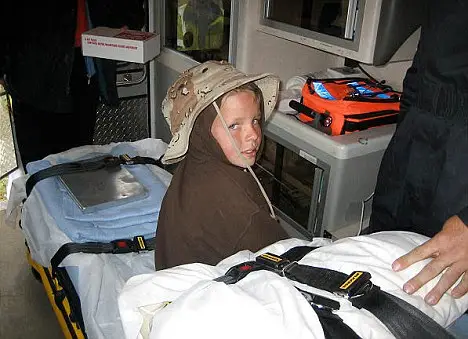 Rescue teams did all in their power to track him down. Tracker dogs and helicopters were also involved in the thorough search which was a huge success. Namely, Grayson noticed a helicopter flying overhead so he rushed towards a creek and started waiving. At that point, two searchers on horseback had already noticed him.
His parents were over the moon to see their kid safe and sound.
"I was really scared," Grayson said. "But Man vs Wild tells you how to survive all different terrains."
We are so glad things turned for the best for this young and clever boy, and we hope he would never again embark on such a scary adventure on his own.
Please SHARE this story with your family and friends on Facebook!
Bored Daddy