One thing that students really hate are the exams. Many times, taking one make them feel anxious because they know their academic achievement depends on how well they would fill in that piece of paper. The exams are one of the ways of grading students' performance and knowing this, many would go an extra mile to make sure they complete each of the questions even if that means getting more creative than they should. 
These 30 hilarious answers will give you a good laugh and will make you realize that teachers have both the hardest and the most fun job in the world. 
1) Name The Quadrilateral
Naming quadrilaterals shouldn't really be that hard, right? Especially if you are very creative. To be honest, that orange square does look like a Bob.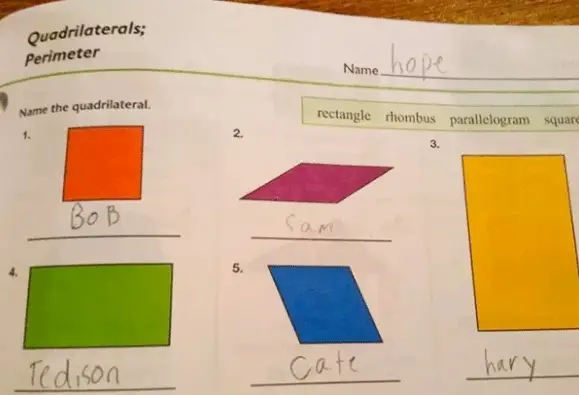 2) Bob's Candy Bars
If you too hate when the alphabet gets involved into mathematics, then you will find this response hilarious. Since the question itself is an "unrealistic" one, the answer fits it perfectly. So if you want to know what happens if a man has 36 candy bars and eats 29 of them, take a look at this student's test sheet.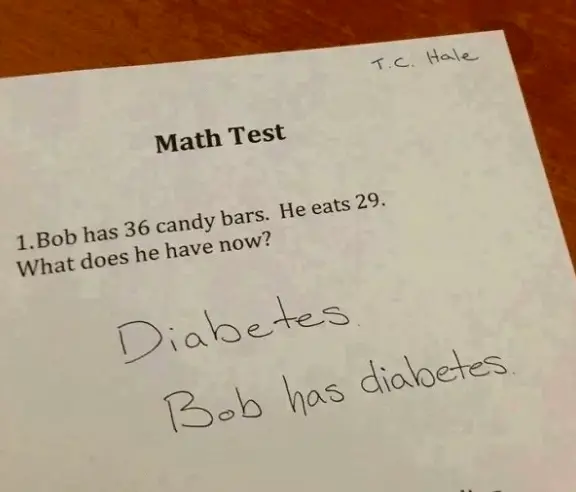 3) Ghost Non-Believer
Here we have one ghost non-believer who refuses to give an answer to a question he finds absurd. How the hell would you practice subtraction using ghosts when they apparently don't exist.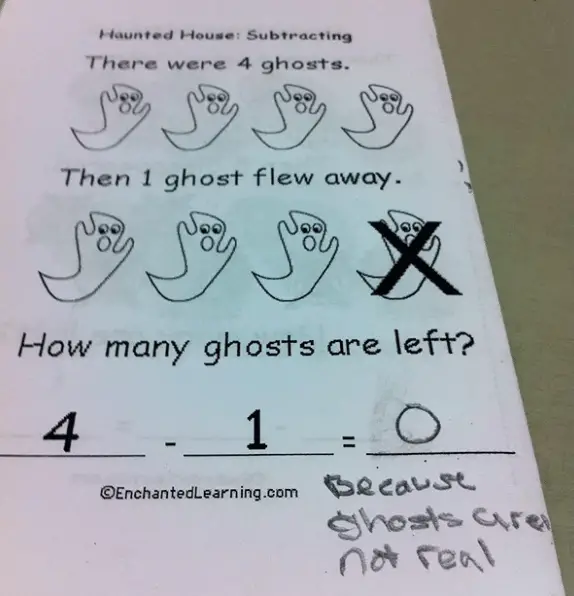 4) True Believer
When Jesus is the answer to all the problems.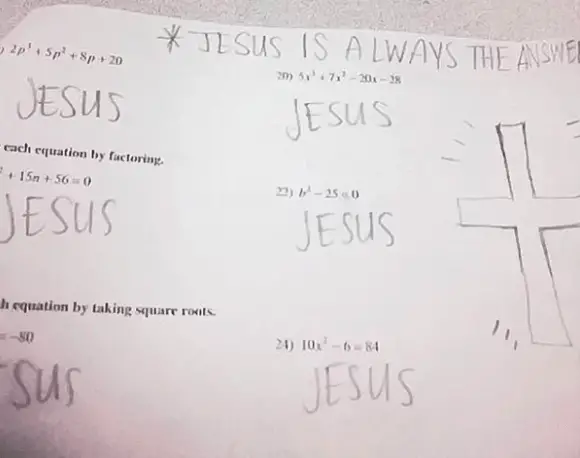 5) Wrapped Up In Books
When no further explanation is needed. We are eager to find out whether he got some credit for this one.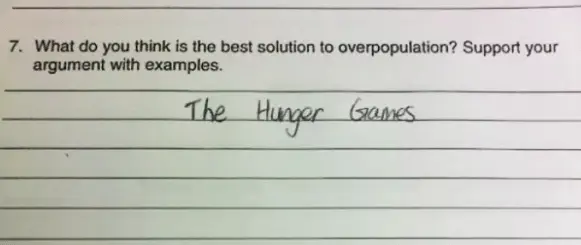 6) The Literal Historian
Another person taking things very literally. Although he's probably right, he should have go the other direction and get more serious. 

7) Free Press
When you think of 'free press,' the first thing that comes to your mind is a newspaper, but that's not really the case with this particular student. 

8) Always Have A Back-Up Plan
Whenever you feel like there is a chance that you made a mistake on your test, just draw a nice giraffe for your teacher. It did help this student get an extra point.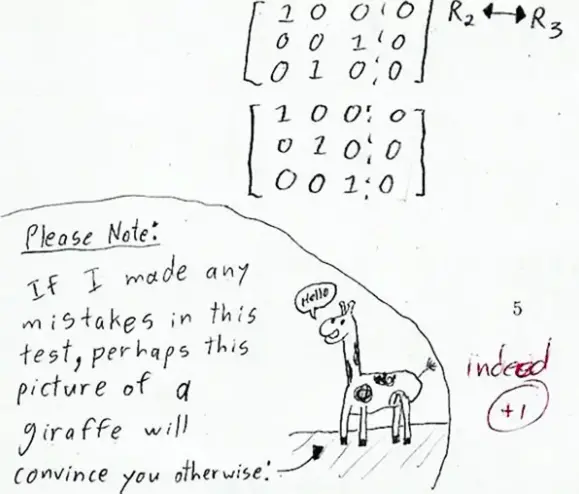 9) The Risk Taker
This student decided to take a risk while answering a question of what risk is. We're glad their teacher rewarded them with a big red checkmark!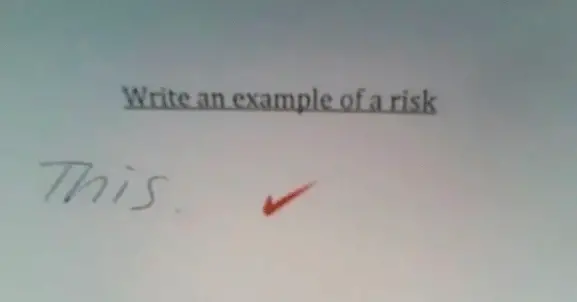 10) You Better Put A Ring On It
It's obvious this student loves Beyoncé since they found inspiration in her song "Single Ladies" while answering a question regarding Saturn's rings. This answer is awesome, but the teacher's response to it is even better.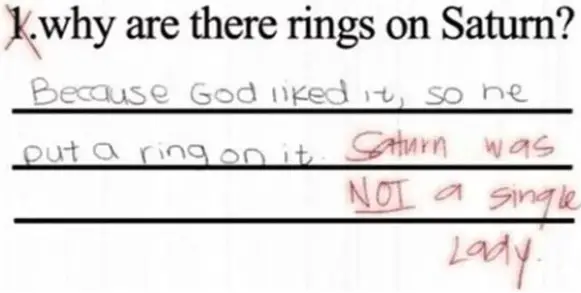 11) Plant Cell
Draw a plant cell? That sounds easy. Just put that poor flower behind bars. Although that's not really what the teacher wanted to see, we hope the student got some credit for his creativity.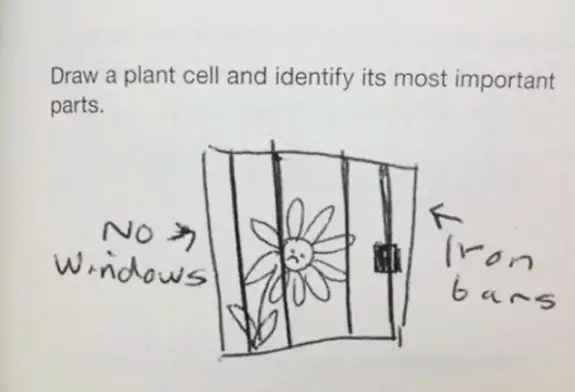 12) The Giraffe Problem
Sometimes the choices listed under a question don't really fit your own theory and that requires adding your own answer instead of choosing from the ones given.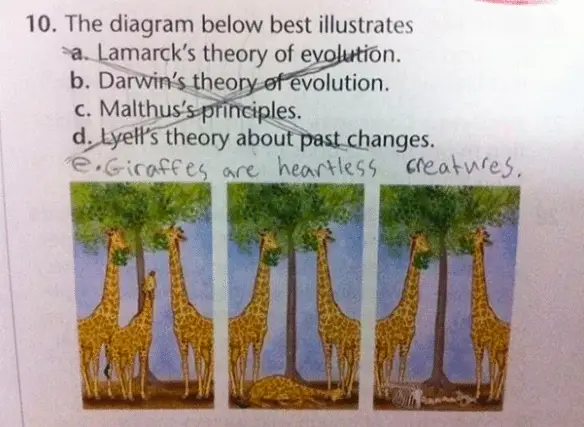 13) The Civil Rights Activist
We have to agree that we really love this one. What a clever student. 

14) Jason And The Cliff
This is some awesome word-play that this student chose to use here. 

15) Colombia's Problem
Guerrilla warfare is a pretty big problem for a country to solve, yet a student on their own. Although we like this answer that comes in a form of a question, we believe teachers should ask more realistic questions themselves.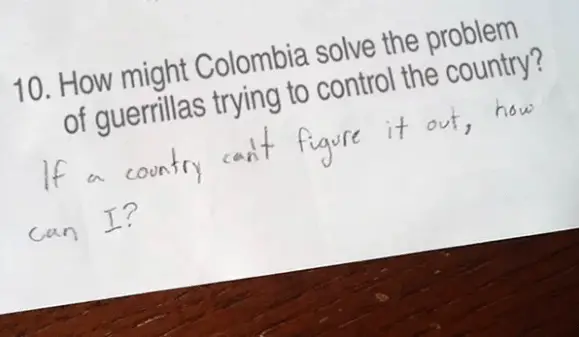 16) Creative Solutions
This is some great example of creative thinking. It's a pity most teachers fail to reward creativity.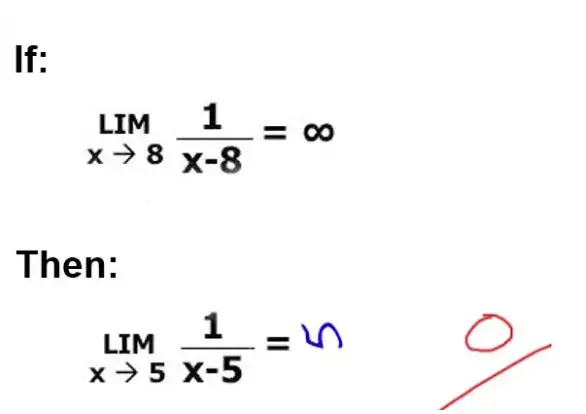 17) Ten Words
Wow, it's amazing how someone so young (judging from the question) could show so much resourcefulness. This is amazing.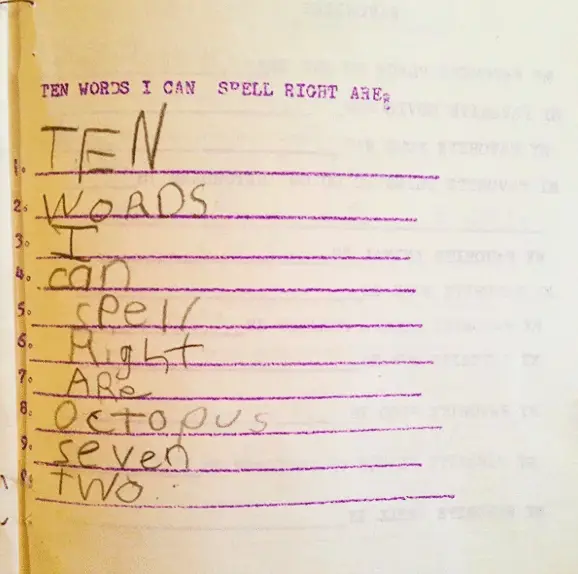 18) Blind Science
This is yet another out-of-the-box answer. And although teachers encourage students to be open-minded, this student didn't get any credit.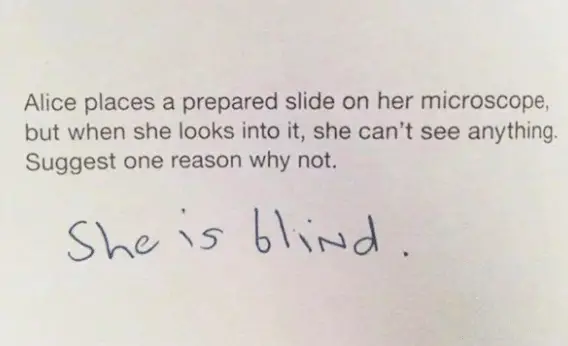 19) Literal Math
Takings things literally. At least the teacher admitted she found this funny.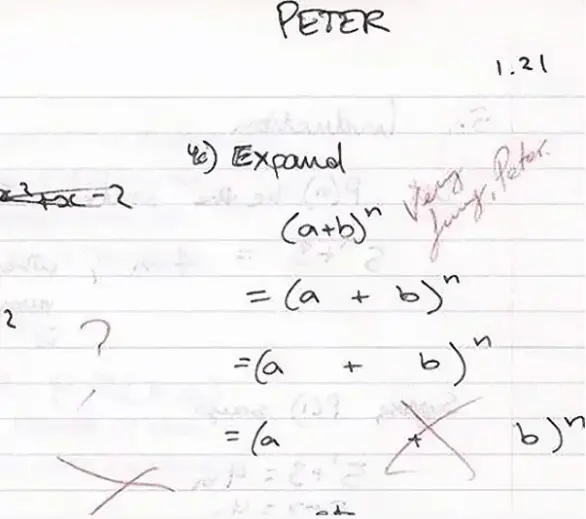 20) Show Your Thinking
When you show your thinking using your drawing skills.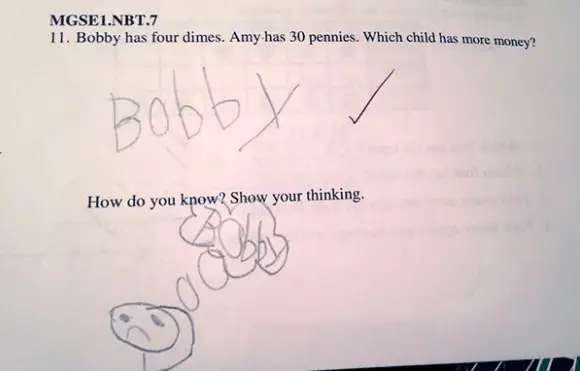 21) Find X
This answer is quite accurate if we take teacher's very general instructions into consideration.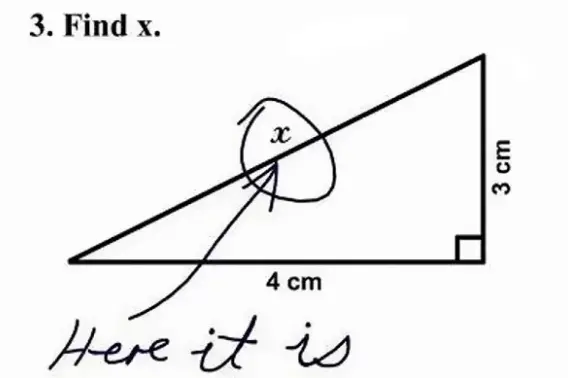 22) Problems and Solutions
This elementary school student is one tough cookie! Their solution to the problem of falling down on the playground is direct and very to-the-point.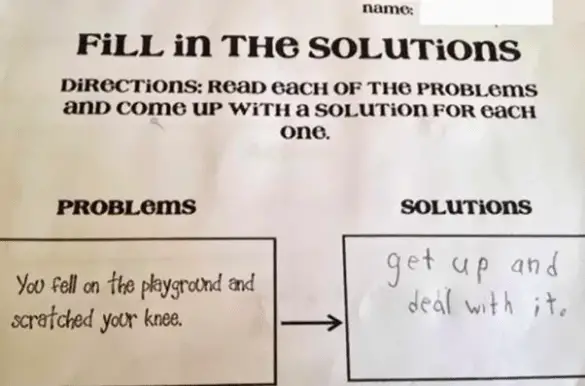 23) Fight Club
Thermodynamics isn't really something this student was willing to discuss so he invented his own "don't talk about" laws.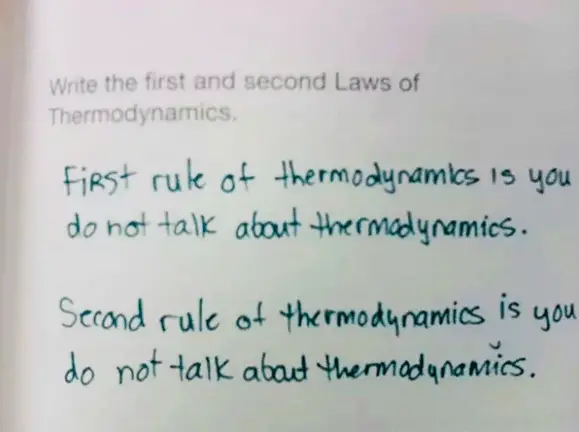 24) Literal Answers
We love this student's commitment to answering every single question on this exam literally. Clearly, their teacher felt the same way, because they gave them an 'A+' for their creative problem-solving abilities.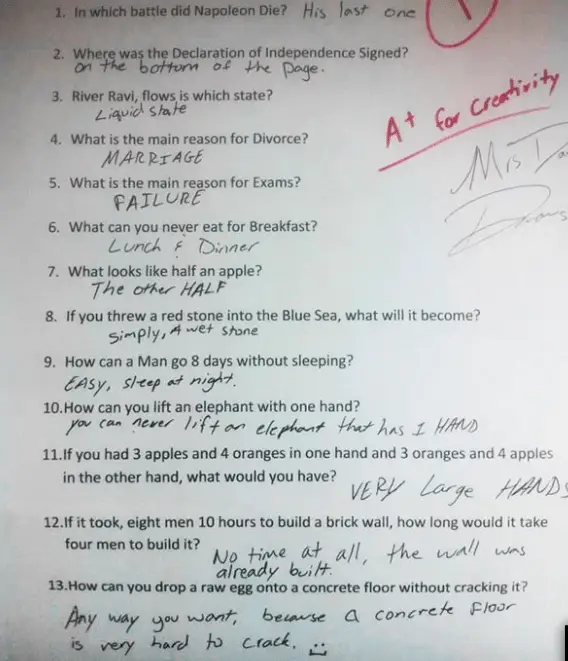 25) Connected Lines
Some students are so good at exploiting flaws of the system that they are able to cope with any problem that stands on their way.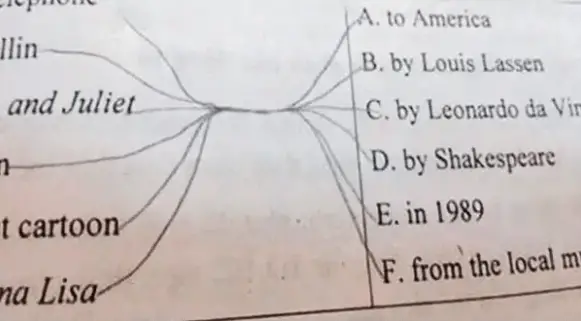 26) Number Artist
If the question says: "Find the difference between 8 and 6" do students have to assume they need to do subtraction? Well, not according to this guy.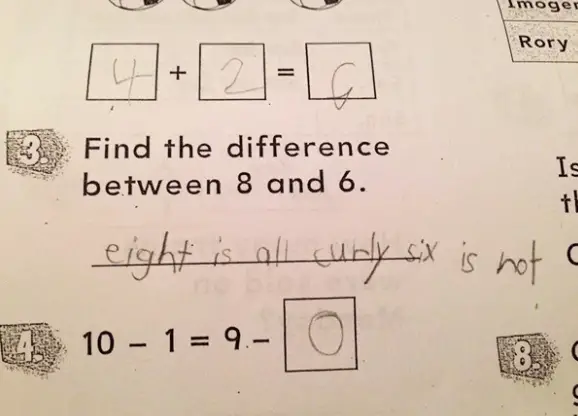 27) Plant Classification
We do agree that some questions undermine students' intellect, like in this case. A flower is a flower for God's sake.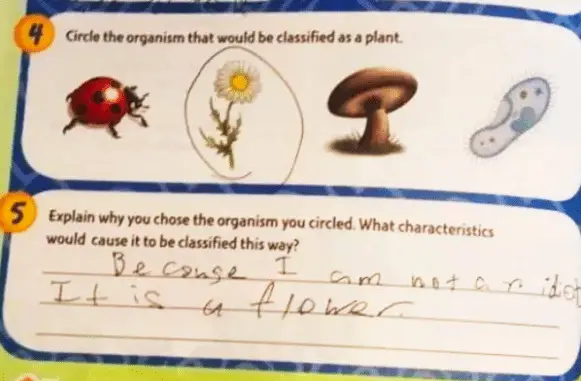 28) Honest Essay
This is what we get when a creative and pretty honest student and a cool teacher communicate through the exam paper.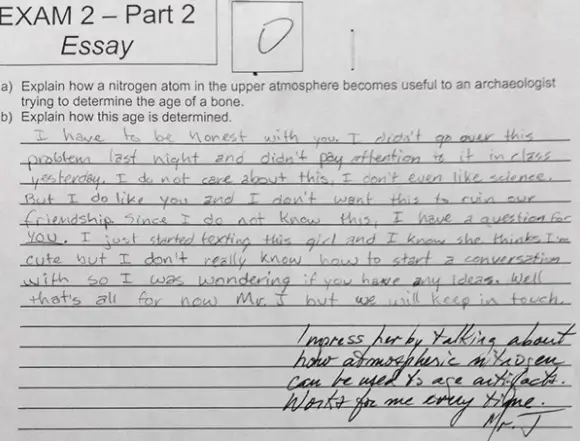 29) Lesser Than Or Greater Than
If you are presented with the option of using the sign for greater than OR that of less than why not opt for that OR?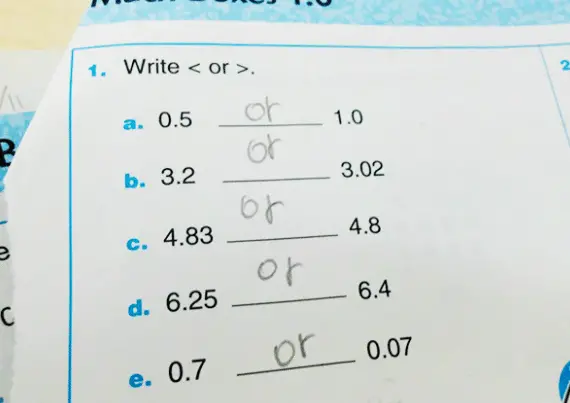 30) Out-Of-The-Box Thinking
We didn't know solving equations was this easy.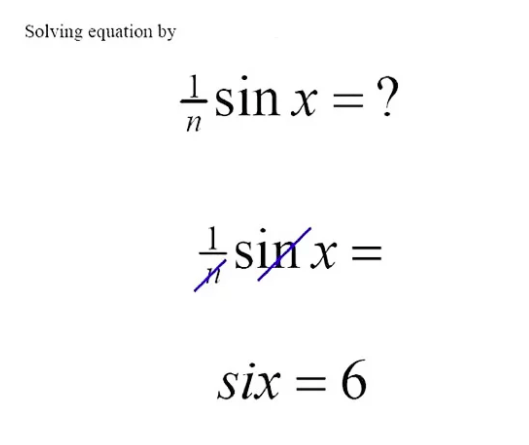 All these 30 students deserve an "A" for creativity. Coming up with hilarious answers like these ones surely require a lot of though to be put in the process of thinking.