The 4th of July festivities turned tragic for an Indiana family after an 11-year-old boy, Camrynn Ray McMichael, was seriously injured while playing with firework shortly before 9:40 p.m. on Sunday.
Unfortunately, according to a press release from Indiana State Police, emergency dispatchers in Posey County, Indiana had responded to a 911 call from a home in Mount Vernon, but Camrynn succumbed to his injuries on the way to the Evansville Hospital.
This is Camrynn Ray McMichael. The 11-year-old died Sunday after family says he was playing with fireworks.

In a statement to ABC affiliate WEHT, Camrynn's mom says he was "every parents dream of a boy" who loved his little sister. pic.twitter.com/kDgEZgOp83

— WRTV Indianapolis (@wrtv) July 4, 2022
The devastated mother, Kyrra Lynn, took to Facebook to share the heartbreaking news of her son's passing, explaining that he got injured trying to protect his little sister.
"I held my sons (sic) broken skull & brain in my hands last night yall.!" the post read.
"I'll never see my son again over a f—ing firework," she continued. "Don't ever think it can't happen to yours."
Later, in an interview, the mom added: "He died being a boy and playing with fireworks."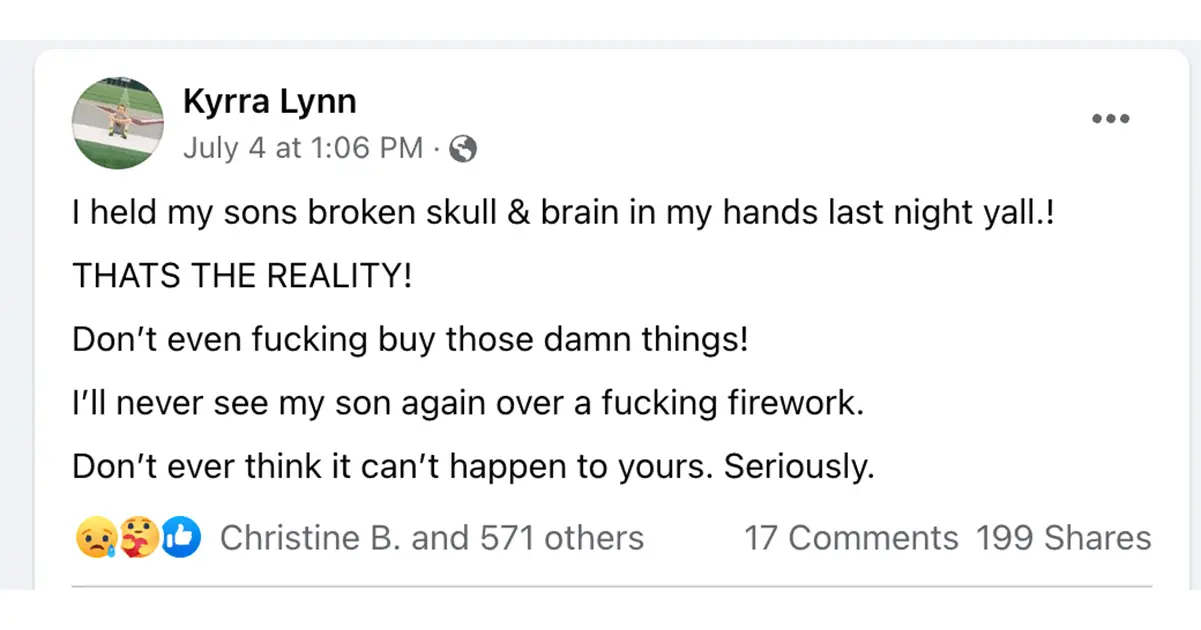 Friends of the family started a GoFundMe page to help them during these times of grief. The page described Camrynn as an "all around amazing smart kid" who was excited to begin middle school this fall.
"Cam was always willing to give a helping hand to whoever needed it," Alexandra Eaton, Lynn's sister-in-law, wrote. "Cam took pride into being a big brother and adored his baby sister."
No further details about this tragedy have been revealed so far as the incident is still under investigation under the Indiana State Police, Mt. Vernon Police Department and the Posey County Coroner.
Camrynn Ray McMichael had just finished the fifth grade, and he was a dedicated member of both his school's football and basketball teams, his mother said. https://t.co/R9CzLSqpd7

— NBC4 Washington (@nbcwashington) July 5, 2022
We are so very sorry for this family's loss.
Rest in peace, Camrynn.
Please SHARE this story with your family and friends on Facebook to remind them of the various dangers associated with firework.
Bored Daddy
Love and Peace