We have all found ourselves in situations which require help from others. The truth is that there are obstacles we can't overcome on our own and when we get a helping hand we realize that humanity is still alive and helps this world move around making it a better place.
The story a woman of Port Arthur, Texas, shared on Facebook recently gathered the attention of many all for the right reasons.
Unfortunately, she ran out of gas and found herself stranded on a busy road. A number of vehicles passed her by and honked at her, until the right people came to her rescue.
This is her story:
I just ran out of gas coming from my job at Savannah and 25th Street the light changed and the car stopped. I got out and started pushing my car nobody stopped to help me trucks passed by me. People had the nerve to blow their horn at me and they see me pushing this car. I don't know where they came from but all of a sudden I had almost a platoon of army men they pushed my car literally from motiva Terminal Gate to the Citco station on Gulfway Drive.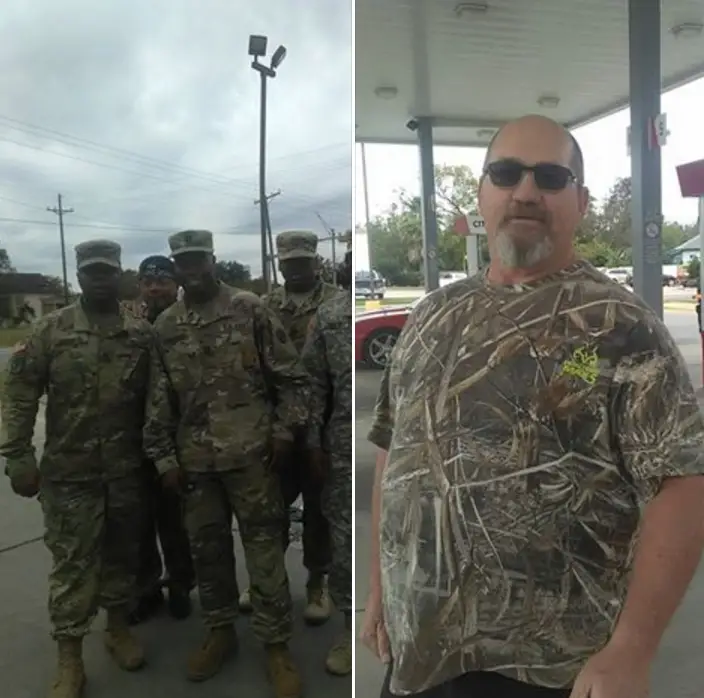 Do you understand what I'm saying they pushed my car on their feet. When we got there I asked him can I please take your picture to let people know there are still young men in the world that will stop and offer their assistance to a woman in need. They said yes. At the gas station this man jumped out of his truck pulled $100 bill out of his wallet and offered it to them for them to go get themselves a meal.
They all said at the same time no sir we cannot accept that we were doing what we were raised to do. This same gentleman turned around and put gasoline in my car and told me keep the money that I had in my pocket. Man, when you are or child of God no matter what obstacles are placed in your way the Lord always has a ram in the bush. I thank each and everyone of you from the bottom of my heart…
This woman's post has been shared thousands of times, and all for the right reasons.
Please SHARE this story with your family and friends on Facebook.
Bored Daddy
Love and Peace