In recent years we've stumbled upon various testimonies of passengers flying with the United Airlines, most of which judging their poor customer service. Although it's not easy to satisfy the needs of so many people who opt to travel with them, the customers should always come first. The company is known to be trying to reshape its public image, however. The latest story relating to this company brings a change of the spirit after the act the CEO did. 
Rebecca Kuchar Krutz is being honest when she confesses how United Airlines is not her first choice when it comes to traveling by plane. She prefers their competition, the Delta Airlines. But, this time, she found herself sitting a United first-class seat.
Writing a Facebook post about the experience, she recalls what she got to witness. Namely, once she boarded, she could see people approaching a guy. She didn't recognize him at first but then realized it was the company's CEO, Oscar Munoz, who had already taken his seat at the VIP section. Another passenger, an elderly woman whom Rebecca saw chatting with Munoz at the gate was taking her seat at the economy class. But that's when things took different turn.   
What Rebecca has to share with the rest of us is just amazing.
"I'm a pretty loyal Delta Airlines customer. But tonight I was on a flight w the CEO of United. I was a bit surprised seeing him walk back into the economy section of the plane to take his seat. Seated in front of me on the plane was an elderly lady in her 80's (maybe even early 90's). She didn't appear to be in great health and had a bit of a hard time with her speech. Prior to boarding, I'd seen Oscar (the CEO) make his way out of a crowd of people in order to go over and speak w her."
According to Rebecca, it was clear from the CEO's face that what he did was an honest good deed. He was really happy to give his seat to the woman, and the lady herself was astonished by the gesture.
Rebecca was impressed by that gesture too. She felt she had to tell the world how things should be done. The old lady was initially nervous to be on a plane, but what she experienced made her fears fade away.
"That, ladies and gentleman, is how it should be done. Treat our elders with the respect and care they deserve. I may very well be a lifelong United customer after witnessing that act of selflessness by a man who likely has his own private plane, and yet was humble enough to give up his seat to an elderly lady he'd never met before, because he thought she'd be more comfortable there. United??"
She ended her post by cheekily asking everyone, "United??" Oscar certainly knows how every passenger is important and should be treated as such.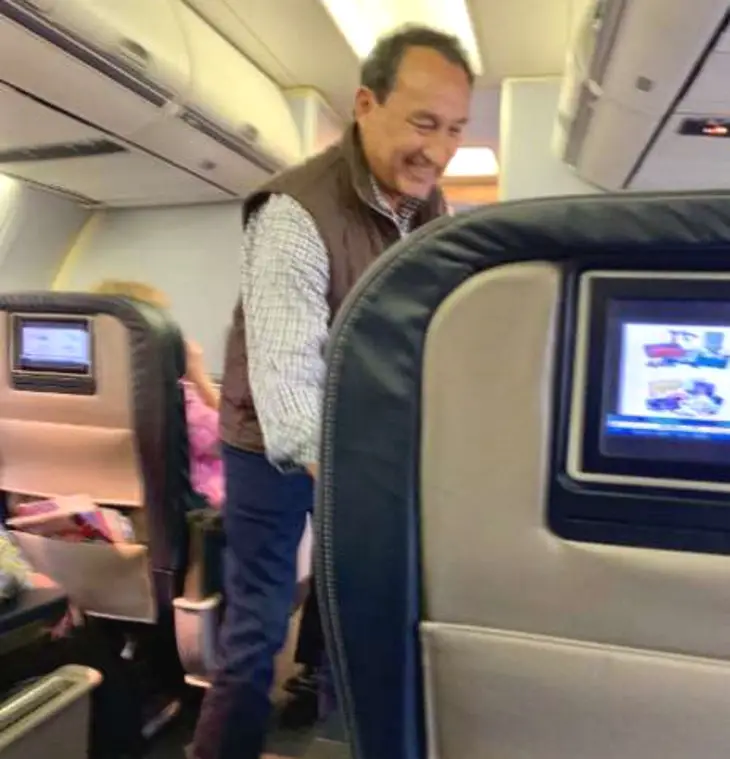 Oscar was raised in a household where he was taught to treat the elderly with the utmost of respect. He told the Houston Chronicle:
"I was brought up in a house where we were taught to respect our elders. I have a grandmother in her 90's and if she walks into a room where family is seated, we rise and offer her the most comfortable seat. We do this out of love and respect as she is the matriarch of our family and we feel she deserves to be treated this way. You did this exact thing; only for a woman you'd never met before, and likely will never cross paths with again. Thank you for extending such kindness and respect to an elderly passenger. While it may have been a small gesture for you, I can assure you it meant a great deal to her, and though I don't know her, it meant a great deal to me as well."
Most CEOs put business before the customers without realizing that the customers are the ones who make you successful. Oscar isn't like most bosses, he is a kind-hearted man, and above all, a human.