Some people's cruelty knows no boundaries. Sadly, their actions make us lose our faith in humanity and even believe that all people are the same. Well, until someone like sweet Leonardo, a boy from Betim, Brazil, comes along the way and proves us wrong.
It was during the hot summer days when Leonard heard dog's barking coming from nearby. He was convinced he was hearing the canine his neighbors adopted recently, but as the crying didn't stop for a couple of days, he decided to explore around.
Once in the woods, at a vacant spot, Leonardo noticed a fragile creature tied to a tree.
The poor dog didn't have any hair and his bones were visible through his skin. Leonardo was shocked. He couldn't believe someone could do something like that to a helpless animal.
The dog, named Bob, was taken to the nearest vet's office where he was given pain medications, antibiotics and anti-inflammatory medications. His condition was even more severe than Leonardo and the doctors believed initially. Bob was dehydrated, starved, and his skin had living maggots inside.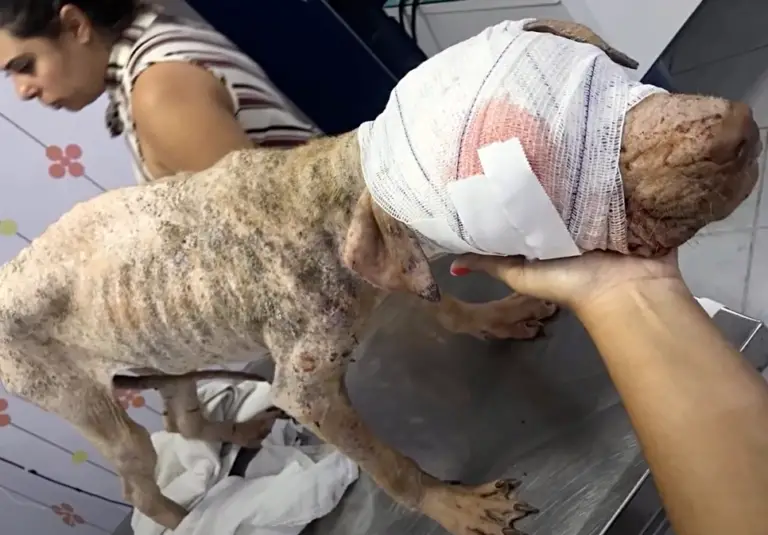 Despite his awful state, sweet Bob found strength to wag his tail and thank all those people who were doing all they could to help him stay alive.
As time passed by, it looked like Bob was feeling much better and it gave everyone hope that he could recover completely. He loved being around humans and enjoyed his days, but then, something awful happened. The sweet dog suffered from respiratory failure and passed away. His loss touched everyone who wanted to give him a second chance for a better life.
However, Bob died knowing he was loved. Leonardo and the rest of the rescuers restored his faith in humans.
Below is the whole story. Don't forget to share it with your friends.