The love of a mother for her children is the most powerful feeling of all. The only thing that beats it is when children show appreciation for everything their mother has done for them throughout the years and return the love and the respect in the same manner.
A man named Lance is the son every parent would wish for. Although he has a family on his own and is a father of two, he always finds the time to spend some quality time with his mom and make her days.
This time, he and mom Lucy stole the hearts of millions of people worldwide with their incredible dance moves. As it turned out, she had a hard time falling asleep, and that's when Lance stepped in. He grabbed his mother's hand and started dancing with her in the middle of the room like no one was watching.
Thankfully, the rest of the family witnessed this beautiful moment and even put it on tape so that everyone could enjoy the bonding between these mother and son.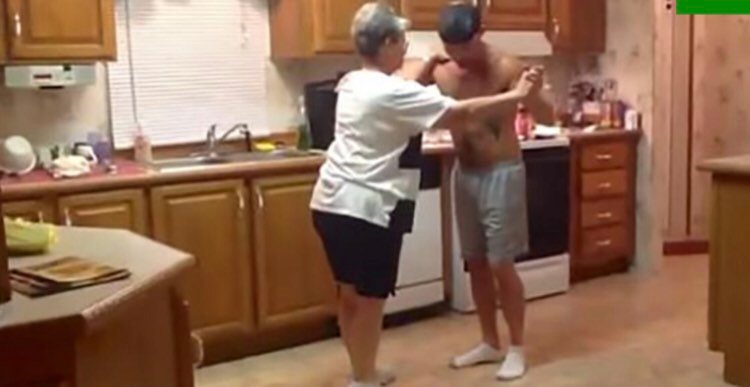 Lance's daughter cheered all along and was happy to see her daddy and her grandma having so much fun together.
Midway through the song, Lucy turns to the camera and says that's what happens to people who can't fall asleep in Louisiana.
Needless to say, there were plenty of comments praising Lance for his love and dedication for his mom.
"I can't count the times I have watched this! Makes me smile every time. Wonderful video," one person wrote under the video. "You are a wonderful dancer, not to mention a wonderful son!!! I love, love this video!!!!! It makes my heart happy!!" another person added. "This is such a lovely video! So great to see the affection between mum and son. My mum loves watching and wishes my three brothers would dance with her like this, she gets all nostalgic remembering her jiving days! And boy to I wish I could find a guy so fond of his mum and such a good dancer, too!! Thanks for sharing," a third wrote.
At the end of the video, Lucy says something that makes the whole family tear up with laughter and Lance gets down to the floor as he can't contain his laughter, too.
To see the sweet moment these two shared go to the video below and make sure you SHARE it with your family and friends on Facebook!
Bored Daddy
Love and Peace